Fasigyn 500mg and 300mg tablets are an antibiotic used as a treatment for various bacterial infections. Their properties include the ability to kill the parasites and bacteria, causing diseases in your stomach, brain, liver, heart, skin, lungs, and genitals.
1. What is Fasigyn 300mg, 500mg Used For?
Fasigyn 500mg and 300mg are used to prevent infections that may start during or after surgery, as well as infections of male and female reproductive organs. The class of antibiotics is nitroimidazoles.
It's not effective against viruses causing cold or flu, so it's not recommended to use it unless necessary to avoid resistant bacteria overgrowth. If your doctor prescribes this medicine for the treatment of anything other than the following diseases, it's fine. But self-treatment isn't recommended.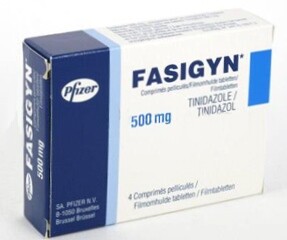 If it seems suspicious that a specialist has prescribed these pills, don't hesitate to ask questions. There's nothing wrong with being curious about what medication you're taking. Also, keep in mind that this medicine is only available with a doctor's prescription.
1.1 Infections of the skin, blood, chest, lung or genitals
Fasigyn has been reported effective in treatments of bacterial infections affecting skin, blood, lungs, and genitals. The causing bacteria are anaerobic, which means they don't need oxygen to survive. That's why their area of development and growth is vast.
Fasigyn is a common antibiotic choice for patients with a penicillin allergy.
1.2 Infection associated with stomach ulcers in combination with other drugs
From time to time, the Fasigyn tablets' uses include treatment of Helicobacter pylori, in combination with other pills. The infection is associated with stomach ulcers; that's why your doctor might prescribe this medicine if you have one.
1.3 Infections caused by organisms called protozoa
Amoebic dysentery and other diseases caused by Protozoan infections can be effectively treated with Fasigyn in combination with other ways of treatment.
In all uses, the main active ingredient is Tinidazole, so you may see this name often when looking for the information on Fasigyn in the tablet form.
2. How to take Fasigyn 300, 500mg Tablets?
You have to take one or more film-coated tablets with or right after a meal. Don't crush them, don't chew, just swallow with 100 ml of water. The dose may change, depending on what Fasigyn is used for.
Make sure you're familiar with the pharmaceutical particulars of the medicine before taking them.
Here are some dos and don'ts when it comes to taking Fasigyn.
Dos:
If you become pregnant during the course, notify your doctor as soon as possible;
If you get white spots in your mouth and on your tongue while or soon after finishing the Fasigyn tablet course, contact the doctor or pharmacist;
If you get itching or burning on your genitals and/or white discharge while or soon after finishing the tablets, notify the doctor. Any dose of Fasigyn may cause an overgrowth of yeast, causing an infection;
If you're about to start taking other medications during the course of Fasigyn, consult your doctor beforehand;
Notify all the medical specialists that treat you about the fact you're taking Fasigyn.
Don'ts
Don't give your tablets to anyone else, even if they have similar symptoms or even the same condition;
Don't try to acquire Fasigyn without a prescription to treat any conditions.
2.1 Step by step instructions
Here's what to do when you have to take a dose of Fasigyn:
Take one or more tablets of the drug (depending on your prescription);
Swallow it with 100 ml of water;
Do it with a meal or immediately after it;
Store the tablets in a cool, dry place, away from children and pets.
If you miss a dose:
See if it's time for another dose soon. In case it is, wait and take the next one on schedule;
Take a dose of Fasigyn right after you remember, in case there's a lot of time till the next scheduled one;
Never compensate for a missed dose by taking more than prescribed; you may experience a side effect or overdose.
If you have issues remembering when it's time for another dose, ask your doctor for a consultation. Also, in case you don't know what to do, always have your doctor's phone number on hand.
If you overdose:
Call 911 or your doctor, and/or Poisons Control Center;
Even if you have no symptoms, notify your doctor as soon as you notice you've overdosed;
If serious complications start, reach out to someone for help;
Have your doctor's number somewhere nearby at all times.
The first symptoms of an overdose are diarrhea, upset stomach, and skin rash.
3. Side Effects of Fasigyn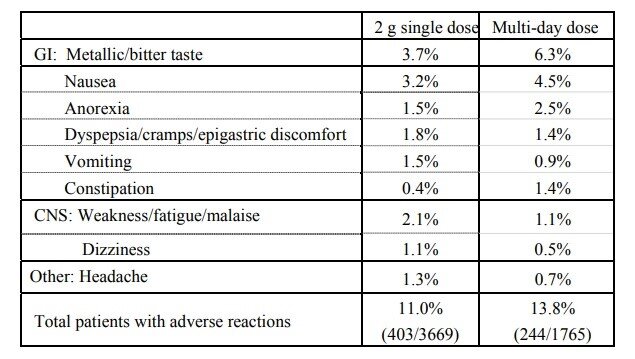 Cr: FDA
If you have any discomfort during the course, even if the symptoms aren't on the list, make sure to check with your doctor. Some reactions may be individual and aren't listed in any medical instructions. Usually, the Fasigyn side effects are temporary and mild, but some might require immediate measures and medical attention.
That's why it's important that you have your doctor's number somewhere nearby at all times, for you or for the person who will take care of you.
3.1 Feeling sick, loss of appetite, diarrhea, stomach pain or cramps
The general side effects of Fasigyn are:
Feeling unwell in general;
Appetite loss;
Nausea;
Upset stomach;
Constipation or diarrhea;
Metallic taste in your mouth;
White tongue or mouth;
Darker urine;
Unusual vaginal discharge, itching, and pain.
These side effects are mild most of the time and might wait till your next appointment if it's this week.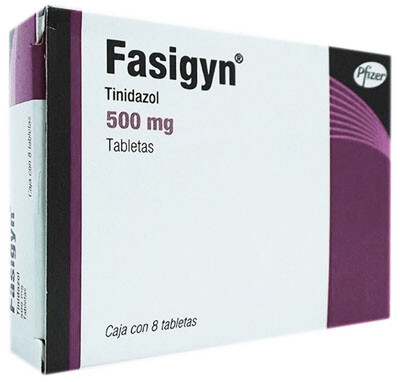 3.2 Headache
Fasigyn may cause headaches of different degrees. If the symptom is mild, contact your doctor to find out what painkillers you can take. If it's severe, it's wise to call 911 or contact your doctor as soon as possible.
3.3 Vertigo
Vertigo is a symptom that makes you feel like everything is moving or spinning around you. There are additional symptoms:
Nausea and vomiting;
Fatigue and fainting;
Numbness in limbs.
3.4 Skin rash or itching
Some Fasigyn side effects that show on the skin are:
If you get any of these, contact the doctor as soon as possible.
Symptoms that may precede the complications:
Fatigue and dizziness, the sensation like everything's spinning around you;
Shaky hands, difficulties moving;
Regular tiredness and symptoms of a common cold or flu all of a sudden;
Any other unusual condition, not connected to other causes (sleep-deprivation, party, etc.).
The complications include:
Asthma symptoms (wheeziness, etc.);
Regular shortness of breath;
4. Fasigyn Dose
Take your doctor's recommendations and prescription as the main priority. Their advice on taking the tablets may differ from what's mentioned in this instruction. You can ask questions whenever there's time, but don't alter the dose unless the doctor says so.
If something is unclear as to the Fasigyn tablets' use, it's better to call the doctor again and clarify.
4.1 For children
The dose for children is very individual, but it's not recommended to prescribe this medication to children younger than 12 years old unless it's a protozoal infection.
The course usually lasts up to 10 days.
4.2 For adults
The dose for adults is usually 4 tablets, all taken once, on the first day, and 2 tablets each consecutive day. Depending on your condition and its severity, the doctor may adjust the dose or change the timing.
The course usually lasts up to 10 days.
5. Contraindications and Precautions
Notify your doctor and don't take Fasigyn if you have hypersensitivity or allergy to:
Tinidazole (main active ingredient) or another ingredient;
Related medicines, such as:

Flagyl;
Metozine;
Simplotan;
Metrogyl, and others.
If you're unsure about your allergies, it's better to visit a doctor and get tested.
Keep in mind the following symptoms that may indicate you have an allergic reaction:
Any symptoms of asthma;
Severe swelling of limbs and face;
Difficulty swallowing;
Severe skin rash;
Light-headedness.
You also shouldn't take Fasigyn if you:
Used to or are currently suffering from a blood-related condition;
Used to or are currently suffering from a brain, spine, or nerve condition;
Are pregnant or plan to become in the near future;
Are breastfeeding; the medicine is present in breastmilk and may cause undesired reactions in the baby;
Find out the medicine is expired (the dates should be stated on the pack);
Find that the packaging has been damaged; return the pack to your pharmacy and ask for a replacement if possible.
Be sure to talk to your doctor about all the diseases you had or are currently having, allergies, medicines you've been taking, or have finished taking recently. Also, if you're a frequent drinker, smoker, or use any substances that might interact with the medicine, notify the doctor about it.
As to pregnancy, it might be possible to take Fasigyn if it's necessary. However, it's not recommended and should be thoroughly discussed with your doctor. The specialist might alter the dose or find a more suitable substitution.
6. Interaction With Other Medicinal Products and Forms of Interaction
Even if you take treatments from a healthy food shop and they are completely organic, tell your doctor about it before starting the course of Fasigyn tablets. Sometimes, there may be individual side effects, so your condition should be monitored, and the specialist should have all the information about what you eat, drink, and take.
Keep in mind that a lot of antibiotics interfere with the effectiveness of hormonal birth control, so talk to your doctor and consider alternatives while taking Fasigyn. It's worth mentioning that the effect of this particular antibiotic on birth control pills wasn't detected.
6.1 Alcohol
It's not recommended to drink alcohol during the course of treatment and 3 days after it. The side effects might include:
Nausea;
Vomiting;
Severe stomach pain;
Headache;
Low blood pressure (due to Disulfiram reaction);
Increased thirst;
Chest pain.
Don't drink alcohol-containing medicine (like cough syrups) either.
If you do, make sure to contact your doctor and get a consultation. If some symptoms become worse, call 911 and explain the situation or ask someone to do it.
6.2 Anticoagulants
Fasigyn interacts with any anticoagulants (for example, warfarin). Anticoagulants are medications that thin your blood to some extent, preventing blood clot accumulation. Warfarin may interfere with the work of Fasigyn and reduce or eliminate its efficacy.
Discuss the matter with your doctor and ask for an alternative treatment.
7. Сonsequences of Using This Drug
If you take the treatment seriously, tell your doctor about all conditions and allergies you had/have, and what medicine you've been/have finished taking, there should be no consequences. The rules of taking Fasigyn 500mg are of utmost importance. You should avoid drinking alcohol, taking any medication without prior consultation, and drive or use machinery.
7.1 Effects on ability to drive and use machines
Fasigyn 500mg tablets may make you feel sleepy or cause focus and coordination difficulties. Side effects also include weakness and numbness. All these may affect your ability to drive or operate machinery.
7.2 Undesirable effects
If you take the medication as prescribed, there should be no undesirable effects or consequences.
8. How to Store Fasigyn 300mg, 500mg Tablets?
Here are some recommendations on the storage of Fasigyn:
Store the medication in its original packaging;
Store it in a dry, cool place (below 25C);
Store it in a place not accessible to your pets or children;
Don't dispose of the drug by flushing it down the toilet or throwing away without an original package with household waste. If you don't need it anymore or the expiration date has passed, contact your doctor or pharmacist and find out the right way to dispose of the leftovers. There might be a special dispose center in your area where the pharmacy or you yourself can bring the medication. If there are none, you can find out alternative ways of disposal, just consult a specialist.