Description of Medical Condition
An acute, spreading infection of the dermis and subcutaneous tissue. Several entities are recognized: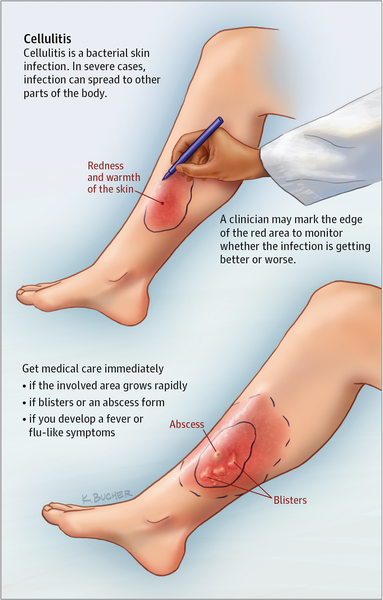 Cellulitis of the extremities — characterized by an expanding, red, swollen, tender or painful plaque with an indefinite border that may cover a wide area
Recurrent cellulitis of the leg after saphenous venectomy — patients have an acute onset of swelling, erythema of the legs arising months to years after coronary artery bypass. (Surgery using lower extremity veins for bypass grafts.)
Dissecting cellulitis of the scalp — recurrent painful, fluctuant dermal and subcutaneous nodules
Facial cellulitis in adults — a rare event. Patients usually develop pharyngitis, followed by high fever, rapidly progressive anterior neck swelling, tenderness and erythema associated with dysphagia.
Facial cellulitis in children — potentially serious. Swelling and erythema of the cheek develop rapidly, usually unilateral.
Perianal cellulitis — bright perianal erythema extending from the anal verge approximately 2 to 3 cm onto the surrounding perianal skin
Pseudomonas cellulitis — may be a localized phenomenon or it may occur during pseudomonas septicemia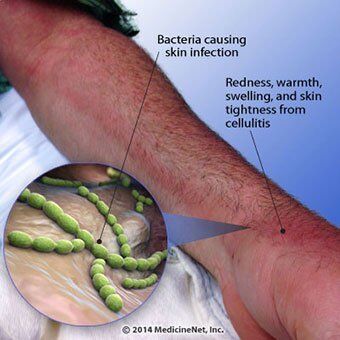 System(s) affected: Skin/Exocrine
Genetics: No known genetic pattern
Incidence/Prevalence in USA: Unknown
Predominant age:
Perianal cellulitis — principally in children
Facial cellulitis — in adults, usually older than 50 years. In children, between 6 months and three years.
Predominant sex: Male = Female (perianal cellulitis more common in boys)
Medical Symptoms and Signs of Disease
General
Local tenderness
Pain
Erythema
Malaise
Fever, chills
Involved area is red, hot, and swollen
Borders of the area are not elevated and not demarcated
Regional lymphadenopathy is common
Recurrent cellulitis
Same as above
Edema
High fever, chills and toxicity
Dissecting cellulitis of the scalp
Purulent drainage from burrowing interconnecting abscesses
Facial cellulitis in adults
Malaise
Anorexia
Vomiting
Itching
Burning
Dysplasia
Anterior neck swelling
Facial cellulitis in children
Irritability
Upper respiratory tract infection symptoms
Perianal cellulitis
Intense perianal erythema
Pain on defecation
Blood streaked stools
Perianal pruritus
What Causes Disease?
By site
Cellulitis of the extremities: Group A streptococcus, Staphylococcus aureus
Recurrent cellulitis of the leg: Non-group A beta hemolytic Streptococci (group C,G,B)
Dissecting cellulitis of the scalp: Staphylococcus aureus
Facial cellulitis in adults: H. influenzae type B
Facial cellulitis in children: H. influenzae type B, over 3 years with portal of entry:

staphylococcal and streptococcal

Synergetic necrotizing cellulitis: Mixed aerobic-anaerobic flora
Intravenous drug use: Staphylococcus aureus. Streptococci, Enterobacteriaceae, Pseudomonas, Fungi
Synergetic necrotizing cellulitis: Mixed aerobic-anaerobic flora
Specific diseases
Diabetes mellitus: Staphylococcus aureus.
Streptococci, Enterobacteriaceae, Anaerobes
Human bites: Eikenella corrodens
Animal bites (cat and dog): Staphylococci, Pasteurella multocida
Patient groups
Oneonates: Group B streptococcus Olmmunocompromised
Bacteria (Serratia, Proteus and other Enterobacteriaceae)
Fungi (Cryptococcus neoformans)
Atypical mycobacterium
Children with nephrotic syndrome: E. coli
Environmental and occupational exposures
Erysipelothrix rhusiopathiae
Vibrio species
Rare causes
Anaerobic
Clostridium perfringens (gas forming cellulitis)
Tuberculosis
Syphilitic gumma
Fungal: Mucormycosis, Aspergillosis
Risk Factors
General
Previous trauma (laceration, puncture, human or animal bite)
Underlying skin lesion (furuncle, ulcer)
Surgical wound
Recurrent cellulitis
Post coronary artery bypass in patients whose saphenous veins have been removed
Lower extremity lymphedema secondary to a) radical pelvic surgery b) radiation therapy c) neoplastic involvement of pelvic lymph nodes
Mastectomy
Diabetes mellitus
Intravenous drug use
Immunocompromised host
Burns
Environmental and occupational factors
Diagnosis of Disease
Differential Diagnosis
Perianal cellulitis OCandida intertrigo
Psoriasis
Pinworm infection
Inflammatory bowel disease
Behavioral problem
Child abuse
Others
Acute gout
Fasciitis/myositis
Mycotic aneurysm
Ruptured Baker's cyst
Thrombophlebitis
Osteomyelitis OHerpetic whitlow
Cutaneous diphtheria
Pseudogout
Laboratory
Aspirates from the point of maximum inflammation. Yield a 45% positive culture rate as compared to a 5% from leading edge culture.
Blood cultures — potential pathogens isolated in 25% of patients
Mild leucocytosis with a left shift
A mildly elevated sedimentation rate
CBC
Drugs that may alter lab results: Previous antibiotic therapy may alter the results
Disorders that may alter lab results: N/A
Pathological Findings
Biopsy of skin shows marked infiltration of the dermis with eosinophils and inflammatory changes
Special Tests
Serial serological testing with antistreptolysin 0, anti-deoxyribonuclease B, and anti-hyaluronidase tests may be successful in diagnosing cellulitis caused by group A, C, or G hemolytic streptococci
Sinus drainage and culture of aspirate
Imaging
Gas forming cellulitis
Plain x-rays show gas bubbles in the soft tissue
CT shows gas and myonecrosis
Diagnostic Procedures
Skin biopsy
Lumbar puncture should be considered for all children with H. influenzae type B cellulitis
Treatment (Medical Therapy)
Appropriate Health Care
Outpatient for mild cases, inpatient for severe infections
General Measures
Immobilization and elevation of the involved limb to reduce swelling may be needed in H. influenzae type B
Sterile saline dressings to decrease local pain
Moist heat to localize the infection
Cool aluminum acetate (Burow's solution) compresses for pain relief
Surgical Measures
Debridement for gas/purulent collections
Intubation or tracheotomy may be needed for cellulitis of the head or neck
Hand infections — wide filleting incision in necrotizing cellulitis
Activity
Ambulatory in mild infection; bedrest in severe infection
Diet
Regular diet
Patient Education
Good skin hygiene
Avoid skin traumas
Report early skin changes to physician
Medications (Drugs, Medicines)
Drug(s) of Choice
Treat 10-30 days. Guided by culture results whenever possible.
Mild early suspected streptococcal etiology: Aqueous penicillin G, 600,000 U, then IM procaine penicillin at 600,000 Uq8-12hrs
Staphylococcal infection or no clues to etiology: penicil-linase-resistant penicillin (e.g., oxacillin 0.5-1.0 g poq6 hrs)
Severe infection: penicillinase-resistant penicillin (e.g. nafcillin 1.0-1.5 g IV q4 hrs)
Gram negative bacillus as possible etiology: aminogly-coside (gentamicin) plus a semisynthetic penicillin
Rapidly progressive cellulitis after a fresh water injury: penicillinase-resistant penicillin plus gentamicin or chloramphenicol
Human bites: amoxicillin-clavulanate (Augmentin)
Animal bites (cellulitis at the saphenous site): penicillin or nafcillin, in high dosage, IV for 7 days before switching to oral therapy
Facial cellulitis in adults and children: (H. influenza B) cefotaxime IV
Gas forming cellulitis: Aqueous penicillin G 10-20 million U/day IV
Diabetes mellitus: Cefoxitin or if toxic, clindamycin and gentamicin
Intravenous drug abuse: Vancomydn and gentamicin
Compromised hosts: clindamycin and gentamicin
Burn patients: vancomycin and gentamicin
Contraindications: Allergies to the antibiotic
Precautions: Renal failure, other organ failure
Significant possible interactions: Refer to manufacturer's literature
Alternative Drugs
Mild infection
Penicillin allergy: erythromycin, 500 mg po q6 hrs
Severe infection
Vancomycin 1.0-1.5 g/day IV
Human bite and animal bites: IV cefoxitin
Gas forming cellulitis
Metronidazole 500 mg IV q6h
Clindamycin 600 mg IV q8h
Fluoroquinolones (adults)
Patient Monitoring
A blood culture at the end of treatment to ensure cure
Repeat needle aspirate culture
Repeat blood count if patient was toxic
Repeat lumbar puncture in case of meningitis
Prevention / Avoidance
Treatment of tinea pedis with antifungal (such as clotrimazole) will prevent recurrent cellulitis of the legs in patients who have had coronary bypass
Avoid trauma
Avoid swimming in fresh water or salt water in the presence of skin abrasion
Avoid human or animal bite
Support stocking with peripheral edema
Good skin hygiene
For recurrent cellulitis — prophylactic penicillin G (250-500 mg po bid)
H. influenzae cellulitis — rifampin prophylaxis for entire family of index case or in day-care classroom in which one or two children exposed. Dosage: 20 mg/kg/day (maximum: 600 mg/day) for 4 days.
Possible Complications
Bacteremia
Local abscesses
Super infection with gram negative organisms
Lymphangitis especially in recurrent cellulitis
Thrombophlebitis of lower extremities in older patients
Dissecting cellulitis of the scalp — scarring; alopecia
Facial cellulitis in children — meningitis in 8% of patients
Gas forming cellulitis — gangrene; amputation; 25% mortality
Expected Course / Prognosis
With adequate antibiotic treatment, outlook is good
Miscellaneous
Associated Conditions
Facial cellulitis in children
Upper respiratory tract infection
Unilateral or bilateral otitis media in 68% of patients
Meningitis in 8% of patients
Perianal cellulitis
Pharyngitis may precede the infection
Frontal sinus in adult OSubacute bacterial endocarditis
Scarlet fever
Vaccinia
Herpes simplex
Herpes zoster
Age-Related Factors
Pediatric: N/A
Geriatric: In cellulitis of lower extremities, patients are more prone to develop thrombophlebitis
Pregnancy
N/A
International Classification of Diseases
682.9 Cellulitis and abscess at unspecified site
See Also
Cellulitis, periorbital & orbital Erysipelas Animal bites Thrombophlebitis, superficial