Description of Medical Condition
An acute, spreading infection of the dermis and subcutaneous tissue. Several entities are recognized. Cellulitis around the eyes is a potentially dangerous periorbital and orbital infection.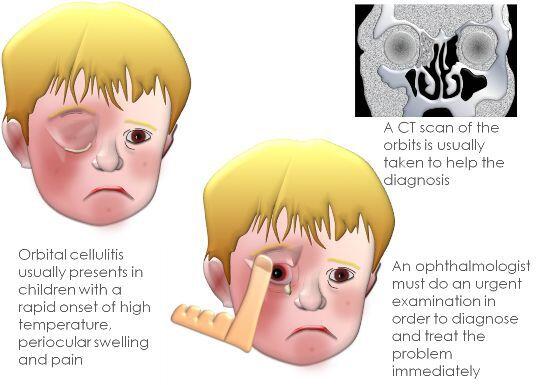 System(s) affected: Skin/Exocrine, Nervous
Genetics: No known genetic pattern
Incidence/Prevalence in USA: Unknown
Predominant age: N/A
Predominant sex: Male = Female
Medical Symptoms and Signs of Disease
Lid edema
Rhinorrhea
Orbital pain, tenderness
Headache
Conjunctival hyperemia
Chemosis
Ptosis
Limitation to ocular motion
Increase intraocular pressure
Disease in corneal sensation
Congestion of retinal veins
Chorioretinal stria
Gangrene and sloughing of lids
What Causes Disease?
Cellulitis around the eye in adult
Staphylococcus aureus most common
Streptococcus pyogenes
Streptococcus pneumonia
Mixed infection
Cellulitis around the eye in children less than five years OH. influenzae most common
Risk Factors
Trauma
Chronic sinusitis (anaerobic)
Acute sinusitis (aerobic)
Retained orbital foreign bodies
Puncture wound
Surgical procedure: Exploration of orbital tumor, retinal detachment procedure, strabismus operation
Acute dacryocystitis
Dental or intracranial infection
BacteremiaDiagnosis of Disease
Differential Diagnosis
Retro-orbital cellulitis/abscess
Laboratory
Aspiration of fluid from the orbit is contraindicated
Blood culture more likely to be positive in children < 5 years
Culture of discharge from nasal mucosa, nasopharynx and conjunctiva
Drugs that may alter lab results: Previous antibiotic therapy Disorders that may alter lab results: N/A
Pathological Findings
N/A
Special Tests
Serial serological testing with antistreptolysin, anti-deoxyribonuclease B, and antihyaluronidase tests may be successful in diagnosing cellulitis caused by group A, C, or G hemolytic streptococci
Imaging
B-scan ultrasound
Plain orbital and sinus films
Computerized tomography (CT) is the most accurate and provides the most important information
Magnetic resonance imaging is the imaging modality of choice in diagnosing suspected cases of cavernous sinus thrombosis
Diagnostic Procedures
Skin biopsy
Lumbar puncture should be considered for all children with H. influenzae type B cellulitis
Treatment (Medical Therapy)
Appropriate Health Care
Outpatient for mild cases, inpatient for severe infections
General Measures
N/A
Surgical Measures
Surgical debridement and/or drainage is needed if abscess develops or if clinical situation deteriorates despite adequate therapy in 24-48 hours or if visual acuity decreases
In orbital mucormycosis, surgical debridement of devitalized tissue is extremely important
Activity
Ambulatory in mild infection
Bedrest in severe infection
Diet
Regular diet
Patient Education
Good skin hygiene
Avoid skin traumas
Report early skin changes to health professional
Medications (Drugs, Medicines)
Drug(s) of Choice
In adults, nafcillin or oxacillin 1.5 g every 4 hours
In children, ampidllin 200 mg/kg/day in divided doses intravenously plus nafcillin or oxacillin (100 mg/kg/day)
Sinus decongestion — nasal sprays, oral decongestants. oral antihistamines
Contraindications:
Allergies to the antibiotic
Previous history of allergy to the drug
Precautions: Renal failure, other organ failure Significant possible interactions: Refer to manufacturer's literature
Alternative Drugs
In adults, cefotaxime or clindamycin or chloramphenicol orvancomycin
In children, influenzae resistant to ampicillin third generation cephalosporin, cefotaxime or chloramphenicol
In immunocompromised — piperacillin and gentamicin
Fluoroquinolones (adults)
Linezolid (Zyvox)
Patient Monitoring
Repeat imaging in patients with orbital cellulitis
Prevention / Avoidance
Avoid trauma
Avoid swimming in fresh water or salt water in the presence of skin abrasion
 In influenzae cellulitis — rifampin prophylaxis for the entire family of an index case. Rifampin prophylaxis in day-care classroom in which one or two children exposed. Dosage — 20 mg/kg/24 h (maximum of 600 mg a day) for 4 days.
Possible Complications
Osteomyelitis
Strabismus
Afferent pupillary defect
Chronic draining sinus
Scarred upper eyelid
Profound visual loss
Blindness
Ophthalmoplegia
Cavernous sinus thrombosis
Meningitis
Intracranial abscess
Acute infarction of retina and choroid
Expected Course / Prognosis
With adequate antibiotic treatment, outlook is good
Miscellaneous
Associated Conditions
Sinusitis ethmoiditis in children in 84% of patients
Age-Related Factors
Pediatric: Newborn may acquire orbital cellulitis secondary to intrauterine infection Geriatric: N/A
Pregnancy
N/A
International Classification of Diseases
376.01 Orbital cellulitis
See Also
Cellulitis Erysipelas Animal bites Thrombophlebitis, superficial