Containing two active ingredients, Lotrisone can effectively deal with inflammatory fungal infections of the skin. Clotrimazole helps to take control of the fungus growth, whereas Betamethasone (which is a corticosteroid) reduces redness, itching, and inflammation of the infected area of the skin.
When do you need Lotrisone?
Lotrisone can cure different types of fungal infection. To determine what fungus triggered your disease, you have to turn to the doctors. It is very likely that you'll also need to pass a couple of tests to define the exact pathogen.
Speaking about Lotrisone and yeast infection treatment, it should be mentioned that such a therapy may be used only when the skin is affected. There's no way you can use this medication to cure vaginal or mucous membranes yeast infection. Usually, the course of treatment lasts for two weeks with a twice-daily application of the remedy.
The preparation is commonly prescribed to the people suffering from ringworm, jock itch, and athlete's foot.
Can Lotrisone be used for eczema?
No. This ailment is caused not by fungus but some other pathogens. Hence, Lotrisone application will be useless if not harmful.
Dosage and instructions on usage
Lotrisone is available either in the form of a cream or lotion. Both contain the same amounts of the active components 0.05%-1% so, it's up to you and your healthcare provider which one to choose.
The duration of the therapy may vary depending on your progress and the disease you have to cure. Lotrisone for ringworm should be used two times daily for at least one week. If the signs of the infection disappear sooner, you still have to finish the treatment. By doing this, you can protect yourself from the repeated episode of the infection.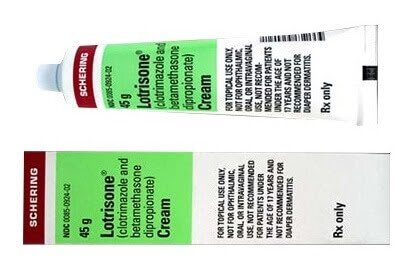 In case the symptoms are still present after a week of curing, continue using the preparation for another 7 days. The same way of treatment may be applied for jock itch. When dealing with the fungal infection in the groin, make sure your underwear is not tight and made of natural fabrics. It will protect the area from excessive sweating and moisture.
Treatment of an athlete's foot is more difficult. It may take you up to 4 weeks to overcome the fungus and restore a healthy skin condition on the feet. The cream or lotion must be applied twice a day (in the morning and at bedtime).
Rub in the remedy into the affected areas of the skin.
Some may have a question as to can Lotrisone be used on the face?
Of course, you can, but make sure the cream or lotion doesn't get in the eyes, nose or mouth.
You shouldn't use more than 45g of the cream or 45ml of lotion per week. Otherwise, you risk to experience adverse effects or get an overdose.
Who shouldn't use Lotrisone?
There are certain categories of patients who should stay away from using Lotrisone. Among them are people with:
Known hypersensitivity to Clotrimazole, Betamethasone or any inactive component of the medication;
Melanoma;
Skin cancer;
Hemangioma and other skin tumors;
Blood circulation issues;
Low immunity.
Lotrisone is contraindicated to individuals younger than 17. Elderly patients should apply the preparation under close supervision as it has a higher potential for side effects in such people. Never use this medicine orally or vaginally. Avoid getting it into the eyes and nose.
The preparation may be used in pregnant women only when the benefits outweigh the risks. Otherwise, it's better to avoid this drug. Using Lotrisone and breastfeeding a baby is relatively safe. However, there are no reliable data concerning this question as no clinical trials have been conducted. That's why you have to talk about the possible risks with a professional.
What unwanted reactions to the preparation may be expected?
The remedy is usually well tolerated if applied according to the doctor's recommendations. Yet sometimes side effects can occur even if you stick to the instructions. To the most probable adverse reactions belong:
Skin dryness;
Itching and redness;
Peeling of the skin;
Burning;
Rash;
These reactions are local and appear only in the areas where the medication has been applied. Experiencing any of these symptoms, call your doctor to discuss further treatment.
There are also reactions, which appear extremely rare. Yet every patient has to know about them to be ready to act right in such cases. Among rare and potentially hazardous effects are:
High body temperature;
Difficulties with passing the urine;
Discoloration or thinning of the skin;
Appearance of the stretch marks or acne;
Headache;
Nausea, vomiting.
These are not all possible reactions to Lotrisone. Ask your pharmacist or doctor to give you the full list of probable adverse effects. Having noticed any serious unwanted reactions, seek medical help immediately.