The causes of hepatitis are varied and include viruses, bacteria, and protozoa, as well as drugs and toxins (eg, isoniazid, carbon tetrachloride, and ethanol). The clinical symptoms and course of acute viral hepatitis can be similar, regardless of etiology, and determination of a specific cause depends primarily on the use of laboratory tests (Box 1). Hepatitis may be caused by at least six different viruses whose major characteristics are summarized in Table 1. Non-A-non-B (NANB) hepatitis is a term previously used to identify cases of hepatitis not caused by hepatitis A or B. With the discovery of hepatitis viruses C, E, and G, most of the viral etiologies of NANB disease can be identified. Other viruses, such as Epstein-Barr virus and cytomegalovirus, can also cause inflammation of the liver, but hepatitis is not the primary disease they cause. Yellow fever is a form of hepatitis but is now rare. The relative contributions of the hepatitis viruses to acute and chronic viral hepatitis are shown in Table 1 and Table 2.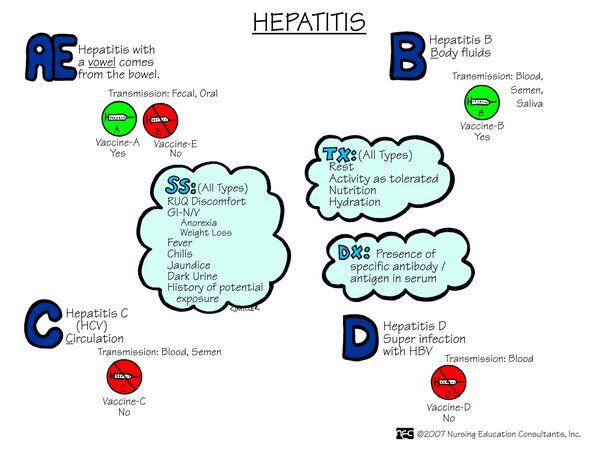 HEPATITIS C
Essentials of Diagnosis
Acute hepatitis C usually is asymptomatic.
First recognition of chronic hepatitis C is the presence of elevated liver enzymes in an asymptomatic patient.
Unexplained chronic hepatitis is most commonly caused by hepatitis C.
Diagnosis is by presence of hepatitis C IgG antibody.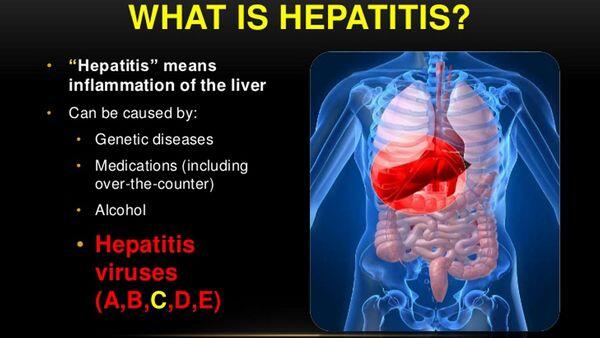 General Considerations
Most NANB hepatitis is caused by an RNA virus termed hepatitis C virus. Its existence and role in the etiology of hepatitis was identified by preparing numerous complementary DNA clones from the presumed RNA virus in infectious serum. Peptides encoded by these clones were then tested for reaction with sera from cases of NANB hepatitis, and one was found to be highly specific.
Epidemiology
The transmission of hepatitis C by blood is well documented: indeed, it caused the great majority of post-transfusion NANB hepatitis. It is estimated that 2% of U.S. citizens have been infected with hepatitis C. Screening of donor blood for hepatitis C has markedly decreased transmission of the virus by blood products. Currently, the major mechanism of transmission is by intravenous drug abuse.
Transmission of this virus in nontransfusion, community-acquired cases is less well understood. It may be sexually transmitted but to a much lesser degree than hepatitis B, and vertical transmission may occur. In the United States, 3.5 million people have antibody to hepatitis C, but the number of new cases of hepatitis C has decreased from 80,000 to ~30,000 yearly. Since the 1980s, outbreaks of what is now known as hepatitis C have been associated with intravenous immune globulin (IVIG). To reduce this risk, all U.S.-licensed IVIG products now have viral inactivation steps included in the manufacturing process. In addition all immunoglobulin products (including intramuscular immunoglobulin products that have not been associated with hepatitis C) that lack viral inactivation steps are now excluded if hepatitis C virus is detected by polymerase chain reaction (PCR) analysis.
Microbiology
Hepatitis C virus is an RNA virus in the flavivirus family (other members include the agents of yellow fever and dengue). It has a very simple genome consisting of just three structural and five nonstructural genes. There are at least six major genotypes, two of which have subtypes (1a and b, 2a and b). These genotypes have quite different geographic distributions and may be associated with differing severities of disease as well as response to therapy.
Pathogenesis
Hepatitis C does not cause acute hepatic cellular necrosis. Rather, there is an insidious infection with a progressive inflammatory response, leading to, in many cases, hepatic fibrosis and cirrhosis. The determinants of progression are not understood.
Clinical Findings
Signs and Symptoms
The incubation period of hepatitis C averages 6-12 weeks. The infection is usually asymptomatic or mild and anicteric but results in a chronic carrier state in 70-85% of adults. The average time from infection to the development of chronic hepatitis is 13-18 years. Cirrhosis is a late sequela of chronic hepatitis, which may occur in 15-33% of infected adults and is the leading reason for liver transplants. Chronic hepatitis tends to wax and wane and is often asymptomatic.
Laboratory Findings
Hepatitis C may be associated with elevated or normal ALT values in serum.
Complications
The risk of hepatocellular carcinoma is 1-5% after 30 years of chronic infection. Cirrhosis may occur in 15-33% of hepatitis C-infected adults.
Diagnosis
Antigens of hepatitis C are not detectable in blood, so diagnostic tests consist of attempts to demonstrate antibody. Unfortunately, the antibody responses in acute disease remain negative for 1-3 weeks after clinical onset and may never become positive in = 20% of patients with acute, resolving disease. These antibody assays can be helpful in chronic hepatitis, especially when multiple antigens are sought.
The first test developed to assist the diagnosis of hepatitis C measured antibody to the C-100 antigen of the virus. It is now acknowledged that this antibody is an inaccurate marker for the disease, and current second-generation tests measure antibodies to multiple hepatitis C antigens by either enzyme immunoassay or immunoblot testing. Even with these newer assays, IgG antibody to hepatitis C may not develop for = 4 months, making the serodiagnosis of acute hepatitis C difficult. Assays of hepatitis C virus RNA by PCR or other methods may be used for diagnosis, estimating prognosis, predicting interferon responsiveness, and monitoring therapy.
Treatment
Interferon alpha is approved for the treatment of chronic hepatitis C, but it often provides only a transient benefit (see Box 2). The commonly used dose is 3 million U 3 times weekly for = 6 months. Amino transferase levels decrease in only 40-70% of patients, but sustained improvement occurs in only 10-15% of patients. Responses are better in patients with genotypes other than 1 and those with low initial titers of viral RNA. Increasing dosage to 10 million U or extending treatment from 24 to 48 weeks may increase the number of sustained responses. Combination therapy with ribavirin appears to improve efficacy. Corticosteroids are not beneficial
Prognosis
Hepatitis C has a worse prognosis than, for example, hepatitis B, since such a high proportion of cases develop cirrhosis—= 33% of infected patients.
Prevention & Control
It is not clear whether prophylactic immune serum globulin protects against hepatitis C. Also, the development of a vaccine is complicated because of the antigenic variability of the virus and patients may be reinfected by different strains of wild-type virus. Reduction of needle sharing by intravenous drug users would greatly reduce the incidence of new cases. (Box 3.)
HEPATITIS E
General Considerations
Hepatitis E is the cause of another form of hepatitis, but this virus is spread by the fecal-oral route and therefore resembles hepatitis A. Hepatitis E virus is an RNA virus that appears similar to caliciviruses. The viral particles in stool are spherical, 20-32 nm in diameter, and unenveloped and exhibit spikes on their surface. Like hepatitis A, this virus causes only acute disease and may be fatal, especially in pregnant women. Most cases have been identified in India, Southeast Asia, the Middle East, and other areas with poor sanitation. Rarely have cases been identified in the United States, and these have been in visitors or immigrants from endemic areas.
Diagnosis
Diagnosis of hepatitis E infection may be confirmed by demonstrating the presence of specific IgM antibody.
Treatment
No treatment is available for hepatitis E infection (see Box 2).
Prognosis
Hepatitis E does not appear to eventuate in chronic hepatitis, so the prognosis is good, except in the instance of fulminant hepatitis E of pregnancy, which may be fatal.
Prevention & Control
It is not known whether immune serum globulin provides protection.
HEPATITIS G
General Considerations
Although hepatitis C virus is the major cause of NANB hepatitis, additional etiologic agent(s) continue to be sought. In 1995 a newly discovered agent, hepatitis G, was identified in the sera of two patients. This agent is an RNA virus similar to hepatitis C and members of the flavivirus family. Up to 2% of volunteer blood donors are seropositive for hepatitis G antibody, and it is a transmissible blood-borne virus.
In addition to being closely related to hepatitis C, there are data to suggest that many patients infected by hepatitis C are also infected by hepatitis G. Given this close association, it has been difficult to ascertain the contribution of hepatitis G to clinical disease. Patients infected with both viruses do not appear to have worse disease than those infected by hepatitis C virus only.
Diagnosis
So far, it has not been possible to develop an antibody assay so that seroprevalence could be determined. Instead detection of infection with this virus requires a PCR assay for viral RNA in patients' sera.
Treatment
In very limited clinical studies, hepatitis G appears to be susceptible to interferon alpha treatment. Because it is not clear that hepatitis G virus causes disease, treatment is not currently indicated (see Box 2).
Table 1. Relative contribution of hepatitis viruses to acute viral hepatitis—United States.
Type
Portion (%) of
All Hepatitis
Infections
A
B
C
D
Other
47%
33%
15%
2%
3%
Table 2. Relative contribution of hepatitis viruses to chronic viral hepatitis—United States
Type
Cases/Year
Deaths/Year from
Chronic Liver Disease
A
B
C
D
E
0
1 × 106
1 × 105
7 × 104
0
0
5,000
8-10,000
1,000
0
Table 3. Comparative features of viral hepatitis.
Feature
Hepatitis A
Hepatitis B
Hepatitis C
Hepatitis D
Hepatitis E
Hepatitis G
Incubation period
2-6 weeks (average 4 weeks)
6-23 weeks (average 10 weeks)
6-12 weeks
4-8 weeks
Virus
27-nm RNA virus
42-nm DNA virus
RNA, flavivirus
Incomplete RNA virus
RNA similar to Calicivirus
RNA similar to Hepatitis C virus
Onset
Abrupt (variable)
Insidious (variable)
Insidious (variable)
Abrupt (variable)
Acute
?
Transmission
Fecal-oral
IDU, sexual
IDU, sexual (?)/
IDU, sexual household
Fecal-oral
Severity of acute infection
Self-limiting
Occasionally severe (up to 25% icteric)
Usually subclinical
Coinfection occasionally severe; superinfection often severe
Self-limiting, fulminant in pregnancy
?
Fulminant Hepatitis
Very rare (~0.1%)
Rare (<1% of icteric patients)
Very rare, if ever
Occurs with simultaneous hepatitis B
In pregnancy
Symptoms
Fever, malaise, headache, anorexia, vomiting, dark urine, jaundice (often asymptomatic)
As with A but 10-20% with serum sickness-like reaction
As with A
As with A
As with A
Carrier state
% carriers in U.S.
None
0
Yes
0.1%
Yes
0.3-2%
Yes
Very rare
?
Yes
1-2%
Chronicity
0%
5-10%
Up to 75%; cirrhosis (25-33%); hepatoma
Up to 30% of those with chronic hepatitis B
No
Transmission by blood transfusion
Very rare
Rare with screening
Rare with screening
Rare with Hepatitis B
Probably not screening
Yes
Diagnosis
Anti-HAV, IgM/IgG
HbsAg; Anti-Hbc, IgM; Anti-Hbs, IgG
Anti-HCV, IgG; HCV RNA
Anti-HDV, IgM
Anti-HEV, IgM
HGV, RNA
Prevention
Immune globulin, killed vaccine
HBIG/Hepatitis B vaccine
Immune globulin(?)
Prevent B
Immune globulin
Associated w/ cirrhosis
No
Yes
Yes, 20%
Yes, 40%
No
Rare
Associated w/ hepatocellular cancer
No
Yes
Yes
?
No
?
Treatment of chronic disease
None
Interferon alpha; ? 3TC
Interferon alpha & ribavirin
Interferon alpha
?
None indicated
BOX 1. Hepatitis Infection
Children
Adults
More Common
Hepatitis A, B especially in underdeveloped countries and Far East
Hepatitis A, B, C
Less Common
Hepatitis C, G
Hepatitis D, E, G
BOX 2. Treatment of Chronic Hepatitis Infection
Children
Adults
First Choice
Hepatitis B: interferon, 15-30 million U weekly
Hepatitis C: interferon, 9-10 million U weekly plus ribavirin
Hepatitis D: interferon, 5-10 million U daily
Hepatitis A, E: no known treatment
Hepatitis G: no treatment indicated
Second Choice
Hepatitis B: possibly 3TC (Lamivudine), famciclovir
Penicillin Allergic
BOX 3. Control of Hepatitis Infection
Prophylactic Measures
Hepatitis A
Preexposure:
Vaccination with killed vaccine
Immune serum globulin
Postexposure:
Hepatitis B
Preexposure:
Vaccination with recombinant hepatitis B vaccine
Postexposure:
Hepatitis B immune globulin followed by vaccine
Hepatitis D
Vaccination with recombinant hepatitis B vaccine
Isolation Precautions
Hepatitis A, E: enteric precautions
Hepatitis B, C, D: needle, blood precautions