What Is In Dequacaine Lozenges?
Active ingredients: Benzocaine 10mg and Dequalinium Chloride 0.25mg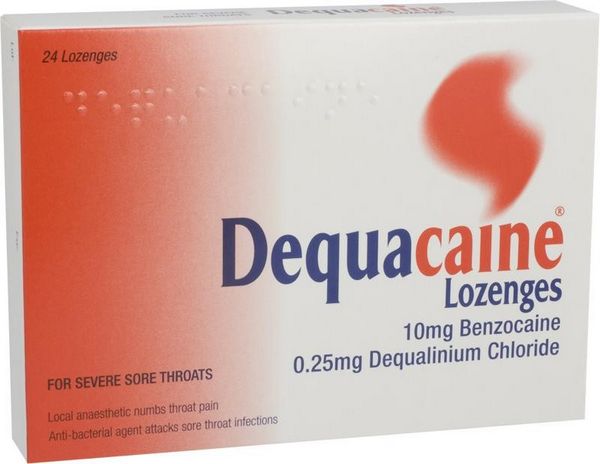 Also contains: Sucrose, Glucose Syrup, Sorbitol (E420), Levomenthol, Peppermint Oil, Benzyl Alcohol, Sodium Saccharin, Racemic Camphor
Each lozenge contains 2.6g sugar base (containing sucrose and glucose)
Check before use
Diabetics – take account of the carbohydrate content (see "What is in Dequacaine Lozenges" section of carton for levels)
Consult your doctor before use:
if you are pregnant or breast feeding
if you are taking other medicines especially sulphonamides (a class of antibiotics), or anticholinesterases (e.g. used in the treatment of Alzheimer's disease).
if you have the rare condition Myasthenia Gravis.
How to Use
Read the carton carefully before use.
Adults and children over 12 years: Suck one lozenge slowly every two hours, or as needed.
Do not take any more than 8 lozenges in any 24 hour period.
Talk to your pharmacist or doctor:
if your throat symptoms persist
if new symptoms arise (eg fever, headache, nausea or1 vomiting)
if you take too many and feel unwell
if you are concerned or think that you may be reacting badly to this medicine.
Do not take:
if you are under 12 years old
if you are allergic to any of the ingredients or to benzoate preservatives
If you have been told by your doctor that you have an Intolerance to some sugars, contact your doctor before taking this medicinal product.
If you have been told by your doctor you have low blood chollnesterase levels.
Storage
Keep all medicines out of reach and sight of children. Do not store above 30°C.
Do not use after the expiry date printed on the carton and blister.