For sore throats and mouth infections. Reduces tenderness of the throat, mouth and gums.
Relieves symptoms of mouth ulcers and infections.
Also relieves symptoms of tonsillitis, pharyngitis and oral thrush.
Do not take:
if you are under 10 years old
if you are allergic to any of the ingredients
if you have been told by your doctor that you have an intolerance to some sugars, contact your doctor before taking this medicinal product.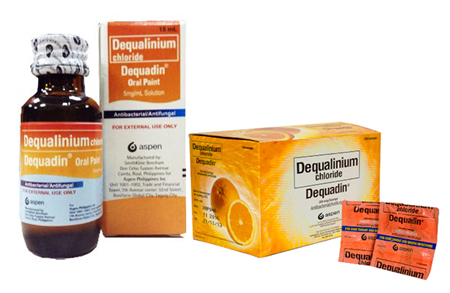 Talk to your pharmacist or doctor:
if your symptoms do not go away after a few days
if you take too many and feel unwell
if you are concerned or think that you may be reacting badly to this medicine.
Check before use:
Diabetics – take account of the carbohydrate content
Consult your doctor before use if you are pregnant or breast feeding.
How to use
Read the carton carefully before use.
Adults & children over 10 years: Suck one lozenge slowly every 2-3 hours
Do not take any more than 8 lozenges in any 24 hour period.
Side effects
These are rare but may include allergic reactions or soreness of the tongue.
Storage
Keep all medicines out of reach and sight of children.
Do not store above 25°C
Do not use after the expiry date printed on the blister and the carton.
What is in Dequadin Lozenges?
Active Ingredient: Dequalinium Chloride 0.25mg.
Also contains: sucrose, Glucose syrup, Magnesium Stearate, Ctiric Acid Monohydrate, Flavourings (Lime and Peppermint Oil), Gelatin, Sodium Saccharin, Sunset yellow (E110), Racemic Camphor.
Each lozenge contains 998.925mg of sucrose and 50mg of glucose. (Sucrose is made from glucose and fructose)
Sunset yellow may cause allergic reactions