Ketolides are a new class of macrolide derivatives designed specifically to combat macro fide-resistant respiratory tract pathogens. The ketolides are semisynthetic derivatives of the macrolide erythromycin A, with a keto group replacing the 1-cladinose group at position 3 of the macrolactone ring. The ketolides exhibit good activity against gram-positive and some gram-negative organisms, and have excellent activity against drug-resistant S. pneumoniae, including macrolide-resistant strains. Ketolides display excellent pharmacokinetics, allowing once-daily dose administration and extensive tissue distribution relative to serum.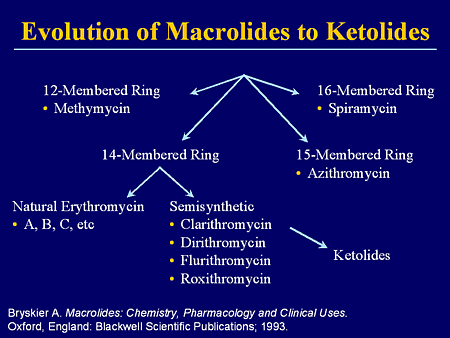 The available ketolide, telithromycin, is well tolerated with side effects primarily being GI symptoms (diarrhea, nausea, and headache).
Mechanism Of Action
Ketolides, similar to the macrolides, act by binding to the 23S ribosomal RNA (rRNA) in the 50S subunit of the ribosome. Binding to the 23S rRNA inhibits the translocation of RNA during protein synthesis and blocks bacterial protein synthesis. Ketolides and macrolides have essentially the same binding sites, which are located on a portion of the rRNA and on ribosomal proteins. However, ketolides bind to ribosomes with higher affinity than macrolides. This difference could contribute to ketolide's activity against macrolide-resistant strains.
Telithromycin
Telithromycin (Sanofi-Aventis/Fujisawa/Sankyo's Ketek), an oral ketolide, is the first member of this new class to be approved for clinical use. Telithromycin was first approved in Europe in 2001; Japanese approval was attained in 2003. In the United States, telithromycin's approval was delayed for approximately two years. The FDA originally issued an approvable letter for telithromycin in 2001, and requested additional data to support the filing. To support U.S. approval, which finally occurred in April 2004, Sanofi-Aventis conducted the largest-ever comparative antibiotic trial, enrolling over 24,000 subjects. The product was launched in August 2004. It is expected to retain patent protection through 2015 in the United States and Japan, and through 2016 in Europe.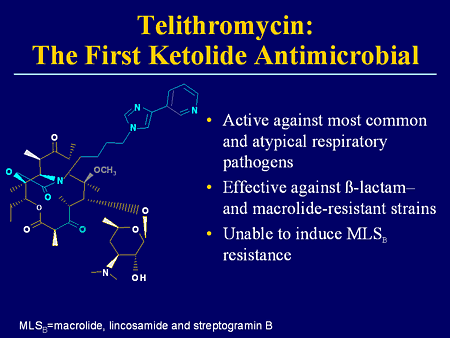 Telithromycin is active against a broad range of pathogens, including S. pneumoniae (including multidrug-resistant strains), H. influenzae, M. catarrhalis, Chlamydia pneumoniae, and M. pneumoniae. Against isolates of S. pneumoniae, telithromycin has been shown to demonstrate concentration-dependent bactericidal activity in vitro. Telithromycin's advantage over currently available macrolides rests in its enhanced activity against erythromycin-resistant S. pneumoniae. Antibacterial activity against other respiratory pathogens, such as H. influenzae and atypical bacteria, is similar to that of available advanced-generation macrolides, except that telithromycin appears to have a lower propensity to induce certain types of resistance (inducible methylase gene expression).
Telithromycin's efficacy in acute exacerbations of chronic bronchitis was demonstrated in three randomized, double-blind, controlled studies. The agent's clinical cure rate was comparable to those of cefuroxime axetil, clarithromycin, and amoxicillin/clavulanate, ranging between 85% and 86%. A 5-day course of telithromycin versus cefuroxime axetil 500 mg twice a day (ten-day therapy) was compared, resulting in efficacy rates of 86.4% and 83.1% for telithromycin and cefuroxime, respectively. A five-day course of therapy for telithromycin was compared with amoxicillin/clavulanic acid (500/125 mg three times a day for ten days), resulting in efficacy rates of 86.1% and 82.1% for telithromycin and amoxicillin/clavulanic acid, respectively. A five-day course of therapy of telithromycin versus clarithromycin (500 mg twice a day for ten days) resulted in efficacy rates of 85.8% for telithromycin compared with 89.2% for clarithromycin.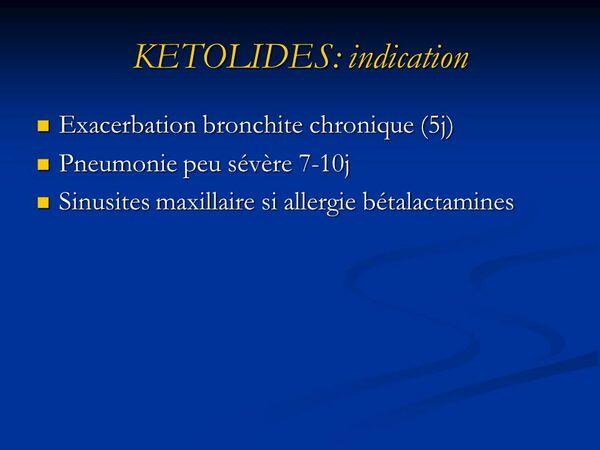 Telithromycin's side effects include nausea and diarrhea, which, in clinical trials, occurred at rates comparable to comparator antibiotics. Visual disturbances (namely blurred vision and/or difficulty focusing) have also occurred in approximately 1% of patients. In the large comparative trial, telithromycin demonstrated comparable efficacy to amoxicillin/clavulanate in terms of hospitalization, need for new antimicrobial medication for the primary infection or complication, and time lost from work.