Primary pneumococcal bacteremia (ie, no identifiable anatomic focus) is common in children but infrequent in adults. S pneumoniae is the major pathogen of otitis media in children, being responsible for between 33% and 50% of all cases in which an etiologic agent can be identified. It is also one of the two most important (along with H influenzae) agents implicated in acute sinusitis. Empyema, typically a complication of pneumonia but rarely a primary diagnosis, has been discussed above. Less common syndromes include endocarditis and pericarditis (see site), septic arthritis and osteomyelitis (see site), peritonitis (see site), endometritis (see site), brain abscess (see site), and cellulitis (see site). Most of these can occur as either a primary infection or as a complication of an initiating clinical focus (eg, pneumonia). (Refer to other chapters in this text for a complete description of these syndromes, including a discussion of empiric and definitive treatments.)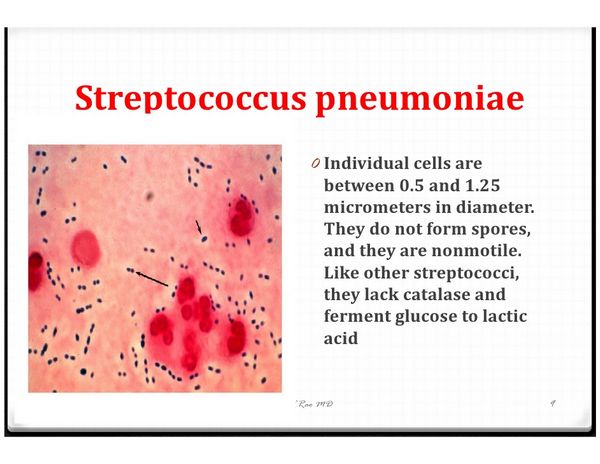 The principles discussed above regarding the various levels of certainty in the attribution of a syndrome to S pneumoniae, knowledge of local prevalence of drug-resistant isolates, and the importance of the antimicrobial susceptibility pattern of the isolate (if obtained) are similarly pertinent when determining empiric and definitive therapy for other syndromes.
Prevention & Control
A polyvalent vaccine against S pneumoniae, manufactured by both Merck (Pneumovax 23) and Lederle (Pnu-Immune 23), contains 25 ug of capsular polysaccaride from each of the 23 most common serotypes responsible for invasive pneumococcal infections in the United States. Vaccine serotypes represent = 85-90% of the isolates responsible for invasive infections. It is important to note that the six serotypes that are the most frequent causes of penicillin-resistant infections are included. The vaccine has been shown to be effective for the prevention of invasive pneumococcal disease (eg, bacteremia with or without pneumonia) in immunocompetent adults aged = 65 years and in persons aged = 2 years with chronic illnesses such as diabetes mellitus, alcoholism, cirrhosis, chronic pulmonary disease, coronary artery disease, and congestive heart failure (Box 6). Although convincing data on vaccine effectiveness in other immunocompromised populations (eg, HIV infection in persons from developed countries [data from sub-Saharan Africa show no vaccine efficacy], leukemia, Hodgkin's disease, multiple myeloma, and chronic renal failure) have not been presented, methodologic constraints or frank absence of dedicated studies has precluded excluding a protective role. Therefore, vaccination is generally recommended for these populations.
For infants < 2 years old, for whom the 23-valent vaccine is ineffective, a heptavalent vaccine (Prevnar, Wyeth-Lederle) containing the capsular polysaccharides of serotypes 4, 6B, 9V, 14, 18C, 19F, and 23F conjugated to a nontoxic diphtheria protein has been found effective in the prevention of invasive pneumococcal disease (Box 6). A series of immunizations with this conjugate vaccine in infants 2, 4, and 6 months old followed by a fourth dose when these infants are 12-15 months old is now recommended for all newborns. The vaccine is also recommended for high-risk children (eg, those with sickle cell disease or asplenia) between 2 and 5 years of age.
The Advisory Committee on Immunization Practices of the US Public Health Service has recently published updated recommendations on revaccination. This committee does not recommend routine revaccination but suggests that individuals = 2 years old who are at highest risk for serious pneumococcal infection and for whom rapid declines in antibody titers are known to occur should receive a second vaccination 5 years after the initial vaccine. These individuals include patients with HIV disease, functional or anatomic asplenia, leukemia, lymphoma, Hodgkin's disease, multiple myeloma, generalized malignancy, chronic renal failure, nephrotic syndrome, or transplants and those receiving immunosuppressive therapy. It is also recommended that individuals = 65 years old receive a second vaccination 5 years after the initial vaccine, provided that the first vaccine was administered when they were < 65 years old.
In children with either functional (eg, sickle cell disease) or anatomic asplenia, chemoprophylaxis with daily oral penicillin V provides another means of prevention and is also recommended.
Although human-to-human transmission of S pneumoniae is common, illness among contacts is very infrequent in nonepidemic settings. Accordingly, isolation of hospitalized patients or immunization of contacts is not recommended.
Buy Most Popular Antibiotic, Antifungal, Antiparasitic, Antiviral Drugs Online
| | |
| --- | --- |
| Bactrim 400+80, 800+160 mg (Co-trimoxazole) | Cipro 250, 500, 750, 1000 mg (Ciprofloxacin) |
| Diflucan 50, 100, 150, 200 mg (Fluconazole) | Flagyl 200, 400 mg (Metronidazole) |
| Grifulvin 250 mg (Griseofulvin) | Levaquin 250, 500, 750 mg (Levofloxacin) |
| Nizoral 200 mg (Ketoconazole) | Sporanox 100 mg (Itraconazole) |
| Vermox 100 mg (Mebendazole) | Amoxil 250, 500 mg (Amoxicillin) |