Drug Nomenclature
Synonyms: Butoconazol, nitrato de; RS-35887; RS-35887-00-10-3
BAN: Butoconazole Nitrate [BANM]
USAN: Butoconazole Nitrate
INN: Butoconazole Nitrate [rINNM (en)]
INN: Nitrato de butoconazol [rINNM (es)]
INN: Butoconazole, Nitrate de [rINNM (fr)]
INN: Butoconazoli Nitras [rINNM (la)]
INN: Бутоконазола Нитрат [rINNM (ru)]
Chemical name: 1-[4-(4-Chlorophenyl)-2-(2,6-dichlorophenylthio)butyl]imidazole mononitrate
Molecular formula: C19H17Cl3N2S,HNO3 =474.8
CAS: 64872-76-0 (butoconazole); 64872-77-1 (butoconazole nitrate)
ATC code: G01AF15
Pharmacopoeias in US
The United States Pharmacopeia 31, 2008 (Butoconazole Nitrate).
A white to off-white crystalline powder. Practically insoluble in water slightly soluble in acetone, in acetonitrile, in dichloromethane, and in tetrahydrofuran very slightly soluble in ethyl acetate sparingly soluble in methyl alcohol. Protect from light.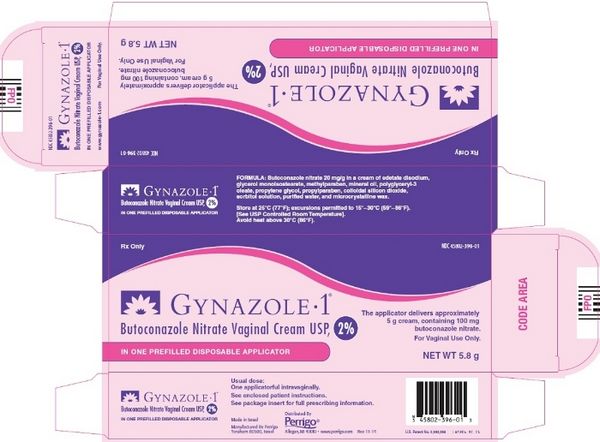 Adverse Effects and Precautions
Local reactions including burning and irritation and pelvic or abdominal pain or cramping may occur when butoconazole is applied vaginally. Intravaginal preparations of butoconazole may damage latex contraceptives and additional contraceptive measures are therefore necessary during local application. For a discussion of the caution needed when using azole antifungals during pregnancy, see under Pregnancy in Precautions of Fluconazole.
Effects on the blood
Severe reversible thrombocytopenia was associated with treatment with intravaginal butoconazole. The patient had previously had a drop in white cell count after treatment with intravaginal clotrimazole, suggestive of an idiosyncratic reaction to imidazoles.
Antimicrobial Action
Butoconazole is an imidazole antifungal with antimicrobial activity similar to that of ketoconazole including activity against Candida spp.
Pharmacokinetics
About 5% of a dose of butoconazole is absorbed after vaginal use. The plasma half-life is 21 to 24 hours.
Uses and Administration
Butoconazole is an imidazole antifungal used locally as the nitrate in the treatment of vulvovaginal candidiasis. It is given intravaginally as a 100-mg pessary or as 5 g of a 2% cream for 3 consecutive nights a single application of the cream has also been used.
Preparations
The United States Pharmacopeia 31, 2008: Butoconazole Nitrate Vaginal Cream.
Proprietary Preparations
Australia:: Gynazole Belgium: Gynomyk Brazil: Gynazole Canada: Gynazole France: Gynomyk Hungary: Gynazol Malaysia: Gynofort Mexico: Gynafem Poland: Gynazol Russia: Gynofort Singapore Gynofort USA: Gynazole Mycelex-3