Drug Nomenclature
Synonyms: Bay-h-4502; Bifonatsoli; Bifonazol; Bifonazolas; Bifonazolum
BAN: Bifonazole
USAN: Bifonazole
INN: Bifonazole [rINN (en)]
INN: Bifonazol [rINN (es)]
INN: Bifonazole [rINN (fr)]
INN: Bifonazolum [rINN (la)]
INN: Бифоназол [rINN (ru)]
Chemical name: 1-(α-Biphenyl-4-ylbenzyl)imidazole
Molecular formula: C22H18N2 =310.4
CAS: 60628-96-8
ATC code: D01AC10
Pharmacopoeias in China, Europe, and Japan
European Pharmacopoeia, 6th ed. (Bifonazole)
A white or almost white crystalline powder. It exhibits polymorphism. Practically insoluble in water sparingly soluble in dehydrated alcohol.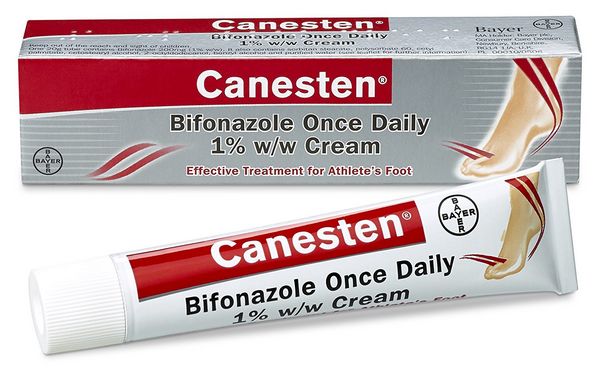 Profile
Bifonazole is an imidazole antifungal with a broad spectrum of activity sensitive fungi include dermatophytes, Malassezia furfur, and Candida spp. It also has some antibacterial activity. Bifonazole is mainly used by topical application in the treatment of fungal skin and nail infections. It is applied once daily as a 1% cream, powder, solution, or gel. Treatment is usually continued for 2 to 4 weeks. More prolonged treatment is necessary for nail infections and bifonazole may be applied initially with a 40% urea paste to soften the nail. Local reactions including burning and itching have been reported. For a discussion of the caution needed when using azole antifun-gals during pregnancy, see under Pregnancy in Precautions of Fluconazole.
Preparations
Proprietary Preparations
Argentina: Bifonal Bimicot Micosol Mycospor Sinamida Plus Australia: Canesten Once Daily Mycospor Austria: Canesten Bifonazol Fungiderm Belgium: Canestene Derm Bifonazole Mycospor Brazil: Mycospor Chile: Biocitronil Micotopic Multifung Mycosporan Czech Republic: Mycospor France: Amycor Germany: Bifomyk Bifon Canesten Extra Mycospor Greece: Aeroderma Bifized Bifon Compaser Fungiderm Gloryskin Helpovion Kavaderm Mycoflusemidon Mycospor Rye Hong Kong: Mycospor Hungary: Mycospor Indonesia: Mycospor Israel: Agispor Italy: Azolmen Bifazol Mexico: Mycospor The Netherlands: Mycospor Poland: Mycospor Portugal: Mycospor Topical Russia: Bifosin Mycospor South Africa: Mycospor Spain: Bifokey Levelina Moldina Mycospor Sweden: Mycosporan Turkey: Mycospor UK: Canesten A Once Daily Venezuela: Mycospor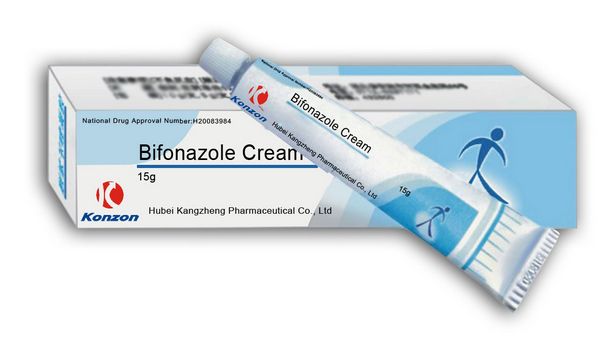 Multi-ingredient
Argentina: Empecid Pie Micatex Piecidex N Prurisedan Antimicotico Austria: Canesten Bifonazol comp Fungiderm comp Chile: Mycosporan Onycoset Czech Republic: Mycospor Sada na Nehty France: Amycor Onychoset Germany: Canesten Extra Nagelset Mycospor Nagelset Israel: Agispor Onychoset Comagis Keratospor Mexico: Mycospor Onicoset Poland: Mycospor Onychoset Portugal: Mycospor Russia: Mycospor South Africa: Mycospor Onychoset Spain: Mycospor Onicoset Turkey: Mycospor Venezuela: Mycospor Onicoset The symbol denotes a preparation no longer actively marketed.