Drug Nomenclature
Synonyms: 6059-S; LY-127935; Latamoksefidinatrium; Latamoxef disódico; Latamoxefdinatrium; Latamoxefum Dinatricum
BAN: Latamoxef Disodium [BANM]
USAN: Moxalactam Disodium
INN: Latamoxef Disodium [rINNM (en)]
INN: Latamoxef disódico [rINNM (es)]
INN: Latamoxef Disodique [rINNM (fr)]
INN: Latamoxefum Dinatricum [rINNM (la)]
INN: Динатрий Латамоксеф [rINNM (ru)]
Chemical name: (7R)-7-[2-Carboxy-2-(4-hydroxyphenyl)acetamido]-7-methoxy-3-(1-methyl-1H-tetrazol-5-ylthiomethyl)-1-oxa-3-cephem-4-carboxylic acid, disodium salt
Molecular formula: C20H18N6Na2O9S =564.4
CAS: 64952-97-2 (latamoxef); 64953-12-4 (latamoxef disodium)
ATC code: J01DD06
Read code: y00Mm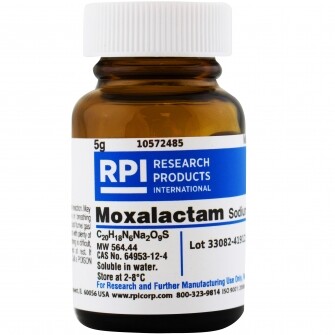 Profile
Latamoxef is an oxacephalosporin antibacterial that has been given intramuscularly or intravenously as the disodium salt in the treatment of susceptible infections. It differs from the cephalosporins in that the sulfur atom of the 7-aminocephalosporanic acid nucleus is replaced by oxygen. Like cefamandole it has an N-methylthiotetrazole side-chain and may cause hypoprothrombinaemia. Serious bleeding episodes have been reported with latamoxef and prophylaxis with vitamin K and monitoring of bleeding time have been recommended during treatment. In addition to hypoprothrombinaemia, inhibition of platelet function and more rarely immune-mediated thrombocytopenia may be responsible for interference with haemostasis. As with the methylthiotetrazole-containing cephalosporins, a disulfiram-like reaction with alcohol may occur. Latamoxef has antimicrobial activity similar to that of the third-generation cephalosporin cefotaxime, although it is generally less active against Gram-positive bacteria and more active against Bacteroides fragilis.
Breast feeding
The authors of a pharmacokinetic study in 8 lactating women given latamoxef cautioned that there was a possibility of colonisation of the infant's bowel with Gram-positive bacteria and in consequence a risk of enterocolitis. They therefore advised against breast feeding during maternal use of the drug. However, no adverse effects have been seen in breast-fed infants whose mothers were receiving latamoxef, and the American Academy of Pediatrics considers that it is therefore usually compatible with breast feeding.
Proprietary Preparations
Japan: Shiomarin.