Essentials of Diagnosis
Most important respiratory pathogen of infancy.
Passively acquired maternal antibodies provide no protection.
Can infect upper and lower respiratory tract.
Symptomatic reinfection occurs throughout life.
Children with pulmonary or cardiac disease can have serious morbidity from infection.
Yearly reinfection is common throughout life.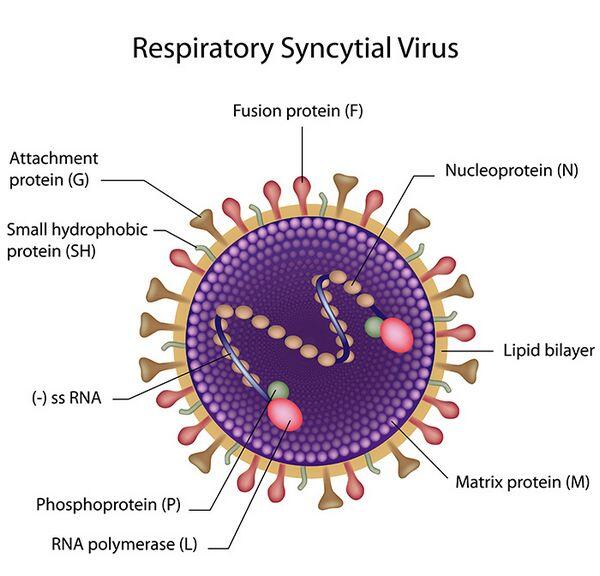 General Considerations
Epidemiology
Respiratory syncytial virus (RSV) produces a yearly epidemic in temperate climates. Most commonly, it causes bronchiolitis but can also cause upper respiratory infections, tracheobronchitis, and pneumonia (Table 1). In the United States, RSV activity is greatest from December through April. Some variation occurs year to year. The epidemic lasts from 2 to 5 months. Essentially all children are infected during the first 3 years of life. Yearly reinfection is common throughout life. The virus is responsible for ~90,000 hospital admissions and 4,500 deaths/year in the United States.
Microbiology
RSV is a 120- to 300-nm enveloped RNA virus of the Paramyxoviridae family. It is in the genus Pneumovirus. The viral RNA encodes 10 proteins, 7 of which are structural (F, G, L, M, N, P, and SH). Two antigenic strains have been identified and are differentiated based on the G surface glycoprotein. The epidemiologic and clinical significance of the antigenic variation is unknown. The virus is very labile regarding temperature variation; however, the lability of this virus does not reflect on its high degree of communicability.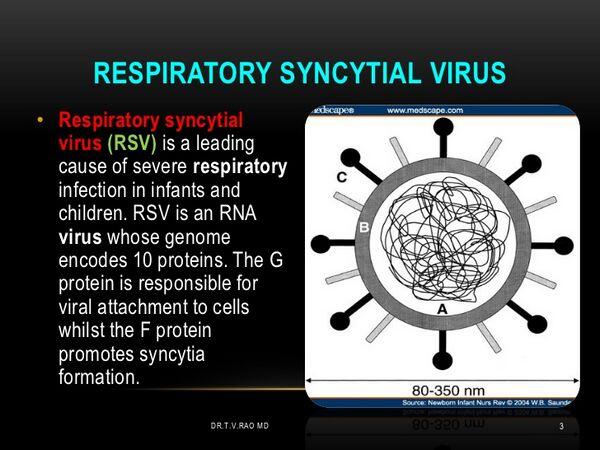 Pathogenesis
The virus is transferred via droplet nuclei, direct contact, and fomites. The virus has been shown to remain viable on fomites for hours and on the human hand for = 30 min. Nosocomial infections are very frequent and warrant strict adherence to hospital isolation procedures.
RSV adheres to and invades the respiratory epithelium. It has an incubation period of 2-8 days. The virus spreads cell to cell via intracytoplasmic bridges. It has potential to cause pathologic changes along the entire respiratory tract. Pulmonary pathology commonly noted during autopsy of infants with RSV bronchiolitis includes peribronchiolar mononuclear infiltration, epithelial necrosis of bronchioles, luminal plugging, airway hyperinflation, and atelectasis. Patients with RSV pneumonia also show evidence of mononuclear interstitial infiltration.
CLINICAL SYNDROMES
BRONCHIOLITIS
Clinical Findings
Signs and Symptoms
Bronchiolitis is an acute respiratory illness affecting primarily infants (Box 1). RSV is the most common etiology. Patient ages range from 6 weeks to 2 years, with a peak incidence from 2 to 6 months of age. Presenting symptoms commonly include low-grade fever, clear rhinorrhea, tachypnea, cough, and expiratory wheezing. Hypoxemia and respiratory failure may occur in advanced or complicated cases. Dehydration may be present owing to increased insensible fluid losses and poor intake of fluids.
Laboratory Findings
Viral isolation and antigen testing are performed from nasopharyngeal washings. Instillation of 1-2 cc of sterile saline in a nasal passage followed by prompt suction with an in-line suction trap will obtain a good specimen. Culturing requires 3-5 days and is optimal on human heteroploid, monkey kidney, human kidney, and fibroblast cells. Viral antigen can be detected with an immunofluorescence assay or enzyme immunoassay.
Imaging
Chest radiographs commonly display hyperinflation. Occasionally atelectasis or diffuse infiltrates are seen.
Differential Diagnosis
The differential diagnosis of bronchiolitis includes pneumonia, asthma exacerbation, foreign-body aspiration, and noxious-chemical inhalation.
Complications
In healthy infants, the disease lasts 3-7 days. Children with an underlying pulmonary or cardiac disease can have prolonged courses lasting weeks. Recurrent episodes of wheezing may occur in = 50% of infants infected by RSV. The wheezing may last until 3 years of age.
PNEUMONIA
Signs and Symptoms
Pneumonia from RSV typically occurs in infants and the elderly. Typical presenting symptoms may include fever, dyspnea, tachypnea, and hypoxemia. Diffuse, fine rales may be auscultated.
Laboratory Findings
Same as laboratory findings for bronchiolitis (above).
Imaging
Chest radiography demonstrates diffuse interstitial infiltrates.
Differential Diagnosis
Exclusion of a bacterial etiology may be difficult.
Complications
Patients with underlying pulmonary, immunologic, and cardiac disease are at risk for serious morbidity.
Diagnosis
Diagnosis of most RSV infections is based on physical and radiographic findings (see Table 1). Rapid antigen detection is often helpful, especially in compromised infants. Evidence of hypoxemia at presentation warrants aggressive therapy.
Treatment
Therapy is aimed at maintaining oxygenation and adequate air exchange. Supportive care is effective in the vast majority of cases. Tachypneic infants will have increased insensible fluid losses. Intravenous fluids may be needed if dehydration is present. Nasal suctioning to maintain clear nasal passages is warranted in all infants. Oxygen should be provided immediately if hypoxia is present. Bronchodilators may provide some benefit in bronchiolitis. Mechanical ventilation is indicated if signs of respiratory failure are present. Corticosteroids will benefit if the patient has asthma.
Immunoprophylaxis is highly effective if used appropriately (Box 2). Administration of ribavirin should be reserved for severe, refractory cases and infants compromised by cardiac, pulmonary, or immunologic disease. A history of prematurity also warrants consideration of ribavirin use. Ribavirin does interfere with some mechanical ventilators and small endotracheal tubes. Extreme caution should be observed with its use.
Prevention & Control
Thorough hand washing will limit the spread of RSV (Box 3). No vaccine is currently available. Immunoprophylaxis is effective in high-risk infants. Droplet isolation of the hospitalized patient is indicated. Strict isolation may be indicated in some hospital environments. Hospital isolation procedures should be strictly enforced. RSV is a common source of nosocomial infection. Symptomatic children should be excluded from school or daycare. Viral shedding usually lasts from 3 to 8 days after the onset of symptoms. Rare cases may shed virus for as long as 4 weeks.
Table 1. RSV clinical findings.
Syndrome
Age Group
Clinical Findings
Upper respiratory tract illness
More common in older children and adults
Cough
Profuse rhinorrhea
Serous otitis media
Pharyngitis
Tracheobronchitis
All ages
Hoarseness
Cough
Bronchiolitis
Range of 6 weeks to 2 years
Peak of 2-6 months
Tachypnea
Cough
Expiratory wheezing
Clear rhinorrhea
Radiographic evidence of pulmonary hyperinflation
Low-grade fever
Pneumonia
Infants, toddlers, & the elderly
Respiratory distress
Diffuse, fine rales
Radiographic evidence of diffuse interstitial infiltrates
Fever
BOX 1. RSV Syndromes
More Common
Bronchiolitis (primarily infants)
Pneumonia
Tracheobronchitis
Upper respiratory tract illness
Asthma exacerbation
Upper respiratory tract illness
Asthma exacerbation
Less Common
Otitis media
Tracheobronchitis
Pneumonia (primarily the elderly)
BOX 2. Treatment of RSV
Condition
Indications
Dosage
Supportive Care
All uncomplicated cases of bronchiolitis and pneumonia
Humidified oxygen
Antipyretics
Parenteral hydration, if needed
Mechanical Ventilation
Respiratory failure
Titrate to maintain oxygenation and adequate air exchange
Immunoprophylaxis with
Palivizumab Intramuscular
Monoclonal Antibody Injection
Infants < 2 years old with bronchopulmonary dysplasia who require oxygen or have needed oxygen in the 6 months before RSV season
Infant < 1 year old with bronchopulmonary dysplasia who are on any chronic respiratory treatment
Infants < 1 year old with a gestational age of = 28 weeks at birth
Infants < 6 months old with a gestational age of 29-32 weeks at birth
Infants < 6 months old with a gestational age of 32-35 weeks who have passive exposure to smoke, attend day care, or experience other pulmonary risk factors
Not FDA approved alone for congenital heart disease
Contraindicated in cyanotic congenital heart disease
15 mg/kg intramuscularly in the anterolateral thigh
Dose is given montly from November through April in most temperate climates. Consult local health officials for RSV epidemiology in specific regions I-ß-D-Ribofuranosyl-1,2,4-triazole-3-carboxamide (Ribavirin)
Complex congenital heart disease
Pulmonary hypertension
Bronchopulmonary dysplasia
Chronic lung disease, including cystic fibrosis
Immunosuppressed state
Premature birth (less than 37 weeks gestation)
Healthy infants less than 6 weeks of age
Severely ill and recalcitrant to supportive measures
Administer 6 g, diluted to 20 mg/ml, aerosolized over 12 to 18 hours for 3 to 7 days. Administered via Viratek Small Particle Aerosol Generator (SPAG 2)
For maximum efficacy, ribavirin should be administered as early as possible after onset of symptoms
Avoid use in pregnant women
Ribavirin may interfere with some mechanical ventilators
Corticosteroids
Virus-induced asthma
No proven benefit in healthy infants with uncomplicated bronchiolitis
Prednisone (or equivalent) 1 mg/kg divided twice a day for 5 d (max dose = 60 mg/d)
Higher doses are indicated in some cases and should be used with caution
Bronchodilators
Asthma or clinical evidence of bronchospasm
Benefit is controversial in healthy infants with uncomplicated bronchiolitis
Albuterol 0.5%, 0.05 to 0.15 mg/kg dose nebulized every 4 h (max dose = 2.5 mg/dose)
Higher doses are indicated in some cases and should be used with caution
BOX 3. Prevention & Control of RSV
Prophylactic Measures
Hand washing, disinfection of fomites
RSV vaccine is in clinical trials
Immunoprophylaxis for high-risk infants (see Box 2)
Isolation Precautions
Droplet isolation for hospitalized patients; strict isolation may be indicated in certain environments
Children should be excluded from school and daycare until symptoms resolve
Viral shedding can last as long as 4 weeks; usually 3 to 8 d