Description of Medical Condition
Bartonella infections cause manifestations in two broad categories:
Localized skin lesions and prominent regional lymphadenitis, i.e., typical cat scratch disease (CSD). Atypical CSD manifestations often represent disseminated infection.
Primary bacteremia, potential for persistent disseminated infection with localized inflammatory (and neovascular) lesions in a variety of organ systems and/or ongoing bacteremia.
System(s) affected: Nervous, Cardiovascular, Musculoskeletal, Pulmonary, Gastrointestinal, Skin/ Exocrine, Hemic/Lymphatic/lmmunologic
Genetics: No defined genetic predisposition
Incidence/Prevalence in USA:
Non-B. bacilliformis infections:
CSD: estimated 9.3/100,000 people (approximately 25,000 cases annually)
Others, no incidence estimates
Predominant age:
B. henselae infections:
CSD: 55% in persons < 18 years old
BA/BP, bacteremia, endocarditis, other syndromes: predominantly adults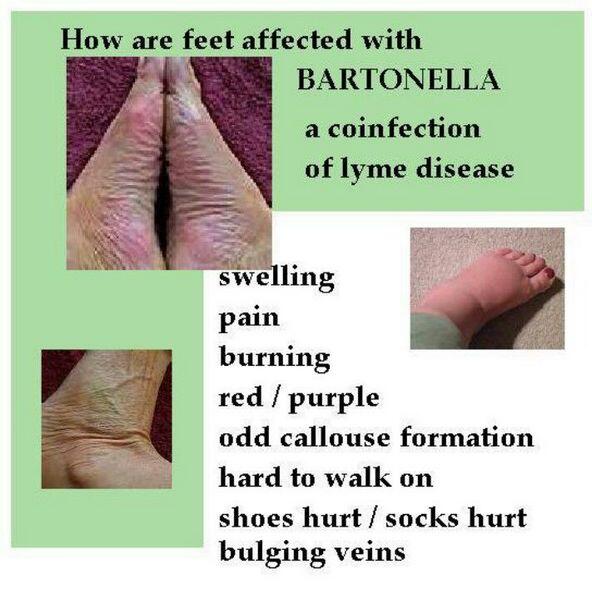 Predominant sex: Non-B. bacilliformis infections: Male > Female
Medical Symptoms and Signs of Disease
Carrion disease (the spectrum of B. bacilliformis infection)
Oroya fever (acute bacteremia): abrupt onset 3 weeks after inoculation, morbid course; severe anemia due to bacterial invasion of erythrocytes, many complications
Asymptomatic persistent bacteremia: <15% of Oroya fever survivors not treated with antibiotics
Verruga peruana: crops of nodular angiomatous skin lesions months after Oroya fever; mucosal and internal lesions also; involute in months to years
Typical CSD (89% of cases)
4-6 days after inoculation: 50-75% develop 2-3 mm macule at the trauma site; progresses to a papule or pustule
Regional adenopathy 1-8 weeks post-inoculation; sole manifestation in up to 50%
Nodes involved: 80% upper extremities, neck, head
Suppuration of involved nodes: 15%.
Malaise and/or fever: 30% of patients
Spontaneous resolution: 2-4 months for majority
Atypical CSD (11% of cases)
Parinaud oculoglandular syndrome: granulomatous conjunctivitis and ipsilateral preauricular lymphadenitis Oneuroretinitis: usually unilateral; macular star exudate, papilledema, retinal nodules, angiomatous subretinai changes; self-limited, with return of visual acuity to near-baseline; concurrent B. henselae bacteremia found in some
Encephalopathy: mild-profound changes of higher cortical functions; seizures; neurologic sequelae rare
Other manifestations self-limited, sequelae rare: granulomatous hepatitis/splenitis, osteolysis, atypical pneumonitis, fever of undetermined origin (FUO). mononucleosis-type syndrome, others
Bacteremia due to non-B. bacilliformis species: short-term fatality uncommon
B. quintana: (Eponyms: Trench fever, Wolhynia fever, shin-bone fever, quintan fever) Incubation days-weeks; sudden onset of fever, non-specific symptoms/signs; self-limited illness may be brief (4-5 days), prolonged (2-6 weeks), most commonly paroxysmal (3-5 episodes of 5 days duration).
B. henselae: HIV-infected: insidious onset of fatigue, malaise, aches, weight loss, recurring fevers, headache; localizing findings uncommon. HI V-uninfected: abrupt onset of fever, may persist or become relapsing; myalgias, arthralgias, headache localizing findings unusual; asymptomatic persistence can evolve.
Endocarditis: fever, new or changed heart murmur
Bacillary angiomatosis/peliosis (BA/BP): neovascular proliferation disorders
BA: mostly immunocompromised hosts, e.g., HIV-infected; involves skin (crops of subcutaneous or dermal nodules, and/or skin-colored to purple papules; may ulcerate with serous or bloody drainage, and crusting), regional lymph nodes, internal organs; 6. henselae and B. quintana both inculpated
BP involves liver and spleen in HIV-infected and other immunosuppressed persons; can involve lymph nodes as well; nonspecific clinical manifestations
Neurologic in HIV-infected: cognitive dysfunction, behavioral disturbances; may be mistaken for HIV-related or other dementia, psychiatric disease
What Causes Disease?
B. bacilliformis: Carrion disease (limited to the Andes mountains)
B. quintana: Trench fever, BA/BP, endocarditis
B. henselae: Acute and persistent bacteremia, BA/BP complex, non-neovascular inflammation including endocarditis and CSD, neurologic manifestations
B. elizabethae: Bacteremia with endocarditis (1 reported case)
B. clarridgeiae: CSD (1 reported case)
B. vinsonii: bacteremia (1 reported case)
Risk Factors
Vector exposure with cutaneous inoculation
B. bacilliformis: Sandflies of the genus Lutzomyia (formerly Phlebotomus)
B. quintana: Human body louse, possibly others as yet unidentified
B. henselae: Domestic cat (especially scratch/bite from kitten < 1 year old), possibly cat fleas, possibly ticks
B. elizabethae, B. vinsonii: unknown
Cell-mediated immune dysfunction (a role in BA/BP. possibly endocarditis)
HIV infection, especially with CD4+ lymphocyte count <100/;UL
Chronic corticosteroid, azathioprine, cyclophosphamide, cyclosporine, ethanol
Diagnosis of Disease
Differential Diagnosis
Typical CSD: other causes of unilateral lymphade-nopathy: Sporothrix schenckii, Pasteurella species, Yersinia pestis, Francisella tularensis. Mycobacteria, Erysipelothrix rhusiopathiae, Staphylococci, Streptococci, other agents associated with injection drug use, lymphoma. metastatic malignancy
Atypical CSD: other agents causing similar syndromes
Non-bacilliformis Bartonella species bacteremia syndromes

In immunocompromised, especially HIV-infected Cryptococcus neoformans, Histoplasma capsulatum, Coccidioides immitis, Mycobacterium avium-complex
After recent arthropod exposure: rickettsial infections, tularemia, plague, babesiosis, borreliosis (location-dependent).
After cat/dog scratch/bite: Pasteurella species infection
Viral illnesses: influenza, infectious mononucleosis. acute hepatitis, etc.

Endocarditis: other fastidious/slow-growing bacteria associated with endocarditis, e.g. species of Hae-mophilus, Actinobacillus, Cardiobacterium. Eikenella, Kingella, Coxiella
BA/BP: Kaposi sarcoma; pyogenic granuloma
Neurologic in HIV-infected: other causes of encephalopathy, e.g., primary HIV-related, tertiary syphilis, cryp-tococcal meningitis, toxoplasmosis of brain, progressive multifocal leukoencephalopathy, alcohol or drug abuse
Laboratory
Non-bacilliformis Bartonella spp
Blood cultures: lysis-centrifugation (Isolator) cultures plated on blood or chocolate agar, incubated at 35-37°C in 5% C02 > 2 weeks; enriched broth media, e.g. BACTER, incubated at 35-37°C in 5% C02 >2 weeks and subculture to agar if bacilli detected by periodic acridine orange staining.
Tissue cultures: recovery from tissue homogenate plated on blood or chocolate agar may require >4 weeks
01 st generation serologic tests available in reference labs
Drugs that may alter lab results: Antibiotics: cultures falsely negative
Disorders that may alter lab results: N/A
Pathological Findings
Verruga peruana: neovascular proliferation, bacteria uncommonly identified
CSD: stellate abscesses, mixed inflammatory infiltrates, granulomata, follicular hyperplasia of lymph nodes; bacilli in tissue demonstrable by silver impregnation stains (Warthin-Starry or Steiner) in about 1/3 cases
Endocarditis: Warthin-Starry stained bacilli may be seen in vegetations
BA/BP

BA lesions: tabular proliferations of small blood vessels containing cuboidal endothelial cells interspersed with inflammatory cells, mostly neutrophils. Fibrillar- or granular-appearing amphophilic material often seen in interstitium hematoxylin and eosin stain. Warthin-Starry stain or electron microscopy demonstrate these to be clusters of bacilli.
BP: involved organs contain blood-filled, partially endothelial cell-lined cystic structures and surrounding clumps of bacilli (identified by Warthin-Starry stain) in the midst of inflammatory cells.

Neurologic in HIV-infected: little information
Special Tests
Skin testing reagents: not commercially available or standardized; use is not recommended
Co-incubation of tissue homogenates with cell culture lines to enhance culture recovery; PCR and immunohis-tochemical labeling for non-culture detection in tissue currently remain research tools
Imaging
Ultrasonography or CT as indicated
Diagnostic Procedures
Biopsies for histology/culture of cutaneous nodules, lymph nodes, or internal organs as necessary
Typical CSD; traditionally, diagnosis required 3 of 4 criteria fulfilled:

Animal contact (usually cat or dog) resulting in a scratch, abrasion or ocular lesion
Positive serologictest (replaces positive skin test)
Characteristic lymph node pathology
Absence of evidence of other causes of lymphadenopathy

Atypical CSD: compatible syndrome, absence of other evident cause; positive skin or serologic testing
Bacteremia: clinical suspicion; use of appropriate culture methods
Endocarditis: compatible clinical syndrome, evidence of valve lesion (ultrasonographic or tissue), positive culture of blood or valve (or non-culture demonstration, e.g., immunohistochemistry, polymerase chain reaction [PCR])
BA/BP: biopsy for definitive diagnosis; presumptive diagnosis by response to appropriate antibiotics
Neurologic in HIV-infected: (1) compatible clinical syndrome plus elevated antibodies in CSF or detection in CSF by culture or PCR, (2) no other cause
Treatment (Medical Therapy)
Appropriate Health Care
Outpatient for uncomplicated infection
Initial hospitalization may be necessary for complications
General Measures
CSD: symptom-specific supportive therapy, e.g., aspiration of suppurative lymph nodes to alleviate pain
Other syndromes (including CSD-associated neuroreti-nitis and encephalopathy): antibiotic therapy
Activity
Fully active if uncomplicated
Diet
No special diet
Patient Education
N/A
Medications (Drugs, Medicines)
Drug(s) of Choice
B. bacilliformis infection: chloramphenicol 500 mg po qid for 1 week
For typical CSD: no proven response to many agents including erythromycin, doxycycline, penicillin, cepha-losporins; anecdotal reports of efficacy of rifampin > ciprofloxacin > gentamicin > trimethoprim-sulfamethox-azole. One placebo-controlled trial of oral azithromycin found some efficacy for 5 day course.

Azithromycin dose:
Adults and children > 45 kg: 500 mg on day 1, 250 mg daily on days 2-5
Children < 45 kg: 10 mg/kg on day 1; 5 mg/kg daily on days 2-5

Non-bacilliformis Bartonella infections including bacteremia without endocarditis, cutaneous BA + local lymph node involvement, CSD-associated neuroretinitis and encephalopathy, 6. tense/ae-related neuro-psychiat-ric disorders in HIV-infected:

Erythromycin 500-1000 mg po bid or doxycycline 100 mg po bid for 4 weeks in immunocompetent; 8-12 weeks in immunocompromised (rifampin may play adjunctive role); azithromycin 250 mg qd for comparable duration should be effective as well

Endocarditis, visceral or bony involvement with BA/BP Erythromycin 500-1000 mg qid or doxycycline 100 mg bid x 2-4 weeks parenteral; complete 8-12 weeks po; azithromycin 250 mg qd for comparable duration should be effective as well
Contraindications: N/A
Precautions: N/A
Significant possible interactions: N/A
Alternative Drugs
B. bacilliformis infection: tetracyclines
Non-bacilliformis Bartonella infections: other tetracyclines, azithromycin, clarithromycin, chloramphenicol. ofloxacin, ciprofloxacin
Patient Monitoring
Relapse may occur in non-CSD syndromes if therapy is too brief, close follow-up after completion of antibiotics is warranted
Prevention / Avoidance
Avoid contact with potential vectors, especially young cats. If cat scratch or bite occurs, wash the wound promptly and thoroughly.
Possible Complications
especially in HIV infection
Expected Course / Prognosis
CSD — spontaneous resolution usually in 2-4 months without specific therapy
Other syndromes -with proper treatment, full resolution if relapse, consider long-term suppressive antibiotics after retreatment