Description of Medical Condition
The systemic response to infection; it encompasses a broad array of clinical manifestations and overlaps with inflammatory reactions to other clinical insults (e.g., severe trauma or burn)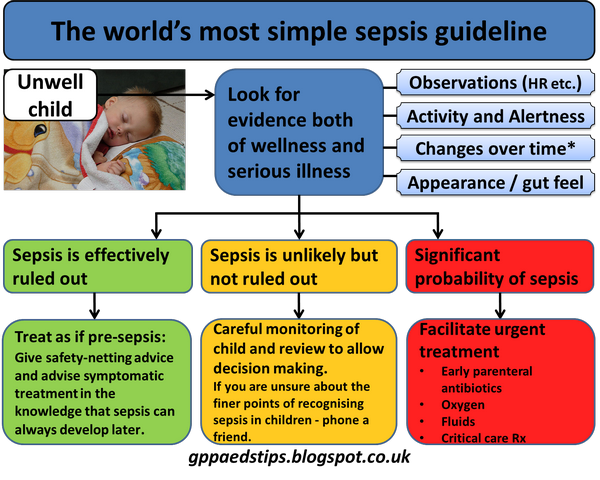 Bacteremia: Bacteria in the blood; may have no accompanying symptoms
Systemic inflammatory response syndrome (SIRS) inflammatory reaction to different clinical insults manifest by two of the following: (1) temperature >38°C or<36°C, (2) heart rate >90/min; (3) respiratory rate >20/min or PaC02 <32 mm Hg, and (4) WBC count >12,000/mm3, <4,000/mm3 or >10% immature forms (bands)
Sepsis: SIRS with documented infection (typically bacterial)
Septic shock: Sepsis induced hypotension (systolic BP <90 mmHg or >40 mmHg drop from baseline) despite adequate fluid resuscitation plus hypoperfusion abnormalities (oliguria, lactic acidosis, acute change in mental status)
Multiple organ dysfunction syndrome (MODS): altered organ function in an acutely ill patient — requires intervention to maintain homeostasis
System(s) affected: Cardiovascular, Endocrine/ Metabolic, Hemic/Lymphatic/lmmunologic, Renal/Urologic, Nervous, Pulmonary, Gastrointestinal Genetics: Single nucleotide polymorphisms i.e., cytokine and cytokine receptor genes influence risk for development of sepsis and risk of mortality from sepsis Incidence/Prevalence in USA: 300/100,000 persons/year Predominant age: All ages Predominant sex: Male> Female (1.28:1)
Medical Symptoms and Signs of Disease
Fever
Chills, rigors
Myalgias
Changes in mental status — restlessness, agitation, confusion, delirium, lethargy, stupor, coma
Tachycardia
Tachypnea
Hypotension
Skin lesions — erythema, petechiae, ecthyma gangrenosum, embolic lesions
Signs and symptoms related to site of primary infection

Respiratory tract — cough, sputum production, dyspnea, chest pain
Urinary tract — dysuria, flank pain, frequency, urgency
Intra-abdominal source — nausea, vomiting, diarrhea, constipation, abdominal pain
Central nervous system — stiff neck, headache. photophobia, focal neurologic signs

Signs and symptoms related to end organ failure

Pulmonary — cyanosis
Renal — oliguria, anuria
Hepatic — jaundice
Cardiac — congestive heart failure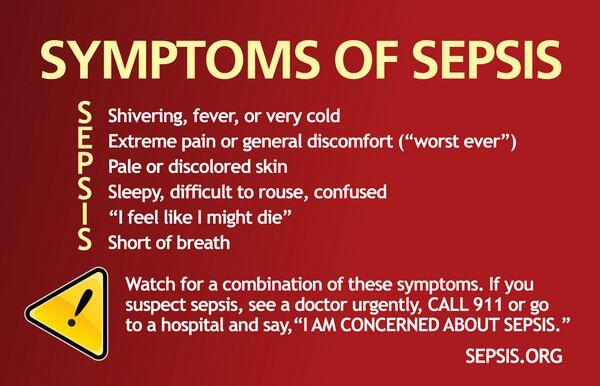 What Causes Disease?
Specific etiologic agents include:
Gram positive organisms — most commonly Staphylococcus spp, Streptococcus spp. Enterococcus spp
Gram negative organisms — most commonly Escherichia coli, Klebsiella spp, Proteus spp.,Pseudomonas spp
Fungi — most commonly Candida spp
Other agents — anaerobes. Also, see Differential diagnosis.
Common sources of septicemia include
Lungs
Urinary tract
Intra-abdominal focus — biliary tree, abscess, peritonitis
Intravascular catheters
Skin — cellulitis, decubitus ulcer, gangrene
Heart valves
Risk Factors
Age extremes (very old and very young)
Impaired host (see associated conditions)
Indwelling catheters- intravascular, urinary, biliary, etc.
Complicated labor and delivery — premature and/or prolonged rupture of membranes, etc.
Certain surgical procedures
Diagnosis of Disease
Differential Diagnosis
Viral diseases (influenza, dengue and other hemorrhagic viruses, Coxsackie B virus)
Rickettsial diseases (Rocky Mountain spotted fever, endemic typhus)
Spirochetal diseases (leptospirosis, relapsing fever [Borrelia sp], Jarisch-Herxheimer reaction in syphilis)
Protozoal diseases (Toxoplasma gondii, Trypanosoma cruzi, Pneumocystis carinii, Plasmodium falciparum)
Collagen vascular diseases, vasculitides, myocardial infarction, pulmonary embolus, thromboticthrombocyto-penic purpura/hemolytic-uremic syndrome, thyrotoxico-sis, adrenal insufficiency (Addison disease), dissecting aortic aneurysm, multiple trauma, third-degree burn
Laboratory
Positive blood cultures
Positive cultures from other sites (sputum, urine, cerebrospinal fluid [CSF], etc.)
Gram stain of clinical specimens (sputum, urine, CSF. etc.)
Common:

Leukocytosis
Proteinuria
Hypoxemia
Eosinopenia
Hypoferremia
Hyperglycemia
Hypocalcemia
Mild hyperbilirubinemia

Less common:

Lactic acidosis
Leukopenia
Azotemia
Thrombocytopenia
Prolonged prothrombin time
Anemia
Hypoglycemia
Drugs that may alter lab results: Prior antibiotic use Disorders that may alter lab results: N/A
Pathological Findings
Inflammation at primary site of infection
Disseminated intravascular coagulation
Non-cardiogenic pulmonary edema
Special Tests
Antigen detection systems — counterimmunoelectrophoresis (CIE) and latex agglutination tests (pneumococcus, H. influenzae type B, group B streptococcus, meningococcus)
Gram stain of buffy coat smears occasionally useful
Imaging
X-rays (e.g., chest)
Ultrasound, CT scan, or MRI may be useful in delineating sites of infection
Diagnostic Procedures
Aspiration of potentially infected body fluids (pleural. peritoneal, CSF) when appropriate
Biopsy, drainage of potentially infected tissues (abscess, biliary tree, etc.) when appropriate
Treatment (Medical Therapy)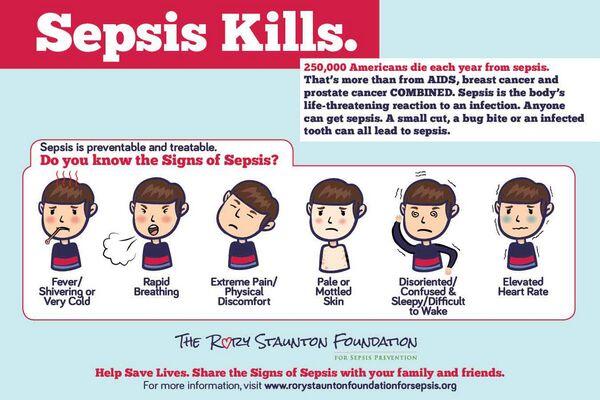 Appropriate Health Care
Hospitalization
Intensive care treatment of patients with shock, respiratory failure
General Measures
Removal or drainage of septic foci
Correction of metabolic abnormalities (hypoxemia, hyperglycemia, hypoglycemia, severe acidemia [pH < 7.10])
Mechanical ventilation for respiratory failure
Transfusion of RBC, platelets, and/or fresh frozen plasma for bleeding
Volume replacement followed by pressors for hypotension
Stress ulcer and deep venous thrombosis prophylactic measures
Insulin therapy to keep serum glucose < 150 mg/dl
Surgical Measures
Drainage of infected sites, debridement of necrotic tissues
Activity
Bedrest
Diet
NPO initially; intravenous hyperalimentation appropriate in some severely malnourished patients and in patients who will be unable to receive enteral alimentation within the week
Patient Education
N/A
Medications (Drugs, Medicines)
Drug(s) of Choice
Antibiotic coverage should be broad initially and directed against organisms associated with identified septic foci. After culture results are available, treatment should be more organism-specific. Knowledge of the antibiotic susceptibility patterns of local pathogens extremely important.
Neonatal (< 7 days old) sepsis — ampicillin 300 mg/kg/d in 3 divided doses and gentamicin (Garamycin) 5 mg/kg/d in 2 divided doses
Non-immunocompromised child — cefotaxime (Claforan) 200 mg/kg/d in 4 divided doses
Non-immunocompromised adult — cefotaxime (Claforan) 1-2 gm q8-12 orticarcillin-clavulanate (Timentin) 3.1 g q6h plus gentamicin 5 mg/kg/day in 1 -3 divided doses
Neutropenic host — cefepime (Maxipime) 1 -2 gm q12h, and gentamicin (Garamycin) ortobramycin 3-5 mg/kg/d in 2-3 divided doses; vancomycin (Vancocin) is added when there is an obvious catheter-related infection or a known gram positive bacteremia or if there is an increased likelihood of infection with resistant gram positive organisms.
Contraindications: History of anaphylaxis or other allergic reaction to the antibiotic Precautions: Dose adjustments required in renal failure Significant possible interactions:
Aminoglycosides — increased nephrotoxicitywith enflurane, cisplatin and possibly vancomycin; increased ototoxidty with loop diuretics; increased paralysis with neuromuscular blocking agents
Ampicillin — increased frequency of rash with allopurinol
Alternative Drugs
Intravenous hydrocortisone, 200-300 mg/day in 3-4 divided doses may benefit patients who require vasopressor therapy to maintain an adequate blood pressure. Higher doses of corticosteroids should not be used.
Many other drug combinations are possible to get adequate coverage
Antifungals
Antimicrobials for anaerobic infections
Antipseudomonals
Drotrecogin alfa (Xigris) — 24 mcg/kg/hr for 96 hrs in patients with severe sepsis (APACHE score >24). Do not use in patients with increased risk of bleeding, thrombocytopenia with platelets < 30,000, sepsis-induced organ dysfunction for >24 hours, hypercoagu-lable states, chronic renal or hepatic failure, children or pregnancy. Very expensive.
Patient Monitoring
Depends upon source of infection, underlying disease(s)
Peak and trough drug levels for aminoglycosides
BUN, creatinine, electrolytes and complete blood counts at least twice weekly; more frequently if unstable
Prevention / Avoidance
Vaccination — pneumococcal (geriatric patients, patients with certain chronic diseases), Haemophilus influ-enzae type B (infants, young children)
Gamma globulin (for hypo- or agammaglobulinemic patients)
Hand washing by hospital personnel, appropriate catheter care, etc., for hospitalized patients
Possible Complications
Death
Adult respiratory distress syndrome (ARDS)
Multi-organ failure (cardiac, pulmonary, renal, hepatic)
Disseminated intravascular coagulation (DIC)
Gastrointestinal hemorrhage
Expected Course / Prognosis
Even with optimal care, mortality will be 10-50% overall; this is increased in patients with neutropenia, diabetes, alcoholism, renal failure, respiratory failure, hypogammaglobulinemia, certain etiologic agents (e.g., Pseudomonas aeruginosa), a delay in appropriate antimicrobial therapy, and those patients at the age extremes
Miscellaneous
Associated Conditions
Neutropenia
Diabetes mellitus
Alcoholism
Leukemia, lymphoma, and solid tumors
Cirrhosis
Burns
Multiple trauma
Intravenous drug abuse
Malnutrition
Complement deficiencies
Hypo-oragammaglobulinemia
Spienectomy
HIV infection
Age-Related Factors
Pediatric: Screen newborns for infection due to prolonged rupture of membranes (> 24 h), maternal fever, prematurity Geriatric:
Often more difficult to diagnose clinically in the elderly
Change in mental status/behavior may be only early manifestation
Pregnancy
Beta lactam antibiotics, aminoglycosides, erythromycin are considered safe
Synonyms
Septicemia
Sepsis neonatorum
International Classification of Diseases
038.9 Unspecified septicemia
See Also
Pneumonia, bacterial
Pyelonephritis
Meningitis, bacterial
Endocarditis, infective
Toxic shock syndrome
Rocky Mountain spotted fever
Candidiasis
Listeriosis
Tularemia
Other Notes
High dose steroids of no benefit