Description of Medical Condition
A chronic non-malignant lung disease caused by inhalation of asbestos, a hazardous dust found in a variety of work places. This disease persists in spite of substantial knowledge about its cause, and effective means of prevention. The disease typically occurs 10-15 years after initial exposure. Asbestosis is a fibrotic interstitial lung disease caused by a cascade of responses to inhaled asbestos fibers. Pleural plaques and mesotheliomas can develop. It increases risk of tuberculosis and lung cancer in cigarette smokers.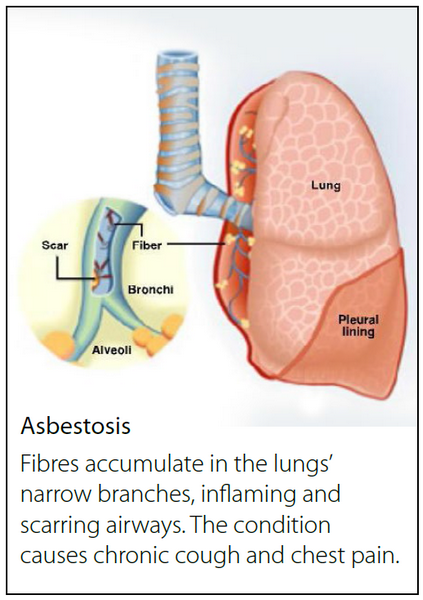 System(s) affected: Pulmonary
Genetics: No known genetic pattern
Incidence/Prevalence in USA: There is no uniform surveillance or reporting of asbestosis. In the USA, less than 10 cases per 100,000 people are diagnosed annually; this probably represents an underestimate. 876 deaths reported from 1979 to 1992. Number of cases rising steadily. More than a million people have been exposed to significant levels of asbestos. Peak use was 1940-1975.
Predominant age: Middle age (40-75 years)
Predominant sex: Male > Female, due to exposure pattern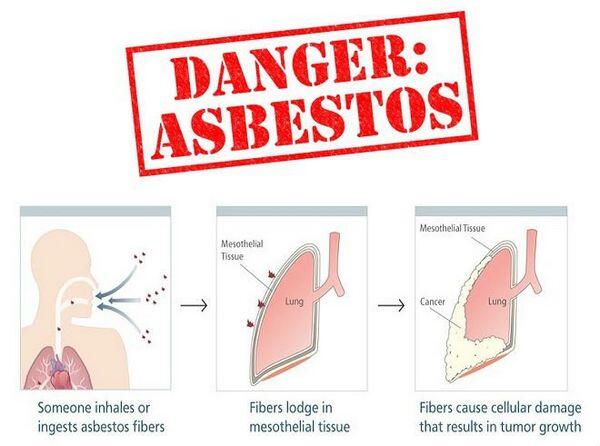 Medical Symptoms and Signs of Disease
No unique signs or symptoms
Insidious onset
Cough, dry or with sputum production
Exercise intolerance
Sexual dysfunction may be associated
Basilar crackles
Wheeze with forced exhalation
Digital clubbing
Cyanosis
Right sided heart failure
What Causes Disease?
Diversity of settings for hazardous exposure
Asbestos used in more than 3000 commercial products — production peaked in mid-1970s
Risk to miners and millers of asbestos
More people at risk in construction sites with unprotected use of asbestos, commonly for insulation
Maintenance and removal of asbestos-containing material creates high levels
Office workers, teachers, and students in buildings with asbestos in place have exposure orders of magnitude below those of construction workers. Although societal concern has been high — actual health risk not considered significant.
Risk Factors
Cigarette smoking markedly increases risk
Asbestos maintenance and removal workers
Construction workers
Asbestos miners and millers
Shipbuilders
Textile workers
Railroad workers
Diagnosis of Disease
Differential Diagnosis
Other pneumoconioses (siderosis, stannosis (due to inhalation of tin oxide), baritosis, coal worker pneumoconiosis, silicosis, talcosis, shaver's disease)
Laboratory
Hypoxemia
Bronchoalveolar lavage or biopsy — generally unnecessary in the clinical setting — research tools
Drugs that may alter lab results: N/A
Disorders that may alter lab results: N/A
Pathological Findings
Lung:

Parietal pleural thickening
Parietal pleural calcification
Interstitial inflammation
Interstitial fibrosis
Alveolar wall fibrosis
Special Tests
Pulmonary function test:
Not diagnostically specific
Useful for following level of impairment
Restrictive, mixed, or obstructive pattern
Reduction in diffusing capacity to carbon monoxide can occur early, even when chest x-ray is normal
Imaging
Chest x-ray
Primary diagnostic modality and screening tool — approximately 80% sensitive
Diagnosis based on: credible history of exposure, delay from exposure to detection, and typical radio-graphic findings
Irregular, linear opacities — start in bases at periphery, and spread upwards
Circumscribed pleural plaques
Rounded atelectasis (pseudotumor)
Pleural thickening
Classification scheme available through International Labour Office
High resolution CT may increase sensitivity to near 100%
Subpleural curvilinear lines
Diagnostic Procedures
Bronchos copy — research tool
Treatment (Medical Therapy)
Appropriate Health Care
Outpatient
General Measures
No effective treatment to reverse the course
Early detection essential
Approach directed at elimination of progression, amelioration of symptoms, reduction of risk of associated disorders
Withdrawal from exposure
Workers with no symptoms, and only CXR changes may make an informed choice to continue employment, with maximum environmental and personal protection
Pneumococcal and influenza vaccines
Chest physiotherapy
Nutritional advice
Home oxygen
Graded exercise
Stop smoking
Surgical Measures
Whole lung lavage to remove retained dust is being investigated
Lung transplantation for severe advanced cases
Activity
Graded exercise
Diet
High calorie, high protein with advanced
Patient Education
Printed patient information available from: Asbestos Victims of America. P.O. Box 559, Capitola, CA 95010, (408)476-3646 or American Lung Association, 1740 Broadway, New York, NY 10019,(212)315-8700
Medications (Drugs, Medicines)
Drug(s) of Choice
No specific pharmacologic treatment
Oxygen
Bronchodilators for pulmonary toilet
Contraindications: N/A
Precautions: N/A
Significant possible interactions: N/A
Alternative Drugs
Antibiotics for respiratory infections
Diuretics
Treatment of congestive heart failure
Patient Monitoring
Chest x-rays
Occasional pulmonary function tests
Treat infections promptly
Prevention / Avoidance
Primary responsibility of employers
Exposure control — substitution of safer material or adoption of control technologies
Monitor workplace exposure
During high exposure periods such as building repair
use of fit-tested personal respirators for workers
WHO recommendations for regular health screening of exposed workers
Chest x-ray at baseline
For workers with less than 10 years since first exposure: chest x-ray every 3-5 years
Longer than 10 years: chest x-ray every 1 -2 years
Longer than 20 years: chest x-ray annually
All workers: annual respiratory symptom questionnaire, physical exam, and spirometry (alternatively can be done on CXR schedule)
Reporting of new cases to health authorities
Possible Complications
Cancers of the mesothelium of the lung
Lung cancer

Risk increased in smokers by asbestos workers

Gastrointestinal cancer risk may be increased
Exudative pleural effusion

Resolve with residual pleural thickening

Hyaline plaques on parietal pleura can create pseudo-tumors
Increased risk of tuberculosis in smokers
Expected Course / Prognosis
Severity depends on duration of exposure and on intensity of exposure
Lung disease irreversible
Further increased lung cancer risk with smoking
Increased risk for mesotheliomas
Increased risk for tuberculosis
Miscellaneous
Associated Conditions
N/A
Age-Related Factors
Pediatric: N/A
Geriatric: More likely to have terminal respiratory illness
Pregnancy
N/A
Synonyms
Asbestos pneumoconiosis
International Classification of Diseases
501 Asbestosis
See Also
Abbreviations
CT = computerized tomography
CXR = chest x-ray
WHO = World Health Organization