Description of Medical Condition
An acute, bacterial infection of the lung parenchyma. Infection may be community-acquired or nosocomial (hospital acquired by an inpatient for at least 48 hours or inpatient in the previous 90 days). Most commonly, community-acquired disease is caused by Streptococcus pneumoniae or Mycoplasma pneumoniae. Hospital-acquired pneumonia is usually due to gram negative rods (60%, such as Pseudomonas) or Staphylococcus (30%).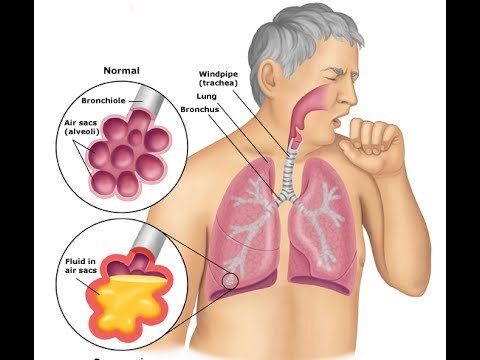 System(s) affected: Pulmonary
Genetics: No known genetic pattern
Incidence/Prevalence in USA:
Incidence-community-acquired: 1200 cases/100,000 population per year
Incidence — nosocomial: 800 cases/100,000 admissions per year
Predominant age: Age extremes
Predominant sex: Male > Female
Medical Symptoms and Signs of Disease
Cardinal signs and symptoms

Cough and fever
Chest pain (pleuritic)
Chill, with sudden onset
Dark, thick or bloody (rusty) sputum

Respiratory

Signs of consolidation
Rales
Egophony
Signs of pleural involvement
Decreased breath sounds
Dullness to percussion
Friction rub

Signs of respiratory distress

Tachypnea/tachycardia (or bradycardia)
Cyanosis

Central nervous system

Mentation changes to include anxiety, confusion and restlessness

Gastrointestinal
What Causes Disease?
Sources

Aspiration from the oropharynx
Inhalation
Hematogenous spread

Bacterial pathogens

Streptococcus pneumoniae (pneumococcus)
Haemophilus influenzae
Mycoplasma pneumoniae
Staphylococcus aureus
Legionella pneumophila
Chlamydia pneumoniae, C. psittaci

Moraxella catarrhalis (Branhamella catarrhalis)

Pseudomonas aeruginosa
Klebsiella pneumoniae (and other gram-negative rods)
Anaerobes
Risk Factors
Tobacco smoking
Recent/concurrent viral infections
Hospitalization to include mechanical ventilation, antecedent antibiotics, NG tubes
Age extremes
Alcoholism
AIDS or other immunosuppression
Renal failure
Cardiovascular disease
Functional asplenia
Chronic obstructive pulmonary disease
Diabetes mellitus
Malnutrition
Malignancy
Altered level of consciousness or gag (e.g., seizures, stroke, neuromuscular disease, etc.)
Occupational exposure
Poorly implemented infection control practices (poor handwashing)
Postoperative atelectasis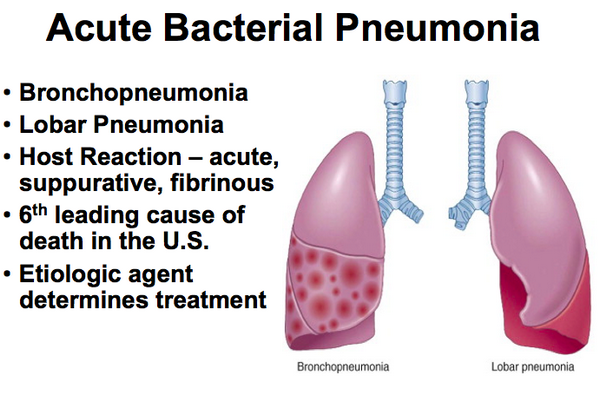 Diagnosis of Disease
Differential Diagnosis
Other causes of infectious pneumonitis: Viruses (human metapneumovirus, SARS coronavirus, respiratory syncytial, adenovirus, CMV, parainfluenza, influenzae A and B, varicella, measles, rubella, hantavirus); Nocardia; Fungi (Blastomyces, Cryptococcus, Aspergillus, Histoplasma, Coccidioides, Pneumocystiscarinii); Protozoans (Toxoplasma); Rickettsia (Coxiella burnetii — Q fever). Also tuberculosis, pulmonary embolism with infarction, bronchiolitis obliterans with organizing pneumonia (BOOP), pulmonary contusion, pulmonary vasculitis, acute sarcoid, hypersensitivity pneumonitis, ARDS, pneumothorax, and other causes.
Laboratory
CBC — leukocytosis with an immature shift on differential; ESR, CRP
Chem — hyponatremia (SIADH)
ABG — hypoxemia
ABG — hypocapnia initially, then hypercapnia
Blood culture — positive in 10-20% of adult patients and 7% of pediatric patients with community-acquired pneumonia (partially because many have been pre-treated with antibiotics), 8-20% nosocomial pneumonia
Drugs that may alter lab results: Antecedent antibiotics
Disorders that may alter lab results: Refer to lab test reference
Pathological Findings
Lung:

Segmental, lobar, or multifocal peribronchial consolidation
Positive gram stain for bacteria
Special Tests
Decubitus CXR to investigate for empyema or parapneumonic effusion
Gram stain and culture of pleural fluid
pH of pleural fluid (iced, airless sample sent to blood gas laboratory)
Urine legionella antigen (in ICU/severe cases
Tuberculin skin test (PPD) — for hilar adenopathy or upper lobe involvement
Imaging
CXR (with lateral decubitus views if pleural effusion present)

Lobar or segmental consolidation (air bronchogram)
Bronchopneumonia

Interstitial infiltrate

Pleural effusion (free-flowing or loculated)

Ultrasound recommended to check for location and presence of loculations before thoracentesis
Diagnostic Procedures
Gram stain and culture of sputum (induced, if necessary)
Nasotracheal suctioning for culture
Transtracheal aspirate for culture
Bronchoscopy with bronchoalveolar lavage or protected telescoping catheter brushing for culture
Thoracentesis for pleural fluid studies
Blood culture, especially if hospitalized — prior to antibiotics
Treatment (Medical Therapy)
Appropriate Health Care
Community-acquired — outpatient for mild case, inpatient for moderate to severe case such as hypoxemia, altered mental status, hypotension, significant co-morbid illness, and age extremes.
Nosocomial — patients already hospitalized
General Measures
Empiric antimicrobial therapy for most likely pathogen(s)
Consider oxygen for patients with cyanosis, hypoxia, dyspnea, circulatory disturbances or delirium
Mechanical ventilation for respiratory failure
Hydration
Analgesia for pain
Electrolyte correction
Respiratory isolation if TB is a possibility
Activity
Bedrest and/or reduced activity during acute phase
Diet
Nothing by mouth if there is incipient respiratory failure
Consider soft, easy-to-eat foods
Medications (Drugs, Medicines)
Drug(s) of Choice
Initial therapy
Usually empiric for most likely pathogens given clinical scenario (if specific etiology is identified, adjust antimicrobial therapy)
Otherwise healthy young adult with mild community-acquired pneumonia: erythromycin 500 po q6h; in those intolerant of erythromycin and in smokers [to treat H. influenzae], consider the new macrolides or doxycycline 1OOmg bid
Older patients or patients with preexistent illnesses, with mild community-acquired pneumonia: pneumococcal-active fluoroquinolone, telithromycin or amoxicillin-clavulanate with erythromycin or other macrolide
Patients with community-acquired pneumonia requiring hospitalization: a specific cephalosporin (cefotaxime, ceftriaxone or cefuroxime) or ampicillin-sulbactam plus macrolide; or a pneumococcal-active fluoroquinolone alone
For nosocomial pneumonia: either ceftazidime or an antipseudomonal penicillin (piperacillin, orticarcillin) plus an aminoglycoside. Vancomycin should be considered if strong suspicion of Staphylococcus aureus.
Therapy for specific organisms
S. pneumoniae: penicillin G or oral amoxicillin. If high incidence of penicillin resistant S. pneumoniae in the area, consider pneumococcal-active fluoroquinolone or telithromycin
H. influenzae: trimethoprim-sulfamethoxazole. For severe infections — cefotaxime, ceftriaxone, or carbapenems
S. aureus: nafcillin or vancomycin (if high incidence of methicillin resistant S. aureus)
Klebsiella species: carbapenems or 3rd generation cephalosporin
Pseudomonas: aminoglycoside plus antipseudomonal penicillin or ceftazidime
Moraxella catarrhalis: 2nd generation cephalosporin (cefuroxime axetil) or B-lactam/B-lactamase inhibitors
Chlamydia pneumoniae: doxycycline, fluoroquinolone
Mycoplasma pneumoniae: doxycycline
Legionella pneumophila: fluoroquinolone or azithromycin
Anaerobes: clindamycin or B-lactam/B-lactamase inhibitors
Contraindications: Allergy or likely cross-allergy to the prescribed antibiotic
Precautions: Possible significant sodium overload with antipseudomonal penicillins
Significant possible interactions: Refer to manufacturer's literature
Alternative Drugs
S. pneumoniae: macrolide, doxycycline; cefotaxime. ceftriaxone or cefuroxime, linezolid, telithromycin
H. influenzae: cefuroxime; fluoroquinolones; extended macrolides; beta-lactam/beta-lactamase inhibitor, telithromycin
S. aureus: a first generation cephalosporin; clindamycin; linezolid
Klebsiella: fluoroquinolone
Pseudomonas: carbapenems, aztreonam, cefepime
Moraxella catarrhalis: trimethoprim- sulfamethoxazole; fluoroquinolone; cefixime, extended macrolide; telithromycin
Chlamydia pneumoniae: clarithromycin; azithromycin; erythromycin; telithromycin
Mycoplasma pneumoniae: clarithromycin; erythromycin; azithromycin or fluoroquinolone; telithromycin
Legionella pneumophila: clarithromycin; erythromycin; doxycycline
Patient Monitoring
If outpatient therapy, daily assessment of the patient's progress, and reassessment of therapy if clinical worsening or no improvement in 48-72 hours
CXR take time to clear and may not show clearing, even though patient is improving. Repeat study about 6 weeks after recovery to verify the pneumonia was not caused by an obstructing endobronchial lesion in selected patients (smokers and older patients).
Repeating the cultures after treatment has been started is unnecessary unless there has been treatment failure or if treating TB
Prevention / Avoidance
Reduce risk factors where possible (quit smoking)
Bedridden and postoperative patients — deep breathing and coughing exercises; prevent aspiration during nasogastric tube feedings
Avoid indiscriminate use of antibiotics during minor viral infections
Annual influenza vaccine for high risk individuals
Polyvalent pneumococcal vaccine
Possible Complications
Empyema
Pulmonary abscess
Superinfections
Multiple organ dysfunction syndrome (MODS)
Adult respiratory distress syndrome (ARDS)
Post-pneumonic atelectasis may occur in 5-10% of children
Expected Course / Prognosis
Usual course — acute. In otherwise healthy individual, improvement seen and fever resolved in 1-3 days; sometimes up to 1 week
Overall attributable mortality is about 5% in community acquired; (=15% if hospitalized and < 1% if not hospitalized) 25-50% in nosocomial • Poorest prognosis — age extremes, positive blood cultures, low WBC, presence of associated disease, immunosuppression respiratory failure, inappropriate antecedent antibiotics, delayed treatment >8 hours
Miscellaneous
Associated Conditions
Tobacco smoking
Alcoholism
Upper respiratory infection
Age-Related Factors
Pediatric: Morbidity and mortality high in children under age 1
Geriatric: Morbidity and mortality high if > 70, especially with associated disease or risk factor
Pregnancy: N/A
Synonyms
Lobar pneumonia
Classic pneumococcal pneumonia
International Classification of Diseases
481 Pneumococcal pneumonia [Streptococcus pneumoniae pneumonia]
486 Pneumonia, organism unspecified
See Also
Pneumonia, viral Pneumonia, mycoplasma Rhodococcus infections
Other Notes
Pneumococcal vaccine for all adults over age 65 and children over 2 years (and adults) with risk (cardio, pulmonary or metabolic disorders); strongly consider in all adults age 50 and older.