Aspergillus spp. are capable of causing a variety of infections involving the paranasal sinuses (Table 2). Although uncommon, Aspergillus sinusitis is related to the immune status and immunologic response of the host.
Signs and Symptoms
In the severely immunosuppressed or neutropenic patient, Aspergillus sinusitis or rhinosinusitis may occur. Symptoms include headache, toothache, nasal congestion, purulent nasal discharge, and sinus or eye pain. Fever is commonly encountered. The nasal mucosa may exhibit hyperemia or necrosis that may extend into the mouth. Ptosis and loss of extraocular eye movement are prominent signs, indicating extensive invasion into the orbit. Sudden onset of blindness may occur.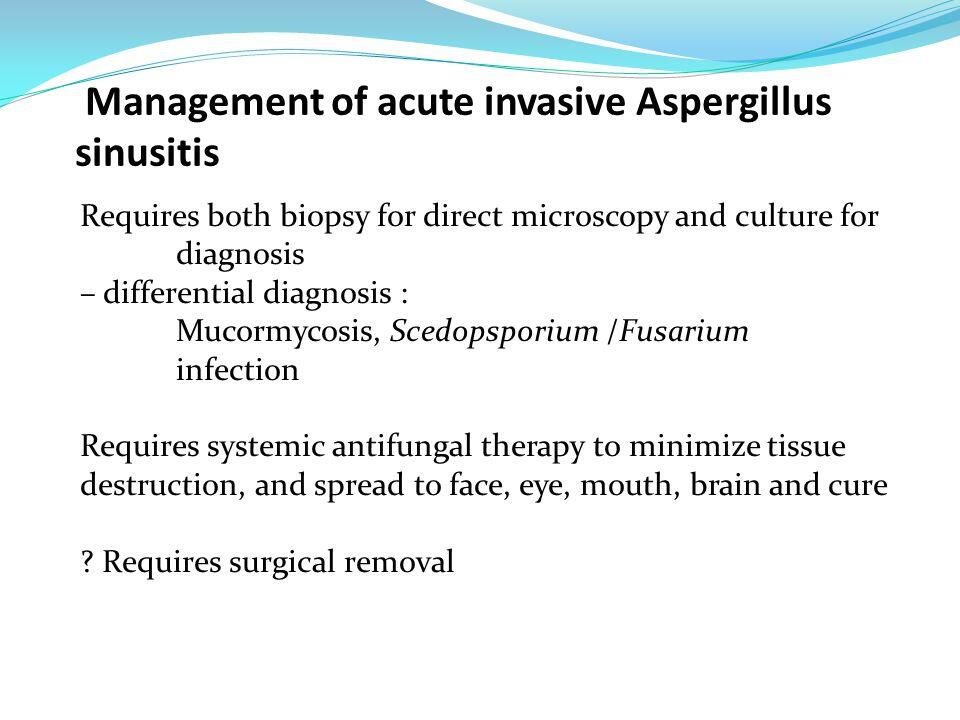 In patients with normal immune status and a history of chronic sinusitis, a fungus ball or aspergilloma can form in the sinus. Persistent pain and discharge are common symptoms. An allergic fungal sinusitis may develop in patients with a history of allergic rhinitis and recurrent sinusitis. Facial pain and nasal discharge are predominant symptoms of this syndrome.
Laboratory Findings
Cultures of nasal secretions are usually positive for Aspergillus spp. in patients with invasive and noninvasive forms of sinus infection.
Imaging
High-resolution CT imaging of the sinuses is essential for assessing the extent of invasive disease. Destruction of bone is common in advanced cases with erosions into the orbit, the brain, or the roof of the mouth. No bony destruction occurs in noninvasive disease.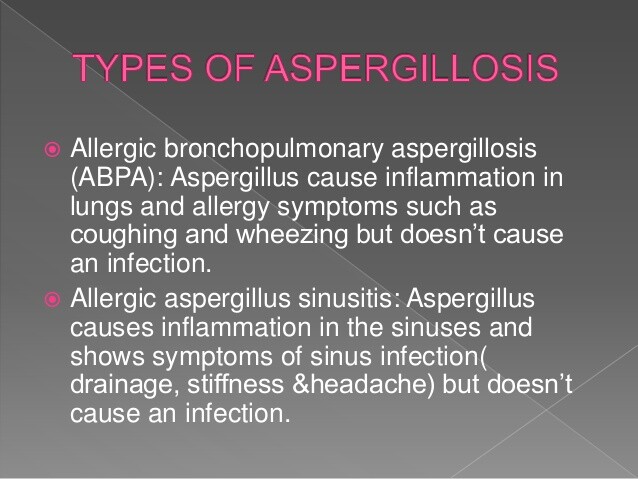 Differential Diagnosis
The differential diagnosis of fungal sinusitis varies according to the extent of invasion. Noninvasive sinusitis must be distinguished from neoplasia, inflammatory conditions, and bacterial causes. Other noninvasive fungal pathogens include Fusarium spp., Curvularia spp., Bipolaris spp., and Pseudallescheria boydii. Other fungal pathogens capable of causing invasive disease include the order Mucorales, Fusarium spp., and P boydii.
Complications
Untreated invasive fungal sinusitis can rapidly develop into the rhinocerebral form with direct invasion into the central nervous system. Angioinvasion may lead to widespread dissemination and death.
Diagnosis
Aspiration of sinus contents should be cultured and stained for fungal elements. Endoscopic examination of the nose should be considered. High-resolution CT imaging can detect invasion and extent of involvement.
Treatment
Treatment of invasive sinusitis in the immunosuppressed patient requires a combination of surgical debridement and antifungal therapy. Proper presurgical assessment of the extent of disease is vital to ensure that operative debridement and drainage are adequate. Antifungal therapy with amphotericin B is illustrated in Box 2. For noninvasive disease, including chronic sinusitis and sinus aspergilloma, surgical excision and drainage alone are adequate, and systemic antifungal therapy is usually not needed.
Prognosis
The prognosis of noninvasive fungal sinusitis is excellent after adequate debridement and drainage. For locally invasive disease, the prognosis is fair with debridement and antifungal therapy. The prognosis with extensive invasive disease is poor.
Prevention & Control
Prevention and control of invasive sinusitis is identical to that for invasive pulmonary aspergillosis.
Links
http://www.aspergillus.org.uk/content/chronic-aspergillus-sinusitis
https://www.ncbi.nlm.nih.gov/pmc/articles/PMC3206248/
http://www.sciencedirect.com/science/article/pii/S1658361210701347