What is petrol antiseptic cream?
Read indications for use if you want to order Dettolonline
Dettol Antiseptic Cream is a white cream which is applied in small amounts directly onto the skin. The active ingredients are chloroxylenol 0.3% w/w, triclosan 0.3% w/w and edetic acid (as potassium salt) 0.2% w/w in a soothing moisturising base containing emulsifying welx, carbomer 974P, glycerol, almond oil, refined, terpineol, perfume ES9078, potassium hydroxide solution 50% and purified water. Each tube of Qettol Antiseptic Cream contains 30 g.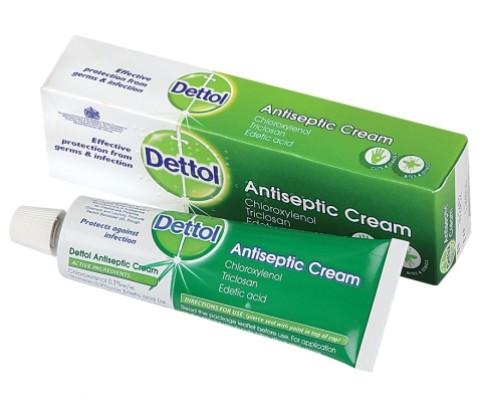 What is Dettol antiseptic cream used for?
Dettol Antiseptic Cream contains a, combination of antiseptic and antibacterial agents specially formulated to kill the bacteria which may cause skin infection. Detto| Antiseptic Cream is a useful first aid product as its fast acting, long lasting formula protects against infection and assists in natural healing of the skin in cuts, bites, stings and abrasions. Dettol Antiseptic Cream is formulated with almond oil to soothe and moisturise the skin and may also be used as an antiseptic hand cream. Dettol Antiseptic Cream is suitable for adults and children.
Before using Dettol antiseptic cream
As with all medicines, Dettol Antiseptic Cream may not: be suitable for everybody:
Do not use this medicine if you are allergic to the product or any of its ingredients.
Do not use this medicine if you suffer from skirt complaints.
If you are pregnant ask your pharmacist or doctor before using Dettol Antiseptic Cream.
Keep away from eyes.
How to use Dettol Antiseptic cream
For adults and, children apply in small amounts directly onto the skin as required. For cuts, grazes, bites and stings, clean the wound and surrounding skin by wiping gently with Dettol Antiseptic Cream, preferably on a piece of lint or cotton wool. For continued protection apply Dettol Antiseptic Cream again.
If necessary, cover the injury with a clean dressing.
What side effects may occur?
Rarely, sensitivity to one of the ingredients may cause irritation of the skin. If this happens you should wash with lukewarm water and stop using the product.
Tell your pharmacist or doctor if any side-effects occur after the use of this product