What Dalacin C Solution is and what it is used for
Dalacin C Solution is a sterile solution for injection into a vein (intravenously) or into a muscle (intramuscularly). The solution contains clindamycin phosphate which is an antibiotic used in the treatment of serious bacterial infections.
Before you are given Dalacin C Solution
Do not use
If you are allergic (hypersensitive) to clindamycin, lincomycin or to any of the other ingredients in this medicine. Take special care with Dalacin C Solution
Before you are given this medicine make sure that your doctor knows if you:
have diarrhoea or usually get diarrhoea when you take antibiotics or have ever suffered from problems with your stomach or intestines (bowel disease). If you develop severe or prolonged or bloody diarrhoea during or after using Dalacin C Solution tell your doctor immediately since it may be necessary to interrupt the treatment. This may be a sign of bowel inflammation (pseudomembranous colitis) which can occur following treatment with antibiotics.
you suffer from problems with your kidneys or liver.
you suffer from asthma, eczema or hayfever.
Dalacin C does not get into the brain and is therefore not suitable for treating serious infections in and around the brain. Your doctor may need to give you another antibiotic if you have these infections.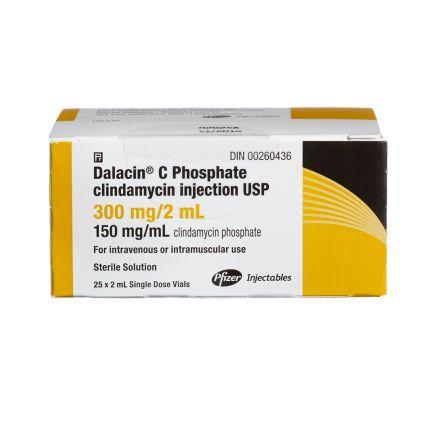 Taking other medicines
Some medicines can affect the way Dalacin C Solution works, or Dalacin C itself can reduce the effectiveness of other medicines taken at the same time. These include:
erythromycin (an antibiotic).
muscle relaxants used during operations
oral contraceptive pills. You should use extra contraception such as condoms whilst receiving Dalacin C and for
seven days after receiving Dalacin C. Please tell your doctor if you are taking or have recently taken any other medicines including medicines obtained without a prescription.
Pregnancy
If you are pregnant or think you might be pregnant you should contact your doctor before being given Dalacin C Solution.
Breast-feeding
Tell your doctor if you will be breast-feeding while you are taking Dalacin C as the active substance in this medicine may be passed into breast milk. Your doctor will decide if Dalacin C is appropriate for you. Although it is not likely that a nursing infant will take in very much of the active substance from the milk it drinks, if your baby gets bloodstained diarrhoea or shows any signs of illness, tell your doctor at once. You should stop breast-feeding if this happens.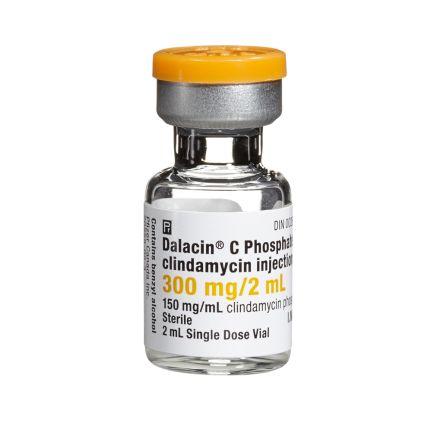 Driving and using machines
No effects on the ability to drive or use machines have been seen with Dalacin C Solution.
Important information about some of the ingredients of Dalacin C Solution
Dalacin C Solution contains benzyl alcohol and must not be given to premature babies or babies less than one month old. It may cause allergy and toxic reactions in infants and children up to 3 years old.
How Dalacin C Solution is given to you
Your doctor will give you your medicine as an injection into your vein (intravenous) or your muscle (intramuscular).
If it is given into a vein, it is always mixed with a sugar or saline (salt) solution before use and given using a drip.
When giving you Dalacin C, your doctor will ensure that the concentration of clindamycin does not exceed 18 mg per ml and the rate it is given to you does not exceed 30 mg per minute. If Dalacin is given too fast it could rarely cause a heart attack.
Adults/Elderly
The recommended dose of Dalacin C Solution is 600 to 2700 mg clindamycin per day in two to four equal doses, depending on the severity of your infection. Higher doses than this (up to 4800 mg daily) may be given by your doctor for very severe infections.
Children
The recommended dosage for children (over 1 month of age) is 15 to 40 mg of clindamycin per kg bodyweight
each day in three or four equal doses. Higher doses of up to 300 mg per day (regardless of body weight) may be given by your doctor for very severe infections until a full response to treatment is observed.
Normally Dalacin C is only given to patients in hospital. The medical staff will be keeping a close eye on you during your treatment. If you need to have more than one course of treatment with clindamycin, your doctor may want to check that the clindamycin is not having any effect on the way your kidneys and liver are working.
Long term use can also make you more likely to get other infections that do not respond to Dalacin C treatment.
If you have any further questions on the use of this product, ask your doctor or pharmacist.
Possible side effects
Tell your doctor immediately if you develop:
severe, persistent or bloody diarrhoea (which may be associated with stomach pain or fever). This is an uncommon side effect which may occur during or after completing treatment with antibiotics and can be a sign of serious bowel inflammation signs of a severe allergic reaction such as sudden wheeziness, difficulty in breathing, swelling of eyelids, face or lips, rash or itching (especially affecting the whole body) blistering and peeling of large areas of skin, fever, cough, feeling unwell and swelling of the gums, tongue or lips yellowing of the skin and whites of the eyes (jaundice). Other possible side effects may include:
Effects on your nervous system: impaired sense of taste
Effects on your skin: reddening of the skin, skin rash, itching (hives)
Effects on your stomach and intestines: throat ulcers, sore throat, feeling sick, being sick, stomach pain and diarrhoea
Effects on your blood system: reduced numbers of blood cells
Effects on your liver: poor liver function
Effects on your heart: low blood pressure (feeling light headed, dizzy or faint), rarely heart attack (if given too fast)
Effects on your genital area: inflammation of the vagina
Injection site reactions: swelling, redness, irritation, pain and boil (abscess) formation around site of injection.
If any of the side effects get serious, or if you notice any side effects not listed in this leaflet, please tell your doctor or pharmacist.
How to store Dalacin C Solution
Keep out of the reach and sight of children.
Dalacin C Solution will not be used after the expiry date which is stated on the carton. The expiry date refers to the last day of that month.
This medicine will not be stored above 25°C.
This medicine will not be refrigerated or frozen.
Further information
What Dalacin C Solution contains
The active substance is clindamycin phosphate. Each ml of solution contains clindamycin phosphate equivalent to 150 mg of clindamycin.
The other ingredients are benzyl alcohol, disodium edetate and sterilised water for injections
What Dalacin C Solution looks like and contents of the pack
Dalacin C Solution is a clear, colourless solution. It is supplied in glass ampoules containing either 2 ml or 4 ml of solution. Each ampoule is packed in a cardboard carton with a leaflet.
For further information consult the Summary of Product Characteristics.
Qualitative and quantitative composition
Each ml of solution contains clindamycin phosphate equivalent to 150 mg clindamycin, benzyl alcohol, disodium edetate and sterilised water for injections.
Directions for use
Parenteral (i.m. or IV. administration). Dalacin C Phosphate must be diluted prior to IV. administration and should be infused over at least 10-60 minutes.
Parenteral (i.m. or IV. administration)
Adults including the elderly:
Serious infections:                600-1200 mg/day in 2, 3 or 4 equal doses.
More severe infections:         1200-2700 mg/day in 2, 3 or 4 equal doses.
Single i.m. injections of greater than 600 mg are not recommended nor is administration of more than 1.2 g in a single one-hour infusion.
Children (over 1 month of age:
Serious infections:                15-25 mg/kg/day in three or four equal doses.
More severe infections:        25-40 mg/kg/day in three or four equal doses.
In severe infections it is recommended that children be given no less than 300 mg/day regardless of body weight.
The concentration of clindamycin in diluent for infusion should not exceed 18 mg per ml_ and infusion rates should not exceed 30 mg per minute. The usual infusion rates are as follows:
Dose                       Diluent                                  Time
300mg                       50mL                                   10min
600mg                        50mL                                  20 min
900mg                        50-1 OOmL                           30 min
1200mg                       100mL                                 40 min
Indications
The management of serious infections due to organisms susceptible to this anti-infective.
Contra-indication etc.
Contra-indications:
Dalacin C Phosphate is contra-indicated in patients previously found to be sensitive to clindamycin or lincomycin or any of the other ingredients in this medicine.
Warnings:
This product contains benzyl alcohol. Benzyl alcohol has been reported to be associated with a fatal 'Gasping syndrome' in premature infants.
Dalacin C Phosphate should only be used in the treatment of serious infections. In considering the use of the product, the practitioner should bear in mind the type of infection and the potential hazard of the diarrhoea which may develop, since cases of colitis have been reported during, or even two or three weeks following, the administration of clindamycin.
Studies indicate a toxin(s) produced by clostridia (especially Clostridium difficile) is the principal direct cause of antibiotic-associated colitis. These studies also indicate that this toxigenic clostridium is usually sensitive in-vitro to vancomycin. The disease is likely to follow a more severe course in older patients, or patients who are debilitated. Diagnosis is usually made by the recognition of the clinical symptoms, but can be substantiated by endoscopic demonstration of pseudomembranous colitis. The presence of the disease may be further confirmed by culture of the stool for C. difficile on selective media and assay of the stool specimen for the toxin(s) of C. difficile. The appearance of marked diarrhoea should be regarded as an indication that the product should be discontinued immediately. Clostridium difficile associated diarrhoea (CDAD) has been reported to occur over 2 months after the administration of antibacterial agents.
Precautions:
History of gastro-intestinal disease; use in atopic individuals; super-infection with resistant organisms.
Periodic liver and kidney function tests should be carried out during prolonged therapy. Such monitoring is also recommended in neonates and infants. Safety and appropriate dosage in infants less than one month old have not been established.
The dosage of Dalacin C Phosphate may require reduction in patients with renal or hepatic impairment due to prolongation of the serum half-life.
Interactions:
Use with caution in patients receiving neuromuscular blocking agents. Do not use concurrently with erythromycin.
Pregnancy and lactation:
Safety of use in pregnancy has not been established. Exercise caution when prescribing to nursing mothers.
Undesirable effects:
Side effects include nausea, vomiting, cramps, abdominal pain, diarrhoea, hypersensitivity reaction such as Stevens Johnson syndrome, liver dysfunction and jaundice, blood dyscrasia, pruritus, vaginitis, dermatitis, cardiopulmonary arrest and hypotension (following too rapid an administration) and local reactions at the site of injection. The appearance of marked diarrhoea should be regarded as an indication that this drug should be discontinued immediately.
Handling and Storage requirements
Do not store this product above 25°C.
Do not refrigerate or freeze.
This product is for single dose only.
Any unused solution should be discarded.
Dilution and Compatibility:
In-vitro compatibility studies monitored for 24 hours at room temperature using a concentration no greater than 6 mg/ml have demonstrated no inactivation or physical incompatibility with the use of Dalacin C Phosphate in IV solutions containing sodium chloride, glucose or potassium usually used clinically.
Dalacin C Phosphate has been shown to be physically and chemically compatible for at least 24 hours in dextrose
5% water and sodium chloride injection solutions containing the following antibiotics in usually administered
concentrations: amikacin sulphate, aztreonam, cefamondole nafate, cephazolin sodium, cefotaxime sodium,
cefoxitin sodium, ceftazidime sodium, ceftizoxime sodium, gentamicin sulphate, netilmicin sulphate, piperacillin,
tobramycin and ciprofloxacin.
The compatibility and duration of stability of drug admixtures will vary depending upon concentration and other conditions.
Incompatibilities:
Solutions of clindamycin salts have a low pH and incompatibilities may reasonably be expected with alkaline preparations or drugs unstable at low pH. Incompatibility has been reported with: ampicillin sodium, aminophylline, barbiturates, calcium gluconate, ceftriaxone sodium, diphenylhydantoin, idarubicin hydrochloride, magnesium sulphate, phenytoin sodium and ranitidine hydrochloride.