Antiprotozoal Drugs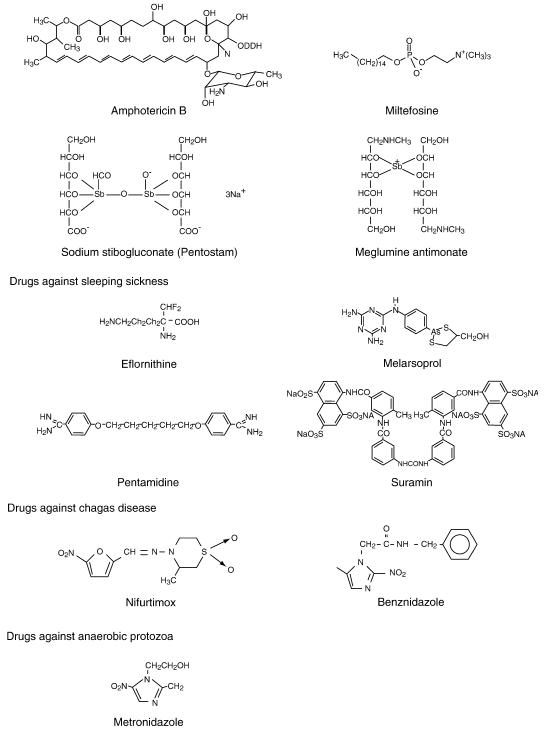 Chemical structure of relevant antiprotozoal drugs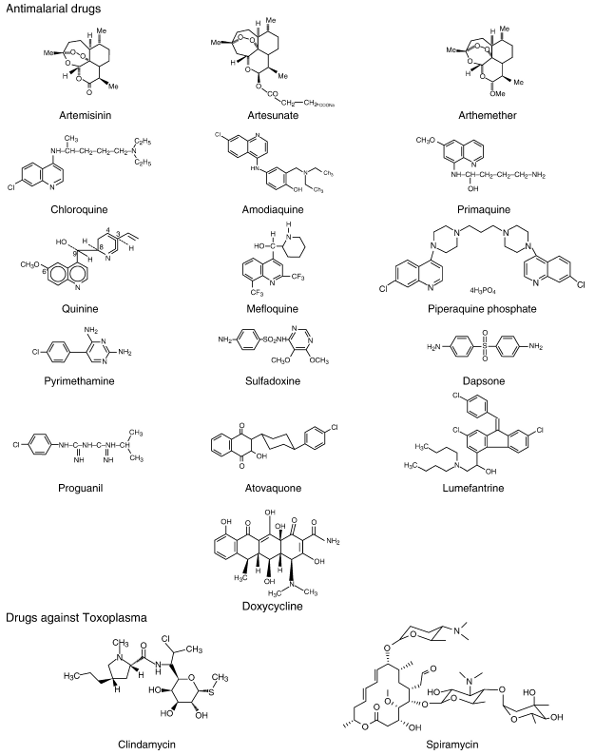 Life cycle of malarial parasites and site of action of different antimalarial drugs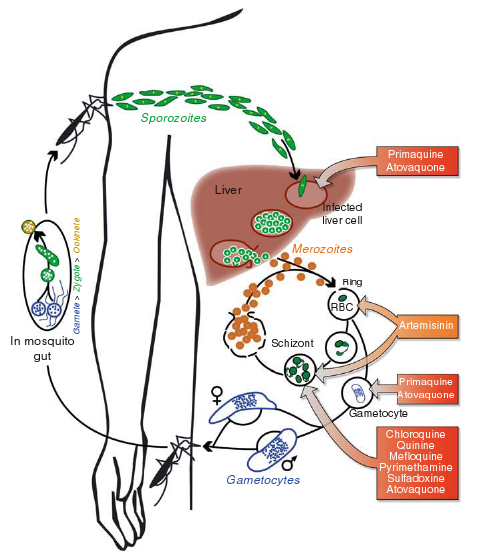 Malaria is caused by protozoan parasites of the genus Plasmodium. Infected Anopheles mosquitoes transmitted the parasite to humans during blood feeding. The infective stages are the sporozoites, which invade liver cells where they replicate to form merozoites. Upon rupture of the infected hepatocyte, merozoites are released into the blood stream where they infect erythrocytes. Within the erythrocyte, the parasites develop from ring stages to trophozoits, and then to schizonts. When the infected erythrocyte finally ruptures, merozoites are released, which again invade erythrocytes. Some intraerythocytic ring stages develop to sexual stages (gametocytes). Gametocytes are taken up by feeding Anophelines. Within the mosquito, the parasites develop into gametes, zygotes, ookinets and finally sporozoites. Primaquine and atovaquone are effective against liver forms of all Plasmodia including dormant stages of P. vivax and P. ovale. Primaquine also acts against gametocytes. Artemisinin destroys intraerythrocytic ring stage parasites and schizonts. The so-called schizonticidal drugs, chloroquine, quinine, mefloquine, pyrimethamine and sulfadoxine, act against intraerythrocytic schizonts.
The antimalarial activity of chloroquine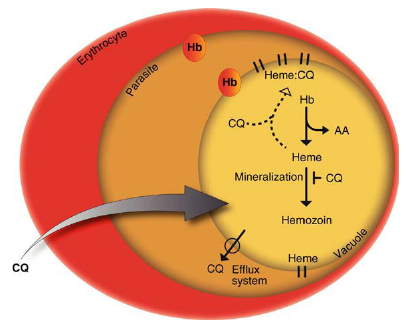 Chloroquine's mode of action is associated with heme detoxification. During intraerythrocytic development, P. falciparum degrades hemoglobin down to amino acids (AA) in its acidic food vacuole. Heme released from hemoglobin (Hb) is toxic and destroys cellular membranes unless it is converted to an inert biomineral, termed hemozoin or malaria pigment. Chloroquine (CQ) binds to heme, thereby preventing biomineralization of heme. The build-up of membrane-lytic heme/chloroquine complexes kill the parasite. Chloroquine resistant parasites have acquired an efflux system that expels the drug from the food vacuole.
Mode of action of folate antagonists in protozoa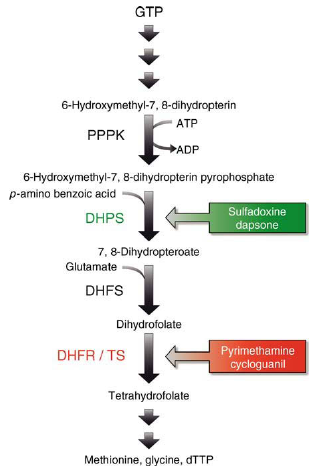 Protozoa are capable of de novo synthesis of dihydrofolate, a precursor of thymidine, serine and methionine. The 6-hydroxymethyl-7,8-dihydropterin pyrophosphate pyrophosphokinase (PPPK) and DHPS form one enzyme complex with two distinct active sites. The PPPK transforms GTP to 6-hydroxymethyl-7,8-dihydropterin and then to 6-hydroxymethyl-7,8-dihydropterin pyrophosphate. The product is linked to p-aminobenzoic acid (PABA) by DHPS, forming 7,8-dihydropteroate. Sulfadoxine exerts its activity by acting as a substrate analogue of PABA in this reaction. Glutamate is added to 7,8-dihydropterate by dihydrofolate synthase (DHFS) resulting in dihydrofolate. Dihydrofolate reductase (DHFR) and thymidylate synthase (TS) form a single enzyme complex with two enzymatically active sites. The catalytic site responsible for DHFR activity converts dihydrofolate into tetrahydrofolate. Pyrimethamine and cycloguanil exert their antimalarial activity by inhibiting the protozoal DHFR. The site of DHFR/TS responsible for TS activity converts tetrahydrofolate into deoxythymidintriphosphate (dTTP).
Artemisinin combination therapy (ACT)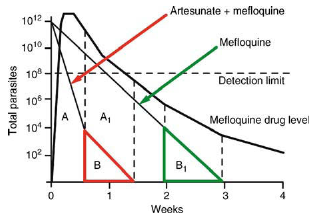 Adding a 3-days artesunate course to mefloquine clears the parasitaemia much more rapidly (A-1 —> A). The remaining parasites are exposed to higher mefloquine levels in ACT (B) compared to mefloquine monotherapy (B-1) (with permission White, 1997 Antimicrob Agents Chemother 41:1413-1422).