What Amikin is and what it is used for
The name of this medicine is Amikin. Each 2ml vial contains 100 mg amikacin sulphate as the active ingredient.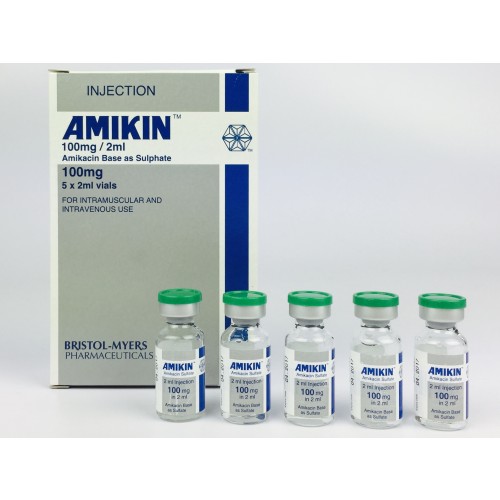 Amikacin is an antibiotic and belongs to the group of medicines called aminoglycosides. Amikin is used to treat serious infections caused by certain bacteria.
Before you are given Amikin
Do not take Amikin if:
You are allergic (hypersensitive) to any of the ingredients in Amikin or other antibiotics.
You suffer from myasthenia gravis (a disease that causes muscle weakness),
If any of the above affect you, or you are unsure if they do, tell your doctor who will be able to advise you.
You must tell your doctor if:
You have any kidney problems
You have ever suffered from kidney or hearing problems after receiving other antibiotics
You have any muscular disorders such as Parkinson's Disease
You will not be given Amikin by injection into your stomach if you are still under the effects of an anaesthetic or muscle relaxing drugs (e.g. following surgery), as this may cause problems with your breathing. Amikin is not recommended to be given by injection into the stomach in young children.
Taking Amikin with other medicines
Always tell your doctor or pharmacist about other medicines you may be taking or have recently taken including those obtained without a prescription. Some medicines can have an affect on the action of other medicines. It is especially important that you tell your doctor if you are taking;
Any diuretics e.g. frusemide (water tablet or injection)
Any penicillin-type antibiotics
Any muscle relaxing medication
Indomethacin (an anti-inflammatory) can increase the amount of Amikin which is absorbed in new born babies.
Pregnancy and breast-feeding
If you are, or think you may be pregnant, you should speak to your doctor before you are given Amikin.
Important information about some of the ingredients of Amikin Injection
Amikin injection contains the inactive ingredient sodium bisulphite which may rarely cause severe hypersensitivity reactions and bronchospasm.
This medicinal product contains approximately 1.2mmol (or27mg) sodium per dose. This needs to be taken into consideration by patients on a controlled sodium diet.
Amikin injection should not affect your ability to drive or operate machinery.
How Amikin is given
Amikin is given by injection into a muscle or vein, or occasionally into the abdomen.
Adults:
The usual dose is 250 – 500 mg twice a day.
Children:
The usual dose is 7.5-15 mg per kg of body weight a day, divided in two doses. The doses may be increased in certain infections.
You may require hearing and kidney tests while receiving Amikin as well as blood tests to check the amount of amikacin received.
If you are given too much or too little Amikin Injection
Amikin Injection will be given by a qualified healthcare professional (doctor or nurse) who will ensure you are given the correct dose. On rare occasions, you may be given too much Amikin Injection. If this happens, your doctor will make sure that it is removed from your blood so that you do not suffer too many side effects.
Possible Side Effects
As with all medicines, Amikin can cause unwanted side effects, although not everybody gets them.
Side effects of Amikin may include;
ringing in the ears
dizziness
deafness
skin rash
fever
headache
pins and needles
feeling sick (nausea) and being sick (vomiting)
kidney problems including a reduction in urine output.
On rare occasions, it may be necessary to inject Amikin directly into the eyeball which can lead to visual disturbances.
Also rarely, severe hypersensitivity reactions and bronchospasm may occur.
If any of the side effects become serious, or if you notice any side effects not listed in this leaflet, please tell your doctor or pharmacist immediately. It will help if you make a note of what you experienced, when it started and how long it lasted.
How to store you medicine
Do not store above 25°C.
Store in the original packaging.
Please check the expiry date of the product, shown on the packaging of Amikin.
Do not use after the month stated.
Keep all medicines out of the reach and sight of children.
The vial is to be used once only. Any unused solution in the vial should be thrown away.
Further Information
What Amikin contains
Each 2ml vial contains amikacin sulphate (equivalent to amikacin activity 100mg) as the active ingredient.
In addition, Amikin contains the following inactive ingredients; sodium bisulphite, sodium citrate, sulphuric acid and water for injection.
What Amikin looks like and contents of the pack
Amikin Injection is supplied in a cardboard carton of five 2ml glass vials with rubber stoppers.
Information for health professionals
Below is a summary of the dosage and administration of Amikin. Reference should be made to the Summary of Product Characteristics for full prescribing information.
Dosage and administration:
At the recommended dosage level, uncomplicated infections due to sensitive organisms should respond to therapy within 24 to 48 hours. If clinical response does not occur within three to five days consideration should be given to alternative therapy.
Intramuscular or intravenous administration:
For most infections the intramuscular route is preferred, but in life-threatening infections, or in patients in whom intramuscular injection is not feasible, the intravenous route, either slow bolus (2 to 3 minutes) or infusion (0.25% over 30 minutes) may be used.
Adults and Children:
15mg/kg/day in two equally divided doses (equivalent to 500mg b.i.d. in adults): Use of the 100mg/2ml strength is recommended for children for the accurate measurement of the appropriate dose.
Neonates and Premature Infants:
An initial loading dose of 10mg/kg followed by 15mg/kg/day in two equally divided doses.
As amikacin is excreted by the renal route, renal function should be assessed whenever possible and dosage adjusted as described under impaired renal function.
Life-threatening infections and/or those caused by Pseudomonas:
The adult dose may be increased to 500mg every eight hours but should neither exceed 1.5g/day nor be administered for a period longer than 10 days. A maximum total adult dose of 15g should not be exceeded.
Urinary tract infections:
(other than pseudomonal infections'):
7.5mg/kg/day in equally divided doses (equivalent to 250mg b.i.d. in adults). As the activity of amikacin is enhanced by increasing the pH, a urinary alkalising agent may be administered oncurrently.
Impaired renal function:
In patients with impaired renal function, the daily dose should be reduced and/or the intervals between doses increased to avoid accumulation of the drug. The critical serum creatinine concentration is 1.5mg/100ml. A suggested method for estimating dosage in patients with known or suspected diminished renal function is to multiply the serum creatinine clearance (in mg/100ml) by 9 and use the resulting figure as the interval in hours between doses.
As renal function may alter appreciably during therapy, the serum creatinine should be checked frequently and the dosage regimen modified as necessary.
Other Routes of Administration:
Amikin in concentrations of 0.25% (2.5mg/ml) may be used satisfactorily as an irrigating solution in abscess cavities, the pleural space, the peritoneum and the cerebral ventricles.