What Altargo is and what it is used for
Altargo is used to treat bacterial infections affecting small areas of skin. Infections that may be treated include impetigo (which causes crusting scabs on infected areas), cuts, grazes and stitched wounds. Altargo is for adults and children aged nine months and older.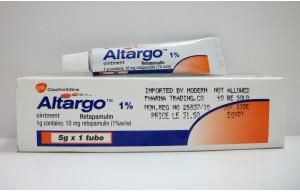 Before you use Altargo
Do not use Altargo:
If you are allergic (hypersensitive) to retapamulin or any of the other ingredients of Altargo. Take special care with Altargo:
If you notice any worsening of the infection or develop increased redness, irritation or other signs and symptoms at the site of application you should stop using Altargo and tell your doctor. See also section 4 of this leaflet. If there is no improvement in your infection after two to three days of treatment contact your doctor. Using other medicines: Do not apply other ointments, creams or lotions to the area being treated with Altargo unless specifically instructed to do so by your doctor. Tell your doctor or healthcare provider:
If the patient is a child less than two years old it is important that you tell your doctor about any other medicines that the child is being given, including medicines bought without a prescription. It is possible that using Altargo in children who are taking certain medicines (such as some medicines used to treat fungal infections) could result in blood concentrations of Altargo that are higher than usual. This might lead to side effects. Your doctor will decide if Altargo can be used for a child aged less than 2 years old who is taking other medicines.
Pregnancy and breast-feeding
Ask your doctor or pharmacist for advice before using any medicine. Do not use Altargo if you are pregnant, or planning to become pregnant. Ask your doctor or pharmacist for advice. Do not use Altargo if you are breast-feeding a baby. Ask your doctor or pharmacist for advice.
How to use Altargo
Always use Altargo exactly as your doctor has told you. You should check with your doctor or pharmacist if you are not sure. Altargo is for use on the skin only. It must not be put in the eyes, on the mouth or lips, inside the nose or inside the female genital area. If the ointment accidentally gets on to these areas, wash the area with water and consult your doctor if you experience discomfort. If you accidentally use Altargo inside your nose you could have a nose bleed. Wash your hands before and after applying the ointment.
How to apply Altargo
A thin layer of ointment is usually put on the infected skin twice a day for five days.
After applying your ointment, you may cover the treated area with a sterile bandage or gauze dressing, unless your doctor has told you to leave it uncovered.
Keep using Altargo for as long as your doctor advises.
If you use too much Altargo Carefully wipe off the extra ointment.
Problems with overdosage with this medicine are unlikely.
If you forget to use Altargo
Apply the ointment as soon as you remember, and apply the next dose at the usual time.
If you accidentally swallow Altargo
Contact your doctor or pharmacist for advice.
If you have any further questions on the use of this medicine, ask your doctor or  pharmacist.
Possible side effects
Like all medicines, Altargo can cause side effects, although not everybody gets them.
These side effects have occurred on the skin where Altargo has been applied:
Common side effects
skin irritation. This may affect up to 1 in 10 people.
Uncommon side effects
pain, itching, redness or rash (contact dermatitis). These may affect up to 1 in 100 people.
Other side effects
a burning sensation It is not known how many people this may affect. Altargo contains butylated hydroxytoluene (E321), which may cause local skin reactions (e.g. contact dermatitis), or irritation to the eyes and mucous membranes.
If you develop signs of a local reaction, such as itching, swelling, redness or pain where you have used Altargo: Tell your doctor.
If you have a severe reaction (e.g. severe itching or severe rash): Stop using Altargo, carefully wipe off the ointment, and contact your doctor or pharmacist immediately.
If any of the side effects gets serious, or if you notice any side effects that are not mentioned in this leaflet: Tell your doctor or pharmacist.
How to store Altargo
Keep out of the reach and sight of children.
Do not store above 25°C.
Do not use Altargo after the expiry date which is stated on the carton.
The expiry date refers to the last day of that month.
Discard open tubes 7 days after opening.
Return any unused Altargo to your pharmacist.
Further information
What Altargo contains
The active substance is retapamulin.
The other ingredients are white soft paraffin and butylated hydroxytoluene (E321), a preservative.
What Altargo looks like and contents of the pack
Altargo is a smooth, off-white ointment.
It is supplied in an aluminium tube with a plastic cap, containing 5 grams of ointment.