ACWY Vax is a vaccine used in children older than 2 years, adolescents and adults to prevent disease caused by the bacteria named" Neisseria meningitidis groups A,C, W135 and Y". These bacteria are highly contagious and can cause serious and sometimes life-threatening infections such as meningitis (infection around the brain or spinal cord) or septicaemia (blood poisoning). These diseases may be followed by permanent disabilities.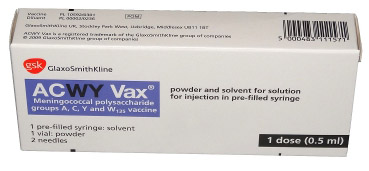 The vaccine works by causing the body to produce its own protection (antibodies) against these bacteria.
This vaccine contains purified parts of the bacteria Neisseria meningitidis (groups A, C, W135and Y). None of the components in the vaccine are infectious.
ACWY Vax will only protect against infections caused by the Neisseria meningitidis groups A, C, W135 and Y for which the vaccine has been developed.
As with all vaccines, ACWY Vax may not fully protect all people who are vaccinated.
ACWY Vax should not be given
if you or your child are allergic (hypersensitive) to the active substances or any of the other ingredients of ACWY Vax
if you or your child have previously had an allergic reaction to any vaccine against Neisseria meningitidis groups A, C, W135 or Y
if you or your child have a severe infection with a high temperature (over 38°C).
A minor infection such as a cold should not be a problem, but talk to your doctor first. Do not have ACWY Vax if any of the above apply to you. If you are not sure, talk to your doctor or pharmacist before having this vaccine.
Take special care with ACWY Vax
Persons with a weakened immune system, for example due to HIV infection or due to medicines that suppress the immune system, may not get the full benefit from ACWY Vax.
Using other medicines or vaccines
Please tell your doctor or pharmacist if you or your child are taking or have recently taken any other medicines, including medicines obtained without a prescription or have recently received any other vaccine.
If necessary, ACWY Vax can be administered at the same time as other vaccines.
The other injectable vaccines should always be administered at a different injection site.
Pregnancy and breast-feeding
Ask your doctor or pharmacist for advice before taking any medicine.
ACWY Vax can be administered to pregnant or breast-feeding women if there is a high risk of infection.
You or your child will receive a single dose of 0.5 ml.
If you remain at risk of infection it may be necessary to have another dose. Your doctor will advise you on re-vaccination.
The doctor will give ACWY Vax as an injection deep under the skin.
The vaccine should never be given into a vein or in the skin.
Like all medicines, ACWY Vax can cause side effects, although not everybody gets them. After commercialisation of ACWY Vax, some people had a serious allergic reaction to the vaccine. These may be local or widespread skin rash that may be itchy or blistering, swelling of the eyes and face, difficulty in breathing or swallowing, a sudden drop in blood pressure and loss of consciousness. If these occur, you should contact a doctor urgently. Joint pain, muscle stiffness, flu-like symptoms such as high temperature, sore throat, runny nose, cough and chills have also been reported after commercialisation of the vaccine.
Side effects that occurred during clinical trials with ACWY Vax were as follows: Very common (these may occur with more than 1 in 10 doses of the vaccine):
Pain, redness or tenderness at the injection site
Headache
Fatigue
Common (these may occur with up to 1 in 10 doses of the vaccine):
Swelling or hard lump at the injection site
Loss of appetite
Irritability
Drowsiness
Gastrointestinal symptoms e.g. nausea, vomiting and diarrhoea
Fever
Uncommon (these may occur with up to 1 in 100 doses of the vaccine):
If any of the side effects gets serious, or if you notice any side effects not listed in this leaflet, please tell your doctor or nurse.
Store in a refrigerator (2°C – 8°C).
Do not freeze.
Store in the original package in order to protect from light.
Keep out of the reach and sight of children.
Do not use ACWY Vax after the expiry date which is stated on the carton.
The expiry date refers to the last day of that month.
Medicines should not be disposed of via waste water or household waste. Ask your pharmacist how to dispose of medicines no longer required. These measures will help to protect the environment.
What ACWY Vax contains
The active substances are:
| | |
| --- | --- |
| Neisseria meningitidis group A polysaccharide | 50 ug |
| Neisseria meningitidis group C polysaccharide | 50 ug |
| Neisseria meningitidis group Y polysaccharide | 50 ug |
| Neisseria meningitidis group W135 polysaccharide | 50 ug |
The other ingredients are:
Powder: sucrose, trometamol
Solvent: sodium chloride, Water for Injections
What ACWY Vax looks like and contents of the pack
Powder and solvent for solution for injection.
The powder is white.
The solvent is clear and colourless.
Both components must be mixed together before you or your child receive the vaccine.
The mixed appearance is a clear and colourless liquid.
ACWY Vax is available in packs of:
1 vial of powder and 1 pre-filled syringe of solvent for 1 dose (0.5 ml) with or without needles
Not all pack sizes may be marketed.
This medicinal product is authorised in the Member States of the EEA under the following names:
| | |
| --- | --- |
| Member State | Name |
| Austria, Belgium, Germany, Hungary, Iceland, Italy, Luxemburg, Slovenia | Mencevax ACWY |
| Finland | Mencevax ACWY Novum |
| France | Mencevax |
| Malta, UK | ACWY VAX |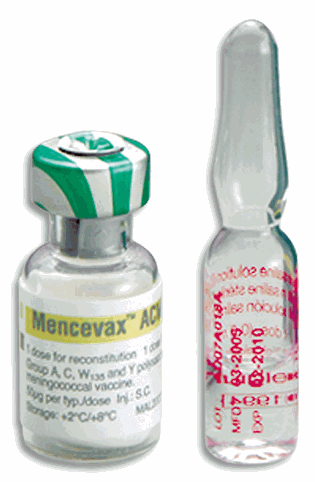 Disease information on meningococcal diseases
Meningococcal infection, including meningococcal meningitis is an infectious illness caused by certain types of bacteria called meningococci. It is passed on by breathing in droplets in the air from infected people. Early signs of the illness are weakness, fever and sickness, sometimes followed by headache, discomfort when seeing bright light, feeling sleepy, confusion, painful joints and a rash. Those infected can end up unconscious. If untreated, meningitis can lead to death.
People in the United Kingdom may be at increased risk of catching meningococcal infection when travelling to areas such as certain parts of Africa and the Middle East. However, the illness also occurs in the United Kingdom and outbreaks sometimes occur, for example, in schools.