Description of Medical Condition
Inflammation of the bronchioles, usually seen in young children, occasionally in high-risk adults. May be seasonal (winter and spring) and often occurs in epidemics. Usual course: insidious; acute; progressive.
System(s) affected: Pulmonary
Genetics: N/A
Incidence/Prevalence in USA: Medical care provided to 1000-1500/100,000 annually. Estimated incidence is higher. Annual winter-spring epidemics.
Predominant age: newborn-2 years (peak age 2-6 months)
Predominant sex: Male > Female
Medical Symptoms and Signs of Disease
Anorexia
Cough
Cyanosis
Expiratory wheezing
Apnea
Fever
Grunting
Inspiratory crackles
Intercostal retractions
Irritability
Noisy breathing
Otitis media
Pharyngitis
Tachycardia
Tachypnea
Vomiting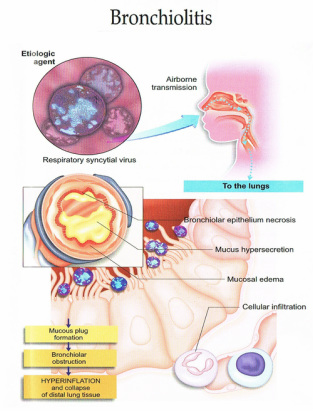 What Causes Disease?
Respiratory syncytial virus — most prevalent
Parainfluenza
Adenovirus
Rhinovirus
Influenza virus
Chlamydia
Eye, nose, mouth inoculation
Exposure to adult with URI
Day care exposure (significant)
Idiopathic (many adult cases)
Risk Factors
Contact with infected person
Children in day care environment
Heart-lung transplantation patient
Adults — exposure to toxic fumes, connective tissue disease
Diagnosis of Disease
Differential Diagnosis
Asthma
Vascular ring
Lobar emphysema
Foreign body
Heart disease
Pneumonia
Reflux
Aspiration
Cystic fibrosis
Laboratory
Arterial blood gas — hypoxemia, hypercarbia, acidemia
Respiratory viral culture
Respiratory viral antigens
Drugs that may alter lab results: N/A
Disorders that may alter lab results: N/A
Pathological Findings
Abundant mucous exudate
Mucosal — hyperemia, edema
Submucosal lymphocyte infiltrate, monocytic infiltrate, plasmacytic infiltrate
Small airway debris, fibrin, inflammatory exudate. fibrosis
Peribronchiolar mononuclear infiltrate
Special Tests
Infant pulmonary function studies — research tool
Imaging
Chest x-ray
Focal atelectasis — RUL common
Air trapping
Flattened diaphragm
Increased anteroposterior diameter
Peribronchial cuffing
Diagnostic Procedures
N/A
Treatment (Medical Therapy)
Appropriate Health Care
Most patients can be treated at home
Inpatient indicated for patient with increased respiratory distress, cyanosis, and dehydration or inability to feed
General Measures
Most critical phase is first 48-72 hours after onset. Treatment is usually symptomatic.
Fluid at maintenance
Mechanical ventilation in respiratory failure
Isolation: contact; handwashing most important
Antiviral agents for selected high-risk patients
Cardio-respiratory monitoring
Inhaled bronchodilators are commonly used, although efficacy has been hard to demonstrate in controlled studies
Steroids may not change course — except in patients with reactive airway disease
Activity
Avoid exposure to crowds, viral illness for 2 months
Avoid smoke
Diet
Frequent small feedings of clear liquids
If hospitalized, may require intravenous fluids
Patient Education
Griffith: Instructions for Patients; Philadelphia, Elsevier
American Academy of Pediatrics; website www.aap.org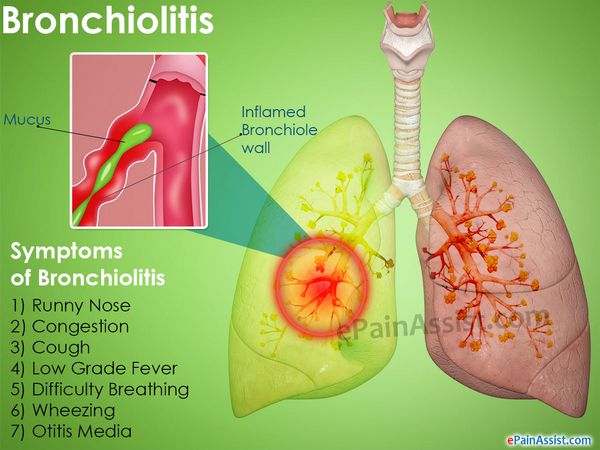 Medications (Drugs, Medicines)
Drug(s) of Choice
Oxygen
Albuterol: may be effective for acute symptoms
Epinephrine aerosols may be of more benefit
Ribavirin: For infants and children, an inhaled antiviral agent active against RSV, may be indicated in patients with underlying cardio-pulmonary disease, young age (< 6 weeks), or with severe RSV (elevated pC02; require mechanical ventilation — use with caution via ventilator). Nebulize via small particle aerosol generator (SPAG). Use of ribavirin has decreased in recent years, secondary to lack of significant clinical efficacy.
Contraindications: Refer to manufacturer's literature
Precautions: None
Significant possible interactions: None
Alternative Drugs
Antibiotics only if secondary bacterial infection present (rare)
Corticosteroids do not change course, unless infant has reactive airway disease. In adults corticosteroids may be helpful.
Patient Monitoring
If patient is receiving home care, follow daily by telephone for 2-4 days
For hospitalized patient, monitor as needed depending on severity of infection. Bronchiolitis can be associated with apnea.
Prevention / Avoidance
Hand washing
Contact isolation of infected babies
Persons with colds should keep contacts with infants to a minimum
Palivizumab (Synagis), a monoclonal product, administered monthly, November through March, 15 mg/kg IM. Available in single use vials of 100mg and 50mg. Used for RSV prevention in high risk patients:

 28-32 weeks gestation and less than 6 months old in November
 Less than 28 weeks gestation and less than 12 months old
 Moderately severe BPD and up to two years old
 Hemodynamically significant congenital heart disease (until age 6 months)

RSV immune globulin, a human blood product, can also be used in at-risk patients. Monthly infusions of 750 mg/kg, November through March, in a controlled setting. Avoid fluid overload. Vial is 50 mg/mL; infuse at 1.5-6 mL/kg/hr; monitor oximeter and vital signs.
Both of these medications are quite expensive.
Possible Complications
Bacterial superinfection
Bronchiolitis obliterans
Apnea
Respiratory failure
Death
Increased incidence of RAD
Expected Course / Prognosis
In most cases, recovery is complete within 7-10 days
Mortality statistics differ, but probably under 1%
High-risk infants (BPD, CHD) may have prolonged course
Miscellaneous
Associated Conditions
Common cold
Conjunctivitis
Pharyngitis
Otitis media
Diarrhea
Age-Related Factors
Pediatric: Most common in infants
Geriatric: N/A
Pregnancy: N/A
International Classification of Diseases
466.11 Acute bronchiolitis due to respiratory syncytial virus
466.19 Acute bronchiolitis due to other infectious organisms
Abbreviations
BPD = bronchopulmonary dysplasia CHD = congenital heart disease RAD = reactive airway disease SPAG = small particle aerosol generator