Description of Medical Condition
Disease caused by a ubiquitous mold that primarily involves the lungs. Disease frequently lethal in neutropenic and bone marrow transplant (BMT) patients. Syndromes include:
Allergic aspergillosis

Extrinsic allergic alveolitis — hypersensitivity pneumonitis in individuals repeatedly exposed to the fungus
Allergic bronchopulmonary aspergillosis (ABPA)

pulmonary infiltrates, mucous plugging; secondary to allergic reaction to fungus
Aspergillomas: "fungus ball" saprophytic colonization within pre-existing pulmonary cavities
Invasive aspergillosis: most common and severe in BMT and neutropenic patients. Also occurs with increased frequency in other immunocompromised persons, such as those with AIDS, solid organ transplant or high dose corticosteroids; commonly fatal.
System(s) affected: Pulmonary, Nervous, Gastrointestinal, Musculoskeletal, Cardiovascular
Genetics: No known genetic pattern
Incidence/Prevalence in USA: Rare
Predominant age: None
Predominant sex: Male = Female
Medical Symptoms and Signs of Disease
Allergic — cough, wheezing, constitutional symptoms, plug expectoration
Aspergillomas — hemoptysis; manifestations of underlying disease
Invasive — fever, cough, rales, rhonchi; toxicity; CNS signs; Gl bleeding
What Causes Disease?
Aspergillus species in decreasing order of frequency: A. fumigatus, A. flavus, A. niger
Risk Factors
Allergic — exposure, asthma
Aspergillomas — COPD, bronchiectasis, TB, malignancy
Invasive — neutropenia, corticosteroid therapy, graft vs. host disease in recipients of bone marrow transplant. AIDS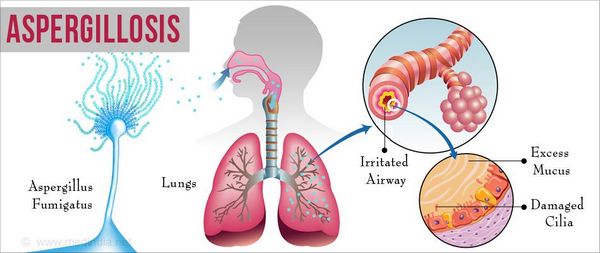 Diagnosis of Disease
Differential Diagnosis
Allergic — other causes of asthma and hypersensitivity pneumonitis.
Aspergillomas — neoplasm, TB
Invasive — bacterial pneumonia, pulmonary hemorrhage, drug toxicity, malignancy; mucor (sinuses).
Laboratory
ABPA — eosinophilia, immediate skin reactivity to aspergillus antigen, precipitating-serum antibodies to aspergillus, elevated serum IgE concentrations.
Invasive — sputum culture, cultures of bronchoalveolar lavage or bronchial washings; biopsy is definitive; blood cultures almost never positive
Drugs that may alter lab results: None
Disorders that may alter lab results: None
Pathological Findings
Necrotiz ing pneumonia, hemorrhagic infarcts, bloodvessel invasion; branching septate hyphae if organism seen microscopically
Special Tests
ABPA — immediate skin reactivity to aspergillus antigen, precipitating serum antibodies (precipitins) against aspergillus antigens, elevated serum IgE concentrations, elevated serum IgE and IgG antibodies specific to A. fumigatus.
Invasive — none
Imaging
Chest x-ray — fleeting infiltrates (ABPA), round intracavity mass (aspergillomas); nodular or patchy infiltrates progressing to diffuse consolidation and cavitation (invasive); nodular, cavitary or pleural-based wedge-shaped lesions
Diagnostic Procedures
Bronchos copy, bronchial washings, bronchoalveolar lavage or transthoracic needle aspiration may be helpful in isolating organism in invasive disease; open lung biopsy is diagnostic but often not possible in severely ill, ventilated patients.
Treatment (Medical Therapy)
Appropriate Health Care
Allergic — outpatient usually
Aspergillomas — outpatient usually
Invasive- inpatient
General Measures
Allergic

Extrinsic allergic alveolitis -drug therapy, exposure avoidance. OABPA-corticosteroids

Aspergillomas – individualized therapy ranging from no therapy to surgical resection of cavities in cases of severe hemoptysis; systemic antifungal therapy is seldom useful
Invasive – (prognosis tends to be poor) high dose intravenous antifungal therapy; treatment of underlying disease; adjunctive cytokine therapy to reverse neutropenia
Activity
As tolerated
Diet
No special diet
Patient Education
To specifics of individual circumstances.
Medications (Drugs, Medicines)
Drug(s) of Choice
Allergic

Extrinsic allergic alveolitis — bronchodilators, cromolyn, steroids
ABPA-steroids

Aspergillomas — none
Invasive — high dose amphotericin B — up to 1 mg/kg/ day. The lipid formulations of amphotericin B (Abelcet. Ambisome) are preferred over standard amphotericin because of the reduced nephrotoxicity in view of the high doses required.
Caspofungin is approved for patients with aspergillosis unresponsive to other therapy or who have unacceptable toxicity to other agents
Voriconazole was superior to conventional amphotericin in a large study and is well absorbed orally
Note: because of the frequent failure of single drug therapy, combination therapy is frequently proposed
Contraindications: Refer to manufacturer's literature
Precautions: Amphotericin B can cause significant renal insufficiency and electrolyte abnormalities. Saline infusion at the time of amphotericin B administration may decrease the nephrotoxicity.
Significant possible interactions:
Amphotericin B — other nephrotoxic drugs (aminoglycosides, cyclosporine, etc): accelerate development of renal insufficiency
Amphotericin B — diuretics: accelerate electrolyte depletion
Voriconazole — hepatically metabolized drug; serum levels may be altered
Itraconazole-hepatically metabolized drugs: serum levels altered
Itraconazole — gastric pH: normal, low pH is necessary for absorption
Alternative Drugs
Itraconazole is occasionally useful as an alternative agent
Patient Monitoring
Allergic

Extrinsic allergic, alveolitis — spirometry
ABPA — chest x-ray, IgE levels

Aspergillomas — chest x-ray, symptoms
Invasive — chest x-ray, CBC
Prevention / Avoidance
Allergic — avoid exposure
Aspergillomas — treatment of underlying diseases, eg. COPD, etc.
Possible Complications
Allergic- bronchiectasis, pulmonaryfibrosis, obstructive lung disease
Aspergillomas — hemoptyses
Invasive — metastatic infection of CNS, Gl tract and other organs; death
Expected Course / Prognosis
Allergic — with treatment prognosis is good; untreated can progress to severe fibrosis, COPD
Aspergillomas — prognosis more related to underlying disease
Invasive — poor prognosis
Miscellaneous
Associated Conditions
Allergic — asthma
Aspergillomas — COPD, TB, pulmonary mycoses, silicosis, sarcoidosis, non-tuberculosis mycobacteria, ankylosing spondylitis, malignancy
Invasive- neutropenia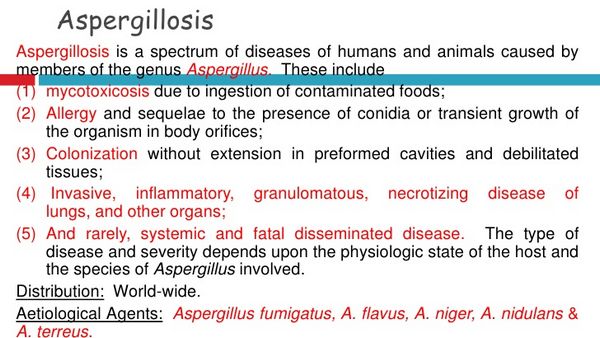 Age-Related Factors
Pediatric: N/A
Geriatric: N/A
Others:
Allergic — Tends to occur in younger patients <35.
Aspergillomas — older patients with chronic lung disease
Invasive-all ages
Pregnancy
N/A
Synonyms
Hypersensitivity pneumonitis
Fungus ball
International Classification of Diseases
117.3 Aspergillosis
Abbreviations
ABPA:
monary aspergillosis
allergic bronchopul