Darunavir
International Nonproprietary Names (INNs):
Darunavirum; TMC-I 14; UIC-94017
C27H37N307S = 547.7.
CAS — 206361-99-1.
ATC — J05AE10.
Darunavir Ethanolate
Darunavir monoethanolate.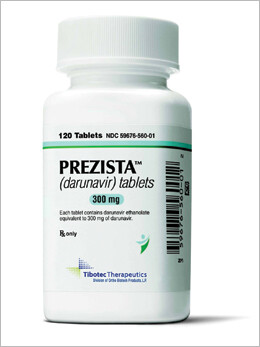 C27H37N307S1C2H5OH = 593.7.
ATC — JOS AE 10.
Adverse Effects
The most common adverse effects associated with antiretroviral regimens containing darunavir are gastrointestinal disturbances (abdominal pain, diarrhoea, nausea, and vomiting), nasopharyngitis, and hypertrig-lyceridaemia. Other reported adverse effects are asthenia, dizziness, fatigue, headache, and insomnia. Less frequently reported adverse effects include folliculitis, myocardial infarction, osteopenia, osteoporosis, polyuria, somnolence, tachycardia, transient ischaemic attacks, and vertigo. Severe cases of skin rashes have been reported, including erythema multiforme and Stevens-Johnson syndrome.
Cases of drug-induced hepatitis, including fatalities, have been reported. Abnormal liver and pancreatic function tests and decreases in white blood cell counts have also occurred. Immune reconstitution syndrome (an inflammatory immune response resulting in clinical deterioration) has been reported during the initial phase of treatment with combination antiretroviral therapy, including darunavir, in HIV-infected patients with severe immune deficiency.
Accumulation or redistribution of body fat (lipodystrophy) including central obesity, dor-socervical fat enlargement (buffalo hump), peripheral wasting, facial wasting, breast enlargement, and cushingoid appearance have been seen in patients receiving antiretroviral therapy, including darunavir. Metabolic abnormalities such as hypertriglyceridaemia, hypercholesterolaemia, insulin resistance, hyperglycaemia, and hyperlactataemia have also been reported.
Elevated creatine phosphokinase, myalgia, myositis, and rarely rhabdomyolysis have been reported with HIV-protease inhibitors, particularly when given with nucleoside analogues. Osteonecrosis has been reported, particularly in patients with advanced HIV disease or long-term exposure to combination antiretroviral therapy.
For further information on adverse effects associated with HIV-protease inhibitors see under Indinavir Sulfate.
Precautions
Patients should undergo liver function tests before starting and during treatment with darunavir. It should not be used in patients with severe hepatic impairment (Child-Pugh class C), and should be used with caution (and liver enzymes values monitored), in those with mild to moderate impairment (Child-Pugh A or B) and those with chronic hepatitis B or C co-infection.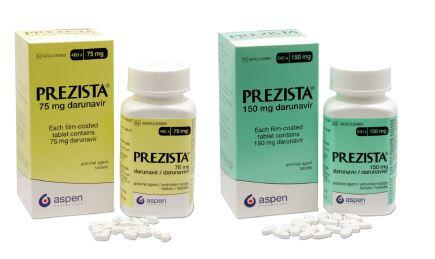 Patients co-infected with chronic hepatitis B or C and treated with combination antiretroviral therapy are at increased risk for severe and potentially fatal hepatic adverse events.
All patients should be instructed to seek medical advice if symptoms suggestive of new or worsening hepatotoxicity occur.
Caution is advised in treating patients with haemophilia A and B as reports of spontaneous bleeding have been associated with the use of HIV-protease inhibitors. An association with erythema multiforme and Stevens-Johnson syndrome has been reported and treatment should be stopped in patients who develop skin rashes.
Interactions
Darunavir is extensively metabolised by the cytochrome P450 isoenzyme CYP3A4. It may compete with other drags metabolised by this enzyme, potentially resulting in increased plasma concentrations and toxicity.
Daranavir is contra-indicated with drugs that are highly dependent on CYP3A4 for clearance and for which elevated plasma concentrations are associated with serious or life-threatening events.
These drugs include antiarrhythmics (amiodarone, bepridil, quinidine, and systemic lidocaine), antihistamines (astemizole and terfenadine), ergot derivatives (dihydroergotamine, ergometrine, ergotamine, methylergometrine), gastrointestinal prokinetics (cisapride), antipsychotics (pimozide), sedatives and hypnotics (midazolam and triazolam), and statins (simvastatin and lovastatin).
Ritonavir-boosted lopinavir, rifampicin, antiepileptics (carbamazepine, phenobarbital, and phenytoin), and St John's wort decrease the concentration of darunavir; use with darunavir is not recommended due to the possible loss of its activity and development of resistance.
For further information on drug interactions of HIV-protease inhibitors see under Indinavir Sulfate.
Antiviral Action
Darunavir is a selective inhibitor of HIV-1 protease. It interferes with the formation of essential viral proteins making them incapable of infecting other cells. Viral resistance develops rapidly when HIV-protease inhibitors are given alone and therefore they are used with other antiretrovirals. Cross-resistance may develop between some HIV-protease inhibitors, but mechanisms of resistance to daranavir may differ from those to other drags of the class.
Pharmacokinetics
Darunavir is rapidly absorbed after oral doses, resulting in a bioavailability of 82% when taken with recommended doses of ritonavir; food increases the bioavailability. Peak plasma concentrations are reached within 2.5 to 4 hours.
Daranavir is about 95% bound to plasma proteins. It is metabolised by oxidation by the cytochrome P450 system (primarily the isoenzyme CYP3A4), with at least 3 metabolites showing some antiretroviral activity.
About 80% of a dose is excreted in the faeces, with 41.2% of this as unchanged drug; 14% is excreted in the urine, with 7.7% being unchanged drag. The mean terminal elimination half-life of darunavir is about 15 hours.
Uses and Administration
Darunavir is an HIV-protease inhibitor with antiviral activity against HIV. It is used in the treatment of HIV infection and AIDS. Viral resistance emerges rapidly when daranavir is used alone, and it is therefore used with other antiretrovirals.
Darunavir is boosted with low-dose ritonavir, which acts as a pharmacokinetic enhancer. It is given orally as the ethanolate, but doses are expressed in terms of the base; 325 mg of darunavir ethanolate is equivalent to about 300 mg of daranavir. The dose is 600 mg (with ritonavir 100 mg) twice daily with food.
Proprietary Preparations
Australia: Prezista;
Czech Republic: Prezista;
Greece: Prezita;
Portugal: Prezista;
United Kingdom: Prezista;
USA: Prezista