Drug Nomenclature
Synonyms: Antibiotic A-5283; CL-12625; E235; Natamicina; Natamycin; Natamycinum; Natamysiini; Pimaricin
BAN: Natamycin
USAN: Natamycin
INN: Natamycin [pINN (en)]
INN: Natamicina [pINN (es)]
INN: Natamycine [pINN (fr)]
INN: Natamycinum [pINN (la)]
INN: Натамицин [pINN (ru)]
Molecular formula: C33H47NO13 =665.7
CAS: 7681-93-8
ATC code: A01AB10; A07AA03; D01AA02; G01AA02; S01AA10
Read code: y00q5 [Mouth-no Preps]; y00Uc [Gynaecological Use]; y0138 [Skin]; y08DP [Systemic]; y02UX
Pharmacopoeias
The United States Pharmacopeia 31, 2008 (Natamycin).
An off-white to cream-coloured powder. It may contain up to 3 moles of water. Practically insoluble in water soluble in glacial acetic acid and in dimethylformamide slightly soluble in methyl alcohol. A 1 % suspension in water has apH of 5.0 to 7.5. Store in airtight containers. Protect from light.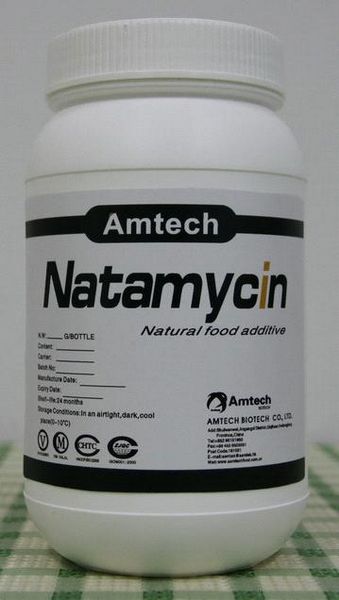 Adverse Effects and Precautions
Gastrointestinal disturbances have occurred after oral use of natamycin. Local application has sometimes produced irritation. Porphyria. Natamycin has been associated with acute attacks of porphyria and is considered unsafe in porphyric patients.
Antimicrobial Action
Natamycin is a polyene antifungal active against Candida and Fusarium spp. In addition it is active against the protozoan Trichomonas vaginalis.
Pharmacokinetics
Natamycin is poorly absorbed from the gastrointestinal tract. It is not absorbed through the skin or mucous membranes when applied topically. After ocular use, natamycin is present in therapeutic concentrations in corneal stroma but not in intra-ocular fluid systemic absorption does not usually occur.
Uses and Administration
Natamycin is a polyene antifungal antibiotic produced by the growth of Streptomyces natalensis. It is used for the local treatment of candidiasis and fungal keratitis (see Eye Infections). It has also been used in vaginal trichomoniasis. A 5% ophthalmic suspension or a 1% ointment of natamycin is used in the treatment of blepharitis, conjunctivitis, or keratitis due to susceptible fungi, including Fusarium solani. Natamycin lozenges are used for the treatment of oral candidiasis in a dose of 10 mg every 4 to 6 hours. Tablets have been given orally for the treatment of intestinal candidiasis. Natamycin has also been used topically for fungal skin infections and for candi-dal and trichomonal infections of the vagina.
Preparations
The United States Pharmacopeia 31, 2008: Natamycin Ophthalmic Suspension.
Proprietary Preparations
Argentina: Natacyn
zech Republic: Pimatucin Finland: Pimatucin Germany: Deronga Heilpaste Pima Biciron N Pimatucin Hungary: Pimatucin India: Natadrops Indonesia: Fukricin Italy: Natafucin Malaysia: Natacyn Mexico: Niconacina The Netherlands: Pimatucin Poland: Pimatucin Russia: Piamtucin Pimatucin South Africa: Natacyn Singapore: Natacyn Thailand: Natacyn Turkey: Pimatucin USA: Natacyn
Multi-ingredient
Czech Republic: Pimafucort Finland: Pimafucort Hungary: Pimafucort New Zealand: Pimafucort Poland: Pimafucort Portugal: Pimafucort Russia: Pimafucort