Econazole nitrate is a topical / antifungal agent. It increases cell membrane permeability in susceptible fungi. It is indicated in the treatment of tinea pedis (athlete's foot), tinea cruris (jock itch), tinea corporis (ringworm), cutaneous candidiasis, and tinea versicolor.
Econazole is the deschloro derivative of miconazole. Econazole readily penetrates the stratum corneum and is found in effective concentrations down to the mid-dermis. However, less than 1% of an applied dose appears to be absorbed into the blood. Approximately 3% of recipients have local erythema, burning, stinging, or itching. Econazole nitrate (Spectazole, others) is available as a water-miscible cream (1%) to be applied twice a day.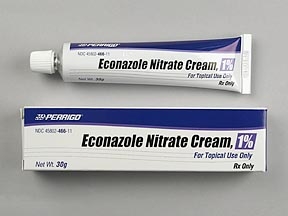 Miconazole, a very close chemical congener of econazole, readily penetrates the stratum corneum of the skin, and persists there for more than 4 days after application. Less than 1% is absorbed into the blood. Absorption is no more than 1.3% from the vagina.
Adverse effects from topical application to the vagina include burning, itching, or irritation in 7% of recipients and, infrequently, pelvic cramps (0.2%), headache, hives, or skin rash. Irritation, burning, and maceration are rare after cutaneous application. Miconazole is considered safe for use during pregnancy, although some authors recommend avoiding its vaginal use during the first trimester. Miconazole nitrate is available as a dermatologic ointment, cream, solution, spray, or powder (Micatin, Monistat-derm, others).
To avoid maceration, only the lotion should be applied to intertriginous areas. It is available as a 2% and 4% vaginal cream, and as 100-mg, 200-mg, or 1200-mg vaginal suppositories (Monistat 7, Monistat 3, others), to be applied high in the vagina at bedtime for 7, 3, or 1 (days), respectively. In the treatment of tinea pedis, tinea cruris, and tinea versicolor the cure rate may be over 90%. In the treatment of vulvovaginal candidiasis, the mycologic cure rate at the end of 1 month is about 80 to 95%. Pruritus sometimes is relieved after a single application. Some vaginal infections caused by Candida glabrata also respond. Terconazole and butoconazole: Terconazole is a ketal triazole with structural similarities to ketoconazole. The mechanism of action of terconazole is similar to that of the imidazoles. The 80-mg vaginal suppository is inserted at bedtime for 3 days, whereas the 0.4% vaginal cream is used for 7 days, and the 0.8% cream for 3 days. Clinical efficacy and patient acceptance of both preparations are at least as good as for clotrimazole in patients with vaginal candidiasis.
Butoconazole is an imidazole that is pharmacologically quite comparable to clotrimazole.
Butoconazole nitrate (Mycelex 3, others) is available as a 2% vaginal cream; it is used at bedtime in nonpregnant females. Fungal infections are among the most common causes of skin disease in the United States, and numerous effective topical and oral antifungal agents have been developed. Griseofulvin, topical and oral imidazoles, triazoles, and allylamines are the most effective agents available.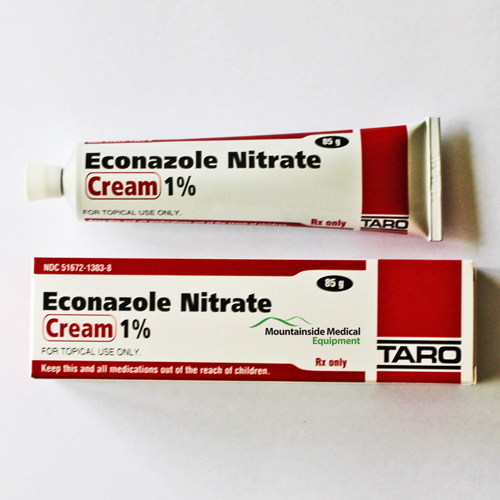 The azoles miconazole (Micatin, others) and econazole (Spectrazole, others) and the allylamines naftifine (Naftin) and terbinafine (Lamisil, others) are effective topical agents for the treatment of localized tinea corporis and uncomplicated tinea pedis. Topical therapy with the azoles is preferred for localized cutaneous candidiasis and tinea versicolor. Systemic therapy is necessary for the treatment of tinea capitis. Oral griseofulvin (fulvicin V / F, P / G, others) has been the traditional medication for treatment of tinea capitis. Oral terbinafine is a safe and effective alternative to griseofulvin in treating tinea capitis in children. Topical therapy with the azoles and allylamines is effective for tinea pedis. Macerated toe web disease may require the addition of antibacterial therapy.
Econazole nitrate, which has a limited antibacterial spectrum, can be useful in this situation. Systemic therapy with griseofulvin, terbinafine, or itraconazole (Sporanox, others) is used for more extensive tinea pedis. It should be recognized that long-term topical therapy may be necessary in some patients after courses of systemic antifungal therapy.
Onychomycosis: Fungal infection of the nails is caused most frequently by dermatophytes and Candida. Mixed infections are common. The nail must be cultured or clipped for histological examination before initiating therapy because up to a third of dystrophic nails that appear clinically to be onychomycosis are actually due to psoriasis or other conditions. Systemic therapy is necessary for effective management of onychomycosis. Treatment of onychomycosis of toenails with griseofulvin for 12 to 18 months produces a cure rate of 50% and a relapse rate of 50% after 1 year. Terbinanne and itraconazole offer significant potential advantages.
They quickly produce high drug levels in the nail, which persist after therapy is discontinued. Additional advantages include a broader spectrum of coverage with itraconazole and few drug interactions with terbinanne. Treatment of toenail onychomycosis requires 3 months with terbinanne (250 mg / day) or itraconazole (pulsed dosing 1 week per month for 3 months). Cure rates of 75% or greater have been achieved with both drugs. Ciclopirox topical (Penlac) solution is a nail lacquer that is PDA approved for the treatment of onychomycosis but demonstrates low complete cure rates.