Penicillin-induced hepatotoxicity may not be as uncommon as has been thought. There have been three reviews. The first was a comparison of the assessment of drug-induced liver injury obtained by two different methods, the Council for International Organizations of Medical Sciences (CIOMS) scale and the Maria & Victorino (M&V) clinical scale. Three independent experts evaluated 215 cases of hepatotoxicity reported using a structured reporting form. There was absolute agreement between the two scales in 18% of cases, but there was no agreement in cases of fulminant hepatitis or death.
The authors concluded that the CIOMS instrument is more likely to lead to a conclusion compatible with the specialist's empirical approach. In the second review some syndromes of drug-induced cholestasis were outlined, with lists of typical examples of which drugs cause what.
The authors stated that the treatment of drug-induced cholestasis is largely supportive and that the offending drug should be withdrawn immediately. In the third review the authors' intention was to give new insights into basic mechanism of bile secretion and cholestasis. Some drug-induced forms of cholestasis appear to be associated with certain HLA class II haplotypes in patients taking co-amoxiclav (SEDA-24;. Whether or not this holds true for hepatotoxicity due to other beta-lactam antibiotics is not known.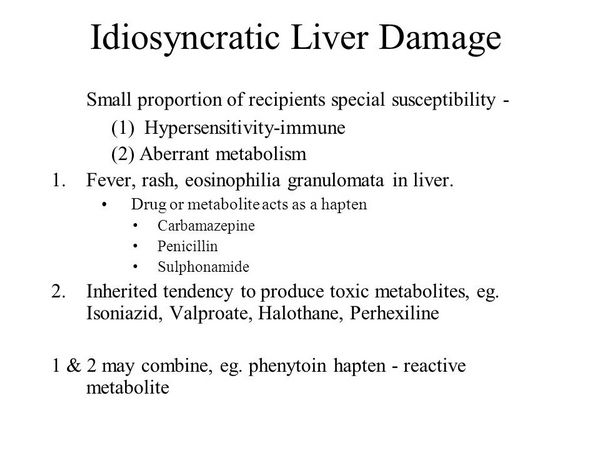 Co-amoxiclav
Transient rises in serum transaminases are not uncommon after the use of co-amoxiclav, and hepatic dysfunction with jaundice can also occur. Since this effect is thought to be largely due to the clavulanic acid that co-amoxiclav contains rather than the amoxicillin, it is covered in the post on beta-lactamase inhibitors.
Isoxazolyl penicillins
Flucloxacillin is the most important cause of antimicrobial drug-induced hepatotoxicity in various countries. The risk has been estimated in some countries to be in the range of 1 in 10000 to 1 in 30000 prescriptions. The hepatic injury is often severe and deaths have occurred. The course can be prolonged. Cholestasis is the most frequent and prominent feature and the so-called "vanishing bile duct syndrome" can develop. Female sex, increasing age, and duration of therapy are risk factors. High daily doses increase the risk. Chronic hepatitis has been reported in a patient with a history of flucloxacillin-induced hepatitis.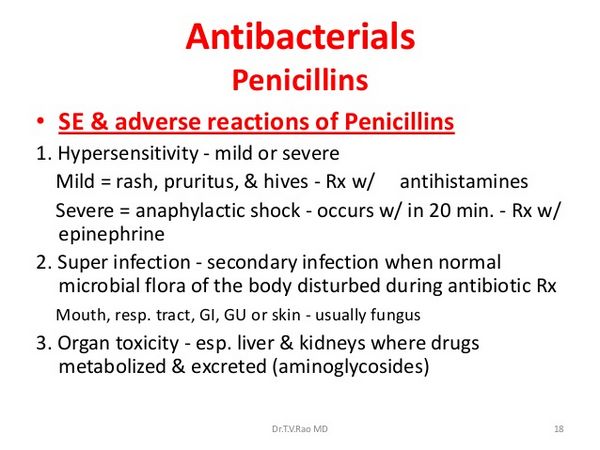 55-year-old woman with psoriasis was treated with oral 5-methoxypsoralen and UVA photochemotherapy. After 40 treatments over 5 months she became unwell and complained of headaches, nausea, and abdominal pain. Laboratory tests confirmed a diagnosis of hepatitis. Six years earlier she had had flucloxacillin-induced hepatitis. Hepatitis after 5-methoxypsoralen is supposedly very rare, and the authors gave only one reference, although there have been several more reports after the use of 8-methoxypsoralen. Without discussing possible mechanisms underlying this difference, it might be wise to remember that a previous history of drug-induced hepatitis should be a reminder of the need to consider hepa-totoxic reactions in any patient who develops unexplained symptoms while using another drug. The other isoxazolyl penicillins, that is cloxacillin, dicloxacillin, and oxacillin, can cause similar hepatotoxicity. However, it is not known whether the incidence is as high as with flucloxacillin. Nor is it known whether the clearly dose-dependent "oxacillin hepatitis" is an identical reaction. In isolated cases, glucocorticoids and ursodeoxycholic acid apparently improved the outcome of hepatitis related to isoxazolyl penicillins.
Other penicillins
Other penicillins have been only very rarely associated with hepatotoxicity. There are isolated reports involving, among others, penicillin G, penicillin V, ampicillin and amoxicillin, carbenicillin, and nafcillin.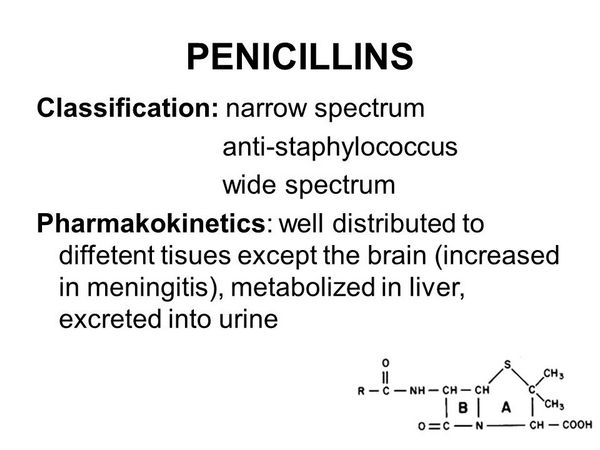 A 28-year-old woman developed upper abdominal pain, weakness, and dark urine 5 days after a single injection of benzylpeniciUin 2 million units for suspected strepto-coccal pharyngitis. Liver dysfunction persisted for up to 18 months. The authors rated the likelihood that benzylpeniciUin had caused cholestasis as probable and referred to three previous reports in which penicillin was claimed to cause hepatotoxicity.
A 20-year-old man with abdominal trauma received a single dose of piperacillin (1 g) followed by nine doses of imipenem + cilastatin (500 mg tds for 3 days) and 2 weeks later developed jaundice, fatigue, and pruritus. A liver biopsy showed centrilobular cholestasis, portal infiltration with eosinophils, and cholangitis. Lymphocyte transformation tests for piperacillin and imipenem/cilastatin were positive, suggesting an immunological mechanism. He made a full clinical and biochemical recovery after 3 months. The authors concluded that short-term therapy with piperacillin, imipenem + cilastatin, or the combination could cause the same type of liver damage as described with co-amoxiclav and antistaphylococcal penicillins.