Carbapenem antibiotics were first discovered in the 1970s. The first and only marketed agent in this class was Primaxin, a combination product containing imipenem and the human renal dihyropeptidase-I (DHP-I) antagonist cilastatin.
Meropenem (Merrem), similar to imipenem-cilastatin, has been approved by the FDA for the treatment of complicated intra-abdominal infections in adults and children as well as for bacterial meningitis in children.
Meropenem is the first carbapenem antibiotic approved in the United States for use in children. Other uses being studied include febrile neutropenia, lower respiratory tract infections, urinary tract infections and skin and skin structure infections. The neurotoxicity associated with imipenem-cilastatin has not been demonstrated with meropenem, which seems to be better tolerated. Another advantage of meropenem is its stability to DHP-I; therefore, it can be administered without cilastatin. Meropenem (Merrem) is a semisynthetic parenteral carbapenem with a broad spectrum of activity.
Meropenem causes bacterial cell death by binding to penicillin-binding proteins (PBPs) thus inhibiting cell wall biosynthesis. It is active against most gram-positive and gram-negative aerobes and anaerobes.
Meropenem is indicated for intra-abdominal infections caused by viridans group streptococci, E. coli, K. pneumoniae, P. aeruginosa, B. fragilis, B. thetaiotaomicron, and Pepto-streptococcus species. It is also indicated for bacterial meningitis in pediatric patients 3 months of age or older caused by S. pneumoniae, H. influenzae and N. menigitidis. Both mero-penem and imipenem are not active against methicillin-resistant staphylococci, E. faecium or Stenotrophomonas maltophilia and resistance to meropenem by P. aeruginosa has been reported.
Mechanisms of resistance include the expression of chromosomal ß-lactamase in conjunction with altered permeability and alterations in PBPs.
Pharmacokinetics
Merrem (meropenem) has an approximate linear kinetic profile with a mean peak plasma concentration between 39 and 58 µg/mL following a 30 min, 1 g infusion.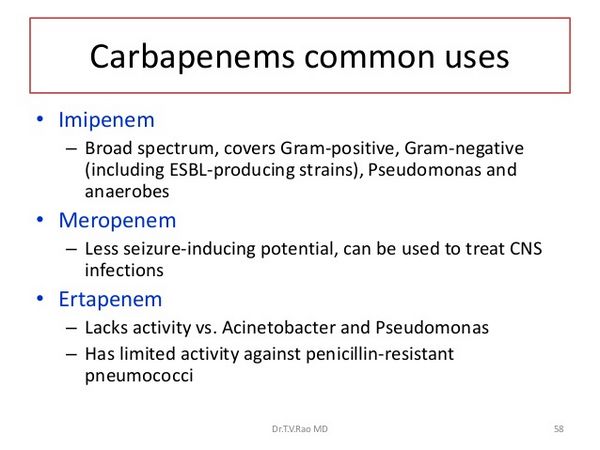 Meropenem is widely distributed into body tissues including bile, bronchial secretions, kidneys, and the cerebrospinal fluid following an IV infusion (over 15-30 min) or IV bolus injection (over 5 min). In a study investigating the pharmacokinetics of meropenem in patients with various degrees of renal impairment, the elimination half-lives were 1.54 ± 0.70 hr (CrCl >50 mL/min), 3.36 ± 1.02 hr (CrCl 50 to 30 mL/min) and 5.00 ± 1.05 hr (CrCl <30 mL/min).
Up to 98% of the administered dose is excreted in the urine via glomerular filtration and tubular secretion as unchanged meropenem. Meropenem is hemodialyzable and therefore should be administered following hemodialysis.
Merrem: Clinical Trials
Due to its broad spectrum of activity, meropenem has been investigated for use in a variety of bacterial infections. Several studies have been performed in Europe, Japan and the United States.
Most of the studies have involved patients with intra-abdominal infections, bacterial meningitis, upper respiratory infections and urinary tract infections. There are few published studies investigating the use of meropenem in renal impairment, cystic fibrosis and neutropenic patients.
Abdominal Infections
Three of the published trials investigating the use of meropenem in intra-abdominal infections compare its efficacy to imipenem-cilastatin, clindamycin/tobramycin, and cefotaxime/metronidazole.
Clinical responses were evaluated as cured, improved, unchanged/worse or relapsed. Overall clinical outcomes were assessed as eradication, failure, superinfection, relapse or reinfection.
Geroulanos et al. studied the efficacy and tolerability of parenteral meropenem (1 g q8h, infusion or bolus) with that of parenteral imipenem-cilastatin (1 g q8h, infusion) in 232 hospitalized patients with moderate-to-severe intra-abdominal infections as part of an open, randomized multicenter study conducted at 12 sites in six European countries. Half of the patients received meropenem and half received imipenem-cilastatin, but only 170 patients were deemed assessable (82 meropenem; 88 imipenem-cilastatin). The results of the trial indicated a satisfactory response (cure or improvement) of 96% for meropenem patients and 94% for imipenem-cilastatin patients.
Overall outcomes of elimination or presumed elimination were 84% for meropenem patients and 81% for imipenem-cilastatin patients.
There was a high level of clinical improvement (95%) for all patients. Drug-related adverse effects, including inflammation at injection site and mild elevations in liver enzymes (most mild-to-moderate in intensity), were reported in 28% of the meropenem patients and in 25% of the imipenem-cilastatin patients. Berne et al. published a randomized, double-blind study comparing the use of intravenous meropenem (1 g q8h) to the combination of tobramycin (5 mg/kg/day divided q8h) and clindamycin (900 mg q8h) administered intravenously in 129 patients with advanced appendicitis. Of these 129 patients with comparable demographics, 63 received meropenem and 66 received both tobramycin and clindamycin following appendectomy.
Clinical outcome was evaluated by the number of postoperative days with fever >38°C [meropenem (mp) 3.1 ± 1.7; tobramycin/clindamycin (t/c) 4.4 ± 2.2; CI 95%; p=0.003] and the number of days of antibiotic therapy (mp 6.1 ± 1.6; t/c 7.3 ± 2.2; CI 95%; p=0.0006). A significant reduction in hospital stay was also observed with the use of meropenem (8.0 ± 3.5 d; p=<0.01) compared with the combination of tobramycin and clindamycin (9.4 ± 2.6 d; p=<0.01). Huizinga et al. completed an open, multicenter, randomized and parallel-group study comparing the efficacy and safety of meropenem (1 g q8h to the combination of cefotaxime (2 g q8h) and metronidazole (500 mg q8h) as adjunctive antibiotic therapy in the surgical management of 148 assessable patients with intra-abdominal infections.
Of the 148 patients, 70 received meropenem and 78 received cefotaxime plus metronidazole. Clinical responses and overall outcomes were lower in the meropenem group (91% and 96%, respectively) compared to the cefotaxime plus metronidazole group (100% and 97%, respectively). Results of the study indicated that empiric meropenem monotherapy should prove to be a useful alternative to standard combination therapy for treatment of intra-abdominal infections.
Meningitis
To date, randomized, non-blinded multicenter trials evaluating the safety and efficacy of meropenem (40 mg/kg q8h) in children with meningitis have established cure rates of approximately 79% compared to 83% when administered cefotaxime (75–100 mg/kg q8h).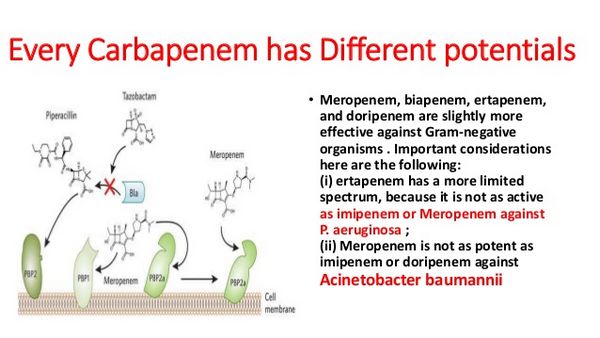 Clinical responses in adults with meningitis using meropenem (40 mg/kg q8h up to 6g/day) indicated an approximate cure rate of 98% compared with 92% of patients treated with cephalosporins. Bradley et al. completed a randomized, prospective comparative clinical trial investigating the efficacy, safety and tolerability of meropenem in hospitalized pediatric patients between the ages of 3 months and 12 years with either meningitis or non-CNS infections. Of the 808 assessable patients, 451 received meropenem and 357 received comparable antibiotics. Meropenem (40 mg/kg q8h) was administered intravenously by bolus injection or by infusion.
The investigators concluded that meropenem had shown to be equivalent to cefotaxime or ceftriaxone for the treatment of meningitis. They also concluded that meropenem was equivalent to cefotaxime or cefotaxime-based combination therapy for non-CNS infections. Meropenem was well tolerated in most of the pediatric patients, yet treatment was discontinued in 4 patients due to diarrhea (n=2), urticaria (n=1) and thrombocytopenia/anemia/leukopenia (n=1).
Pulmonary Infections
The efficacy of meropenem (Merrem) in doses ranging from 0.5 to 3 g/d has been demonstrated in several comparative trials evaluating the therapy of both nosocomially acquired and community-acquired pulmonary infections. Meropenem has been compared to imipenem-cilastatin and ceftazidime with or without an aminoglycoside (tobramycin or amikacin).
Meropenem 3 g/day was found to be at least as effective as ceftazidime plus amikacin (6 g/day plus 15 mg/kg/day) in patients with severe nosocomial respiratory tract infections; clinical response rates of 81% vs. 72% and bacteriological eradication rates of 71% vs. 76% were reported. Because the MICs for P. aeruginosa with the carbapenems are in the range of 4 mg/L, meropenem at a dose of 1 g q8h should not be used as single-agent therapy for an infection. In patients with severe community-acquired lower respiratory infections, meropenem (in doses of 1 to 1.5 g/day) produced similiar clinical response rates (93%) and bacteriological eradication (91%) compared with ceftazidime. Meropenem (Merrem) has also been investigated in patients with cystic fibrosis.
Despite improvements in prognosis, progressive lung damage from pulmonary sepsis and host immune responses accounts for most of the morbidity and mortality in cystic fibrosis (CF). Overall improvements in clinical status following meropenem administration (25 mg/kg q8h) in 27 patients was 98% compared to 90% following the administration of ceftazidime (50 mg/kg q8h). Improvements in lung function tests increased by 31% following meropenem therapy compared to a 13% increase following ceftazidime therapy. However, a caveat to consider when reviewing this data is that the majority of studies do not specify the severity or the source of the infection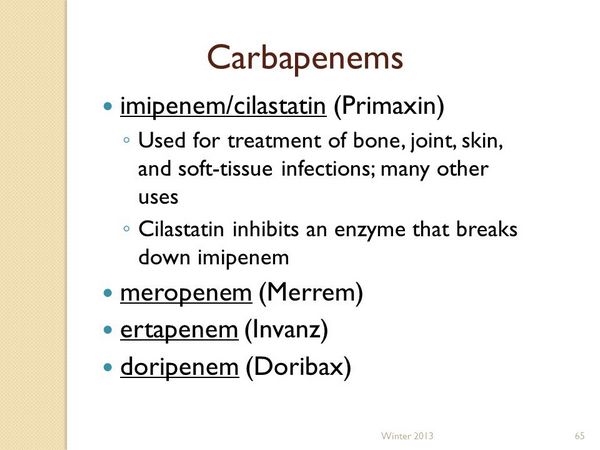 Urinary Tract Infections
Clinical response rates in patients with either uncomplicated or complicated urinary tract infections ranged from 79% to 99%. In a prospective, multicenter, open, parallel-group study by Cox et al., meropenem (500 mg q8h) was compared to imipenem-cilastatin (500 mg q8h) for the treatment of complicated urinary tract infections in 177 assessable patients. Of these 177 patients, 95 were administered meropenem and 82 were given imipenem-cilastatin.
Clinical responses and bacteriological improvements were similar between the two groups (99% and 90%, respectively, for meropenem) and (99% and 81%, respectively, for imipenem-cilastatin). The rate of relapse was similar for both groups, but meropenem had fewer drug-related adverse effects such as pruritus, diarrhea and nausea. Other uses for meropenem (Merrem) being investigated include skin and skin structure infections, obstetric and gynecologic infections, and treatment of fever in neutropenic children.
Adverse Effects
Adverse effects associated with meropenem administration are usually mild and self-limiting. The most common unwanted effects include diarrhea (5.0%), rash (1.7%), vomiting (3.9%), pruritus (1.6%), headache (2.8%), glossitis (1.0%) and transient elevations of liver enzymes.
Meropenem (Merrem) can also cause a positive direct or indirect Coombs test. More severe complications associated with meropenem usage include increases in platelets, prolonged or shortened prothrombin time, eosinophilia and decreases in platelets, hemoglobin, hematocrit and white blood cells. In clinical trials, the incidence of seizures with meropenem was 0.5% compared with 0.4% with imipenem-cilastatin.
Drug Interactions and Warnings
The only significant drug/drug interaction observed to date has been reported with probenecid.
Probenecid competes with meropenem (Merrem) for active tubular secretion and can result in a 65% decrease in meropenem renal clearance. Administration of oral probenecid and parenteral meropenem caused increases in elimination half-life by 38% and extent of systemic exposure by 56%. In patients with normal renal function, this drug/drug interaction does not seem to be of clinical significance, yet the coadministration of probenecid and meropenem is not recommended by the manufacturer.
Meropenem has a pregnancy category B rating because animal studies have not demonstrated impaired fertility or harm to the fetus, but adequate and well-controlled clinical trials in pregnant women have not been performed.
The manufacturer recommends that this drug be used during pregnancy only if clearly warranted.
Meropenem (Merrem) is contraindicated in patients with known hypersensitivity to any component of meropenem or to other drugs in the same class. It is also contraindicated in patients who have demonstrated anaphylactic reactions to ß-lactams. Caution should be used in patients with a history of hypersensitivity to penicillins, cephalosporins and other ß-lactams. As with any antibiotic, pseudomembranous colitis is a concern and may range from mild to life-threatening cases. The compatibility of meropenem with other drugs has not yet been established; therefore, mixing with other drugs should be avoided.
Dosage and Administration
Adults
The adult dose is 1 g by intravenous infusion over 15-30 minutes or as intravenous bolus (5 to 20 mL) over 3-5 minutes q8h. Dosage adjustments should be made for varying degrees of renal impairment: CrCl 26-50 mL/min, 1 g q12h; CrCl 10-25 mL/min, 500 mg q12h; and CrCl <10 mL/min, 500 mg q24h. No dosage adjustments are necessary with impairment of liver function; hemodialysis patients should receive meropenem after dialysis has been completed. The following dosing regimens have been investigated in clinical trials: intra-abdominal infections, 0.5 to 1 g q8h; meningitis, 120 mg/kg/day up to 6 g/day; respiratory tract infections, 0.5 to 3 g/day; and urinary tract infections, 0.5 to 1.5 g/day.
Pediatrics
The pediatric dose is 20 or 40 mg/kg q8h for children 3 months of age or older. Maximum dose in pediatric patients weighing less than 50 kg is 2 grams q8h; intra-abdominal infections, 20 mg/kg q8h; meningitis, 40 mg/k q8h. If the patient weighs more than 50 kg, a maximum of 1 g q8h for intra-abdominal infections and 2 g q8h for meningitis is recommended.
Elderly
No dosage adjustments are necessary in elderly patients unless creatinine clearance is <51 mL/min.
Packaging
Merrem IV is supplied by the manufacturer in injection vials, infusion vials, and ADD-Vantage vials. The injection vials include 500 mg/20 mL and 1 g/30 mL; the infusion vials include 500 mg/100 mL and 1 g/100 mL, and the ADD-Vantage vials include 500 mg/15 mL and 1 g/15 mL. The ADD-Vantage vials of meropenem are to be constituted with Sodium Chloride Injection 0.45%, Sodium Chloride Injection 0.9%, or Dextrose Injection 5% only.