Troleandomycin, a prodrug of oleandomycin, is a macrolide antibiotic with a spectrum similar to that of erythromycins.
Uses
Respiratory Tract Infections
Troleandomycin has been used in the past in the treatment of respiratory tract infections caused by susceptible Streptococcus pneumoniae and S. pyogenes (group A b-hemolytic streptococci); however, troleandomycin is rarely indicated now because it generally is less active than erythromycin against susceptible organisms and because of the availability of other more effective and less toxic anti-infectives (e.g., penicillins, erythromycin, cephalosporins).
Although troleandomycin may be effective in eradicating susceptible streptococci from the nasopharynx, the efficacy of the drug in preventing rheumatic fever has not been established.
Asthma
Troleandomycin also has been used to reduce corticosteroid requirements in patients with corticosteroid-dependent asthma and has been designated an orphan drug by the US Food and Drug Administration (FDA) for this use.
Dosage and Administration
Administration
Troleandomycin is administered orally.
Dosage
Dosage of troleandomycin is expressed in terms of oleandomycin. The usual adult dosage is 250-500 mg every 6 hours. The usual dosage in children is 125-250 mg every 6 hours. Alternatively, children may receive 6.6-11 mg/kg every 6 hours. If troleandomycin is used in the treatment of group A b-hemolytic streptococcal infections, therapy should be continued for 10 days.
Cautions
GI Effects
The most frequent reactions to troleandomycin are adverse GI effects including abdominal cramping and discomfort which are usually dose related. Nausea, vomiting, and diarrhea have also been reported rarely with usual doses of the drug.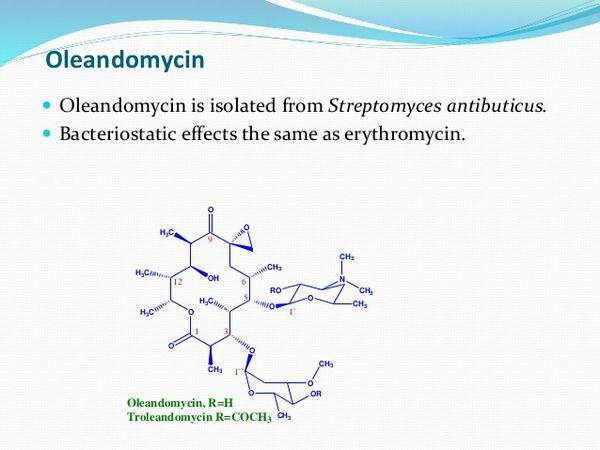 Hypersensitivity Reactions
Hypersensitivity reactions including urticaria and rash have been reported with troleandomycin. Serious allergic reactions such as anaphylaxis have also been reported.
Hepatic Effects
Cholestatic hepatitis, which appears to be a hypersensitivity reaction to the drug, has been reported in patients receiving troleandomycin. The hepatitis, manifested by jaundice, right upper quadrant pain, fever, nausea, vomiting, eosinophilia, and leukocytosis, is generally reversible following discontinuance of troleandomycin. In most reported cases, cholestatic hepatitis occurred when troleandomycin was administered for 2 weeks or longer or was administered in repeated courses.
Precautions and Contraindications
Troleandomycin should be used with caution in patients with impaired hepatic function, since the drug is excreted principally by the liver. Because use of troleandomycin has been associated with an allergic type of cholestatic hepatitis, liver function should be monitored in patients receiving the drug for 2 weeks or longer or in repeated courses.
Troleandomycin should be discontinued if there is evidence of adverse hepatic effects. Prolonged or repeated use of troleandomycin may result in overgrowth of nonsusceptible organisms including fungi.
If suprainfection or superinfection occurs, the drug should be discontinued and appropriate therapy should be initiated. Troleandomycin is contraindicated in patients who are hypersensitive to the drug.
Concomitant administration of troleandomycin is contraindicated in patients receiving terfenadine (no longer commercially available in the US) or astemizole since macrolide antibiotics may impair metabolism of the antihistamines, potentially resulting in serious cardiotoxicity. (See Drug Interactions: Terfenadine and Astemizole.)
Pregnancy
Safe use of troleandomycin during pregnancy has not been established.
Drug Interactions
Concurrent use of troleandomycin and drugs containing ergotamine reportedly may induce ischemic reactions and severe peripheral vasospasm, and concurrent use of the drugs should be avoided. Since ergotamine is metabolized in the liver, troleandomycin may possibly interfere with detoxification of ergotamine.
Terfenadine and Astemizole
Some evidence indicates that erythromycin, another macrolide antibiotic, may alter the metabolism of terfenadine (no longer commercially available in the US) or astemizole (no longer commercially available in the US), probably via inhibition of the cytochrome P-450 (CYP) microsomal enzyme. (See Drug Interactions and Cautions: Cardiovascular Effects and Precautions and Contraindications in the Antihistamines General Statement 4:00.) Prolongation of the QT interval and ventricular tachycardia, including torsades de pointes, may occur in some patients receiving terfenadine or astemizole concomitantly with erythromycin or troleandomycin. Therefore, while commercially available in the US, terfenadine or astemizole was contraindicated in patients receiving clarithromycin, erythromycin, or troleandomycin.
Cisapride
In vitro studies indicate that troleandomycin markedly inhibits the CYP3A4 isoenzyme responsible for metabolism of cisapride. Pharmacokinetic studies indicate that concomitant administration of cisapride and ketoconazole, which also inhibits this CYP isoenzyme, results in increased plasma cisapride concentrations, prolongation of the QT interval, and rarely, serious ventricular arrhythmias (e.g., ventricular tachycardia, torsades de pointes). Because troleandomycin also would be expected to increase plasma cisapride concentrations as a result of this enzyme inhibition, the manufacturer of cisapride states that concomitant administration of cisapride and troleandomycin is contraindicated.
Theophylline
Concurrent use of troleandomycin and theophylline in patients with chronic asthma has resulted in elevated serum concentrations of theophylline. Patients receiving concurrent therapy with troleandomycin and theophylline should be monitored for signs of theophylline toxicity and dosage of theophylline should be adjusted if such signs develop.
Oral Contraceptives
Troleandomycin should be administered with caution in patients receiving oral contraceptives containing estrogen.
Carbamazepine
Troleandomycin reportedly potentiates the action of carbamazepine by interfering with its metabolism in the liver.
Mechanism of Action
Troleandomycin is deacetylated in vivo to oleandomycin which is usually bacteriostatic in action, but may be bactericidal in high concentrations or against highly susceptible organisms. Oleandomycin apparently inhibits protein synthesis in susceptible organisms by binding to 50S ribosomal subunits; the main effect is inhibition of peptide bond formation. The site of action of oleandomycin appears to be the same as that of erythromycin, azithromycin, clarithromycin, chloramphenicol, clindamycin, and lincomycin.
Spectrum
Because troleandomycin is deacetylated in vivo to oleandomycin, its spectrum of activity is that of oleandomycin. The spectrum of activity of oleandomycin is similar to that of erythromycin; however, higher concentrations of oleandomycin are generally required for in vitro inhibition of susceptible organisms.
In Vitro Susceptibility Testing
When the disk-diffusion procedure is used to test susceptibility to troleandomycin, a disk containing 15 mcg/mL of oleandomycin is used. When this procedure is used, bacteria with growth inhibition zones greater than 18 mm are considered susceptible to the drug.
Gram-positive Bacteria
Oleandomycin is active in vitro against gram-positive cocci including Staphylococcus aureus, S. epidermidis, Streptococcus pneumoniae, S. pyogenes (group A b-hemolytic streptococci), viridans streptococci, and Enterococcus faecalis (formerly S. faecalis). In vitro, oleandomycin concentrations of 0.25-2 mcg/mL inhibit most susceptible strains of S. aureus, S. pneumoniae, S. pyogenes, and E. faecalis. Oleandomycin also has some activity in vitro against gram-positive bacilli including Bacillus anthracis, Corynebacterium diphtheriae, Clostridium tetani, and C. perfringens.
Gram-negative Bacteria
Although oleandomycin has some in vitro activity against Haemophilus influenzae, Neisseria gonorrhoeae, and N. meningitidis, the drug generally is inactive against other gram-negative bacteria including Enterobacteriaceae.
Resistance Cross-resistance reportedly occurs between erythromycin and oleandomycin, but is unpredictable. In vitro, bacteria resistant to erythromycin and susceptible to oleandomycin may exhibit a dissociated type of resistance to oleandomycin during susceptibility testing if erythromycin is also present.
This phenomenon may be the result of competition between erythromycin and oleandomycin for the ribosomal binding site.
Pharmacokinetics
Absorption
Troleandomycin is rapidly but incompletely absorbed following oral administration and is deacetylated to oleandomycin in vivo. Following oral administration of a single 500-mg dose of troleandomycin, peak serum concentrations of oleandomycin average 2 mcg/mL and are generally attained within 2 hours; serum concentrations of the drug may be detectable 12 hours after the dose.
Distribution
Oleandomycin is widely distributed into body tissues and fluids. The drug diffuses poorly into CSF; however, slightly higher concentrations are attained in CSF when meninges are inflamed.
Elimination
Approximately 10-25% of a single oral dose of troleandomycin is excreted in urine as active drug. The drug is also excreted in feces via bile.
Chemistry
Troleandomycin is the acetylated ester of oleandomycin, an antibiotic obtained from cultures of Streptomyces antibioticus. Troleandomycin is a macrolide antibiotic and is structurally and pharmacologically related to erythromycin. Troleandomycin occurs as a white, crystalline powder and is slightly soluble in water.
Preparations
Troleandomycin Oral Capsules 250 mg (of oleandomycin) TAO®, Pfizer