Sulfisoxazole is a short-acting sulfonamide.
Uses
Sulfisoxazole and its derivatives share the actions and uses of the sulfonamides. The relative solubility of the drug in alkaline and slightly acidic urine makes the drug particularly useful for the treatment of urinary tract infections.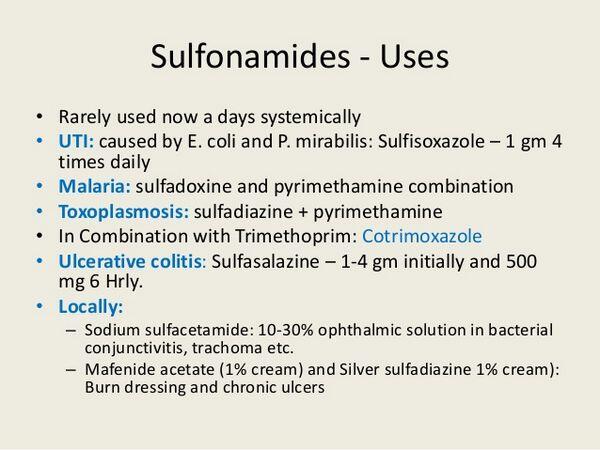 A combination product containing sulfisoxazole acetyl and erythromycin ethylsuccinate is commercially available for the treatment of acute otitis media caused by susceptible strains of Haemophilus influenzae in children and is usually active against ampicillin-resistant strains of the organism. For information on dosage and administration of the combination product.
Although sulfisoxazole-containing creams previously have been used intravaginally in the treatment of bacterial vaginosis (formerly called Haemophilus vaginitis, Gardnerella vaginitis, nonspecific vaginitis, Corynebacterium vaginitis, or anaerobic vaginosis, topical sulfonamides are usually ineffective for the treatment of infections of mucous membranes, possibly because pus and cellular debris inhibit their action. Sulfisoxazole-containing creams are generally considered as lacking substantial evidence of efficacy in the topical treatment of vaginal infections. In addition, topical application may produce sensitization and preclude later systemic use of the sulfonamides.
Dosage and Administration
Administration
Sulfisoxazole and sulfisoxazole acetyl are administered orally.
Dosage
Dosage of sulfisoxazole derivatives is expressed in terms of sulfisoxazole. The usual adult oral dosage of sulfisoxazole is 2-4 g initially, followed by a maintenance dosage of 4-8 g daily administered in 4-6 equally divided doses.
Children older than 2 months of age may receive 75 mg/kg or 2 g/m2 initially, followed by 150 mg/kg or 4 g/m2 daily administered in 4-6 equally divided doses. Total daily pediatric oral dosage of sulfisoxazole should not exceed 6 g.
Although commercially available oral combination preparations containing sulfisoxazole and phenazopyridine hydrochloride may be used for the initial treatment of uncomplicated urinary tract infections when relief of symptoms of pain, burning, and urgency is needed during the first 2 days of therapy, treatment beyond 2 days should only be continued with sulfisoxazole alone.
Dosage in Renal Impairment
In patients with impaired renal function, dosage of sulfisoxazole should be modified in response to the degree of renal impairment and the infection being treated. Some clinicians suggest that usual doses (e.g., 0.5-2 g) be administered at increased intervals in these patients.
For patients with creatinine clearances of 10-50 mL/minute, a dosing interval of every 8-12 hours has been suggested and a dosing interval of every 12-24 hours has been suggested for those with creatinine clearances less than 10 mL/minute.
However, when the drug is used for the treatment or prevention of urinary tract infections in these patients, some clinicians state that it may be necessary to use relatively high doses and/or administer the drug at usual dosing intervals in order to achieve adequate urinary concentrations of the drug.
Some clinicians also suggest that the drug not be used for the treatment or prevention of urinary tract infections in patients with serum creatinine concentrations greater than 4 mg/dL or creatinine clearances less than 20 mL/minute. The risk of crystalluria should be considered in patients with impaired renal function; the relative amount of N 4-acetyl sulfisoxazole (which is less soluble than the parent drug) compared with sulfisoxazole may be increased in these patients.
Cautions
Sulfisoxazole shares the toxic potentials of the sulfonamides, and the usual precautions of sulfonamide therapy should be observed, including maintenance of adequate fluid intake to reduce the risk of crystalluria.
Pharmacokinetics
Absorption
Sulfisoxazole is readily absorbed from the GI tract. Peak plasma concentrations occurring at 1-4 hours and ranging from 11.2-25 mg/dL have been reported following administration of single oral or IM doses of 2-4 g of sulfisoxazole. Sulfisoxazole acetyl is deacetylated by enzymes in the GI tract and is absorbed as the free sulfonamide. Deacetylation results in slower absorption and lower peak sulfisoxazole blood concentrations than are attained following administration of an equal oral dose of sulfisoxazole. Approximately 28-35% of the unbound portion of sulfisoxazole in the plasma and in the urine is acetylated at the N 4 position.
Distribution
Sulfisoxazole differs from other sulfonamides in that its distribution is largely confined to the extracellular space. In one in vitro study, approximately 85% of the drug was bound to plasma proteins at a plasma concentration of 10 mg/dL. Sulfisoxazole and its N 4-acetyl metabolite compete for the same binding site(s). In one study in kidney allograft recipients, protein binding of the drug was decreased compared with healthy individuals, probably secondary to decreased serum albumin in these patients. Generally, sulfisoxazole concentrations in CSF range from 8-57% of blood concentrations in patients with normal meninges; however, if the meninges are inflamed, higher CSF concentrations may be reached.
Elimination
Sulfisoxazole undergoes N 4-acetylation and N 4-glucuronide conjugation in tissues, mainly in the liver.
Approximately 95-97% of a single dose of sulfisoxazole is excreted in urine within 48 hours, of which 52% is unchanged drug and the remainder is the N4-acetyl metabolite. In one study, only about 35% of an oral dose of N 4-acetyl sulfisoxazole was excreted in 24 hours. Peak urinary concentrations of 300 mg/dL were reached 8 hours following a 4-g oral dose of sulfisoxazole in a limited number of patients. The half-life of sulfisoxazole reportedly ranges from 4.6-7.8 hours, while the half-life of N4-acetyl sulfisoxazole ranges from 5.4-7.4 hours.
Sulfisoxazole and its acetylated metabolites are excreted principally by the kidneys via glomerular filtration. Urinary alkalinization reduces tubular reabsorption and affects urinary excretion of sulfisoxazole. In one study, urinary excretion of N 4-acetyl sulfisoxazole decreased from 34. to 26% of a dose, and total urinary excretion increased from 82.7 to 89.9% following oral administration of 4 g of sodium bicarbonate 90 minutes before and concomitantly every 3 hours with sulfisoxazole tablets. Increased urinary excretion resulted in a decrease in the half-life of sulfisoxazole from 6.3 to 4.4 hours. At pH 5, 6, 7, and 8, the solubility of sulfisoxazole is 43 mg, 196 mg, 1.7 g, and 17 g per dL, respectively.
The solubility of the N 4-acetyl derivative at the same pH values is 14 mg, 88 mg, 837 mg, and 8.3 g per dL, respectively. In one study in patients who had undergone renal transplantation, total body and renal clearances of unbound sulfisoxazole were decreased compared with healthy individuals; renal clearance of the drug correlated with creatinine clearance in these patients. Nonrenal clearance of unbound drug and formation of N 4-acetyl sulfisoxazole were similar in allograft recipients and healthy individuals. Sulfisoxazole is removed by hemodialysis, but N 4-acetyl sulfisoxazole appears to be less readily removed. The drug is also removed by peritoneal dialysis.
Chemistry and Stability
Chemistry
Sulfisoxazole is a short-acting sulfonamide. Sulfisoxazole occurs as a bitter-tasting, white to slightly yellowish, crystalline powder and has a solubility of approximately 0.13 mg/mL in water at 25°C. Sulfisoxazole has a pKa of 5. Sulfisoxazole acetyl, the more palatable N 1-acetyl derivative, which occurs as a white or slightly yellow, crystalline powder and is practically insoluble in water, is used in the formulation of oral liquid preparations.
Stability
Commercially available preparations of sulfisoxazole must be protected from light and moisture, including relative humidity in excess of 60%. The commercially available powder for suspension containing sulfisoxazole acetyl in fixed combination with erythromycin estolate should be stored in tight containers. For further information on chemistry and stability, mechanism of action, spectrum, resistance, pharmacokinetics, uses, cautions, drug interactions, and dosage and administration of sulfisoxazole.
Preparations
Sulfisoxazole Oral Tablets 500 mg Sulfisoxazole Combinations Oral Tablets, film- 500 mg with Phenazopyridine coated Hydrochloride 50 mg Sulfisoxazole Acetyl Oral Suspension 500 mg (of sulfisoxazole) Gantrisin® Pediatric per 5 mL Suspension, (with alcohol 0.3% and parabens) Roche Sulfisoxazole Acetyl Combinations Oral For suspension 600 mg (of sulfisoxazole) Eryzole®,per 5 mL with Erythromycin Alra Ethylsuccinate 200 mg (of erythromycin) per 5 mL Pediazole®, Ross