Oxytetracycline is a tetracycline antibiotic.
Dosage and Administration
Reconstitution and Administration
Oxytetracycline is administered by IM injection. IM oxytetracycline should be reserved for situations in which oral therapy is not feasible; patients receiving the drug should be switched to an oral anti-infective as soon as possible.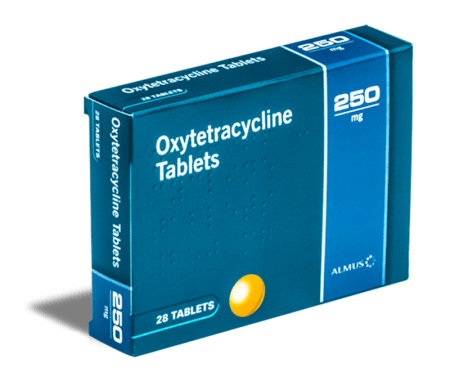 To minimize pain associated with IM oxytetracycline, IM injections should be given deeply into a relatively large muscle mass. Preferred injection sites in adults are the gluteus maximus or midlateral thigh. In children, the midlateral muscles of the thigh are the preferred site; the periphery of the upper outer quadrant of the gluteal region should be used in infants and small children only when necessary (e.g., in burn patients) to minimize the possibility of damage to the sciatic nerve.
The deltoid area should be used for IM injection only if it is well developed, as in certain adults or older children; care must be taken to avoid injury to the radial nerve. The drug should not be injected IM into the lower and middle thirds of the upper arm. After IM injection but before administration of the drug, the plunger of the syringe should be drawn back to ensure that the needle is not in a blood vessel. The IM injection should not be given IV, and inadvertent intraneural injection or injection into subcutaneous or fat layers should be avoided.
Dosage
The usual adult IM dosage of oxytetracycline is 250 mg administered in a single daily dose or 300 mg daily administered in 2 or 3 divided doses. The usual IM dosage of oxytetracycline for children older than 8 years of age is 15-25 mg/kg daily given in 2 or 3 divided doses, and the maximum IM dosage recommended by the manufacturer is 250 mg administered in a single daily dose.
Dosage in Renal Impairment
If oxytetracycline is used in patients with impaired renal function, doses and/or frequency of administration must be modified in response to the degree of renal impairment. Because usual dosage of doxycycline may be used in patients with impaired renal function, this is generally the preferred derivative when a tetracycline is indicated in these patients.
Pharmacokinetics
Absorption
Oxytetracycline is poorly and erratically absorbed following IM administration and, in the usual dosage, IM administration of oxytetracycline produces lower serum concentrations than does oral administration.
Elimination
The serum half-life of oxytetracycline is 6-10 hours in adults with normal renal function and is reported to be 47-66 hours in patients with severe renal impairment.
Chemistry and Stability
Chemistry
oxytetracycline Oxytetracycline is a tetracycline antibiotic derived from Streptomyces rimosus. Oxytetracycline occurs as a pale yellow to tan, crystalline powder and is very slightly soluble in water and sparingly soluble in alcohol. Commercially available oxytetracycline IM injection contains 2% lidocaine and one or more buffers, preservatives, complexing agents, and solvents in sterile water for injection.
Stability
Oxytetracycline IM preparations should be stored at a temperature less than 40°C, preferably between 15-30°C; freezing of oxytetracycline injection should be avoided. For further information on chemistry and stability, mechanism of action, spectrum, resistance, pharmacokinetics, uses, cautions, drug interactions, laboratory test interferences, and dosage and administration of oxytetracycline.
Preparations
Oxytetracycline Combinations Parenteral Injection, for IM 50 mg/mL with Lidocaine 2% Terramycin® Intramuscular use only Solution, (with propylene glycol and sodium formaldehyde sulfoxylate) Pfizer