Drug Approvals
INNs in other languages (French, Latin, and Spanish):
Synonyms: BMS-200475-01; SQ-34676
USAN: Entecavir
INN: Entecavir [rINN (en)]
INN: Entecavir [rINN (es)]
INN: Entécavir [rINN (fr)]
INN: Entecavirum [rINN (la)]
INN: Ентекавир [rINN (ru)]
Chemical name: 9-[(1S,3R,4S)-4-Hydroxy-3-(hydroxymethyl)-2-methylenecyclopentyl]guanine monohydrate
Molecular formula: C12H15N5O3,H2O =295.3
CAS: 142217-69-4 (anhydrous entecavir); 209216-23-9 (entecavir monohydrate)
ATC code: J05AF10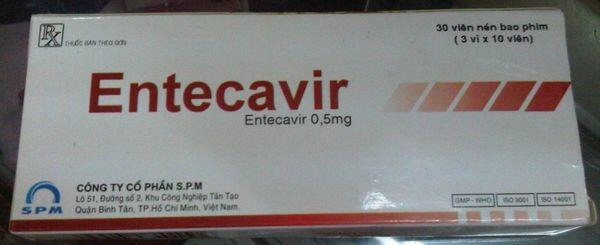 Adverse Effects
The most common adverse effects of entecavir have been headache, fatigue, dizziness, and nausea. Other adverse effects include diarrhoea, dyspepsia, insomnia, somnolence, and vomiting.
Raised liver enzyme concentrations may occur and exacerbation of hepatitis has been reported after stopping treatment with entecavir. Lactic acidosis, usually associated with severe hepatomegaly and steatosis, has been associated with treatment with nucleoside analogues alone or with antiretrovirals (see Zidovudine).
Entecavir is carcinogenic in rodents, but a relationship with human cancer has not been established.
Precautions
Entecavir should be withdrawn if there is a rapid increase in aminotransferase concentrations, progressive hepatomegaly or steatosis, or metabolic or lactic acidosis of unknown aetiology. Entecavir should be given with caution to patients with hepatomegaly or other risk factors for liver disease. Careful differentiation should be made between patients whose liver enzyme concentrations become elevated due to response to treatment and those in whom it is indicative of toxicity. Exacerbation of hepatitis B has been reported both during and after stopping treatment with entecavir. Hepatic function should be monitored closely while on treatment and for several months after treatment is stopped. Dosage reduction may be necessary in patients with renal impairment.
Limited clinical experience suggests there is a potential for HIV to develop resistance to NRTIs if entecavir is used to treat chronic hepatitis B virus infection in patients with undiagnosed or untreated HIV infection. Treatment with entecavir is not recommended for co-infected patients who are not also receiving HAART US licensed product information recommends that all patients be tested for HIV antibodies before starting treatment with entecavir.
HIV-infected patients
It was initially thought that entecavir did not inhibit replication of HIV-1 at clinically relevant doses. However, a small consistent decrease in HIV-1 RNA was noted in 3 patients with HIV-1 and hepatitis B virus co-infection being treated with entecavir monofnerapy. In 1 of these patients, an HIV variant containing the M184V resistance substitution was found. Subsequent in vitro analyses showed that HIV-1 strains containing M184V were resistant to entecavir.
Interactions
Caution should be exercised when entecavir is given with other drugs eliminated by active tubular secretion as competition for the elimination pathway may increase the serum concentrations of either drug.
Antiviral Action
Entecavir is phosphorylated intracellularly to the active triphosphate form which competes with deoxyguanos-ine triphosphate, the natural substrate of hepatitis B virus reverse transcriptase, thereby inhibiting every stage of the enzyme's activity.
Although initially thought to be inactive against HIV at clinically relevant doses, entecavir may have sufficient action to result in the selection of resistant HIV variants (see HIV-infected Patients, under Precautions, above).
Pharmacokinetics
Entecavir is rapidly absorbed from the gastrointestinal tract after oral doses. Peak plasma concentrations occur 30 to 90 minutes after an oral dose and steady state concentrations after 6 to 10 days of treatment. Absorption is both delayed and reduced by food; this is not considered to be clinically relevant in nucleoside treatment-naive patients but may affect efficacy in lamivudine-refractory patients in whom entecavir should be taken on an empty stomach. Bioavailability of the tablet formulation is equal to that of the oral solution and they may be given interchangeably. Binding of entecavir to plasma proteins is about 13% in vitro. Entecavir is not metabolised by the cytochrome P450 system. It is mainly eliminated by the kidneys by glomerular filtration and active tubular secretion, with a terminal elimination half-life of 128 to 149 hours. Small amounts of glucuronide and sulfate conjugates are formed. Entecavir is partially removed by haemodialy.
Uses and Administration
Entecavir is a nucleoside reverse transcriptase inhibitor, structurally related to guanosine with selective antiviral activity against hepatitis B virus. It is used for the treatment of chronic hepatitis B in adults with compensated liver disease with evidence of active viral replication, persistently elevated liver enzyme values, and histologically active disease, including those resistant to lamivudine. The usual oral dose of entecavir in nucleoside treatment-naive patients is 500 micrograms once daily, either with or without food. An oral dose of 1 mg once daily on an empty stomach should be used in patients with a history of hepatitis B viraemia during lamivudine therapy or with known resistance to lamivudine. For details of reduced doses to be used in patients with renal impairment, see below.
Administration in renal impairment
Doses of entecavir should be reduced in patients with renal impairment according to creatinine clearance (CC) as follows:
CC 30 to 49mL/minute: 250 micrograms once daily or 500 micrograms every 48 hours in nucleoside treatment-naive patients; 500 micrograms once daily in lamivudine-refractory patients
CC 10 to 29mL/minute: 150 micrograms once daily or 500 micrograms every 72 hours in nucleoside treatment-naive patients; 300 micrograms once daily or 500 micrograms every 48 hours in lamivudine-refractory patients
CC less than 10 mL/minute (and patients on haemodialysis or continuous ambulatory peritoneal dialysis): 50 micrograms once daily or 500 micrograms every 5 to 7 days in nucleoside treatment-naive patients; 100 micrograms once daily or 500 micrograms every 72 hours in lamivudine-refractory patients
Patients receiving haemodialysis should receive the appropriate dose after each dialysis session.
Proprietary Preparations
Ang.: Baraclude;
Australia: Baraclude;
Czech Republic: Baraclude;
France: Baraclude;
Greece: Baraclude;
Hungary: Baraclude;
Indonesia: Baraclude;
Malaysia: Baraclude;
New Zealand: Baraclude;
Philippines: Baraclude;
Portugal: Baraclude;
Singapore: Baraclude;
United Kingdom: Baraclude;
USA: Baraclude.