Amoxicillin 250 mg, 500 mg or 1 g
Powder for Solution for Injection or Infusion
Amoxicillin as Amoxicillin Sodium
The name of medicine is "Amoxicillin 250 mg, 500 mg, 1 g Powder for Solution for Infection or Infusion" (referred to as Amoxicillin Injection).
1. What Amoxicillin Injection is and what it is used for
Your medicine contains the active substance amoxicillin (as amoxicillin sodium), which is one of a group of medicines called "penicillins". These medicines are also known as "antibiotics" and they work by killing the bacteria that cause infections.
Amoxicillin injection is used to treat a wide range of bacterial infections which may include those affecting the:
Chest (bronchitis or pneumonia)
Tonsils (tonsillitis)
Ears (otitis media)
Sinuses (sinusitis)
Kidneys, bladder or the urethra (the tube which carries urine from the bladder)
Female reproductive system including infections caused by difficulties during childbirth (puerperal sepsis and septic abortion)
Abdomen (intra-abdominal sepsis and peritonitis)
Heart (endocarditis)
Blood (septicaemia)
Teeth and gums
Skin (including animal bites] Amoxicillin injection can also be used to treat gonorrhea (a sexually transmitted infection), infections associated with pregnancy and typhoid and paratyphoid (fevers caused by a group of bacteria called Salmonella).
2. Before you are given Amoxicillin Injection
You should not lie given this; medicine if:
You know that you are allergic to penicillin or any other antibiotic
You have ever had a skin rash or swelling of the face or neck when taking any antibiotic.
Before you are given Amoxicillin Injection
You must tell the doctor or nurse if any of the following apply to you: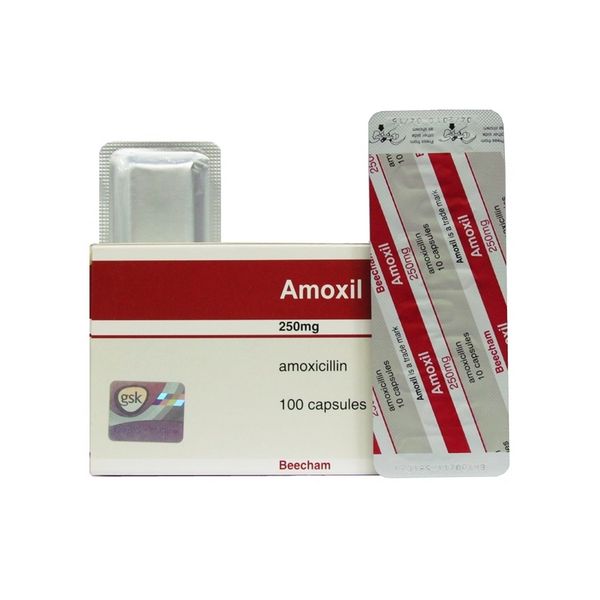 You are on a low sodium diet (See "Important information about some of the ingredients of Amoxicillin injection")
You are being treated for kidney problems
You have glandular fever
Taking other medicines
Tell the doctor or nurse if you are taking any of the following medicines:
the contraceptive pill (in which case you will need to take extra contraceptive precautions such as using a condom)
any medicine to prevent blood clots e.g. warfarin
allopurinol (used to treat gout)
Please tell your doctor if you are taking or have recently taken any other medicines including any that you may have bought without a prescription.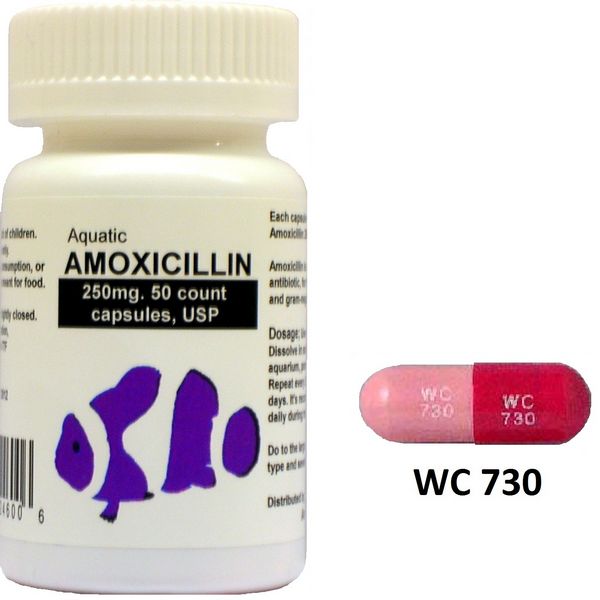 Taking Amoxicillin injection with food and drink
You should drink several more glasses of water than normal on each day of your treatment unless told otherwise by your doctor.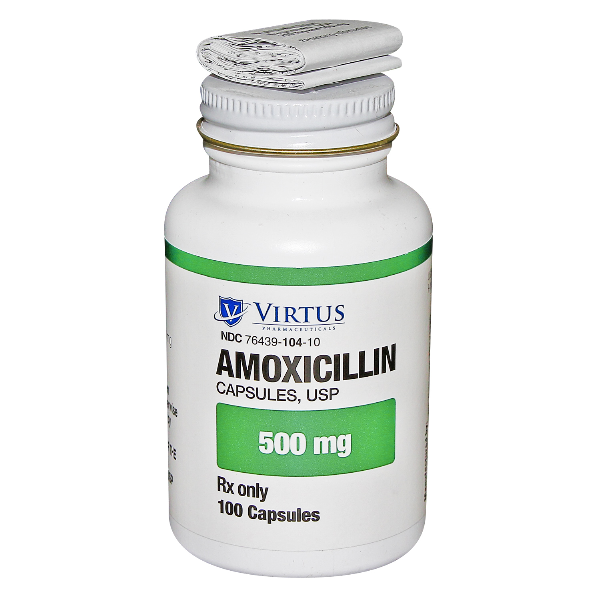 Pregnancy and breast-feeding
If you are pregnant, think you might be pregnant or are breastfeeding, you must tell your doctor or nurse before you are given this medicine.
Driving and using machines
This medicine has no known effects on the ability to drive or use machines.
Important information about some of the ingredients of Amoxicillin injection
The sodium content of each vial is 19 mg (250 mg vial), 38 mg (500 mg vial) and 76 mg (1 g vial). This should be taken into consideration by patients on a controlled sodium diet. Tell your doctor or nurse if this applies to you.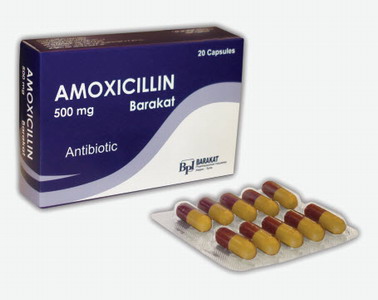 3. How Amoxicillin Injection is given
Your doctor or nurse will prepare your injection in the form of a liquid. They will inject this into a muscle (intramuscular) or into a vein (intravenous). Your doctor will decide how much you need and how often the injections should he given.
Treatment of infection:
Adults and children aver 10 years:
The usual dose is 500 mg given every 8 hours or more frequently if considered necessary by your doctor.
Children up to 10 years of age:
The usual dose is 50 – 100 mg for each kilogram of their bodyweight given in divided doses throughout the day. These doses maybe reduced in patients with kidney problems.
Prevention of heart infection (endocarditis)
If you have had heart problems, you may need an antibiotic before you have surgery, dental treatment of certain medical examinations. This is to prevent you from getting a heart infection.
Adults and children over 10 years:
The usual dose is 1 g given before you are given a general anesthetic (if one is to be given]. You may be given another antibiotic (gentamicin) at the same time. You may need a second injection of 500 mg or 1 g to be given 6 hours later, or when recovering from the general anesthetic, if you are unable to take amoxicillin by mouth.
Children up to 10 years of age
Children under 10 years are usually given half the adult dose. Children under 5 years are usually given one-quarter of the adult dose. Another antibiotic (gentamicin) may also be given at the same time.
If you think you have missed an injection:
Speak to you doctor or nurse.
If you are given more of this medicine than you should
This is unlikely to happen but if it does, the doctor will treat any symptoms that follow.
4. Possible Side Effects
Like all medicines, Amoxicillin injection can cause side effects, although not everybody gets them.
If you get any of the following side effects soon after receiving this medicine, tell your doctor or nurse immediately. If you get them, you may have had a serious allergic reaction or other typo of reaction to this medicine:
stomach pain or severe diarrhea (possibly with bleeding)
your skin or the whites of your eyes start turning yellow
any unexplained bleeding, bruising or skin discolouration
skin rash and itching
blistering of the skin, mouth, eyes, or genitals
any sudden wheeziness, difficulty in breathing or dizziness
any swelling of the face, neck or tongue
your urine becomes darker or your faeces becomes paler
convulsions ("fits") The following side effects may also occur.
Tell your doctor if any of these become troublesome:
Common side effects (probably affecting more than 1 in 100 people given this injection)
Feeling sick (nausea)
Diarrhea
Uncommon side effects (probably affecting fewer than 1 in 100 people given this injection)
Being sick (vomiting) Very Rare side effects (probably affecting fewer than 1 in 10,000 people given this injection)
Thrush (a yeast infection of the vagina, mouth or skin folds]. You can get treatment from your doctor or pharmacist.
Crystals forming in your urine (cryslalluria) which may cause difficulty or discomfort in passing urine
Excessive body movements (hyperkmesia)
Dizziness
Convulsions (fits). People who are on high doses of amoxicillin or whose kidneys do not work properly may experience convulsions.
Reduction in blood cell counts which makes infections more likely
Anemia (a reduction in the body's red blood cells or hemoglobin which may be characterised by feeling weak or light-headed)
A longer time taken for blood to clot.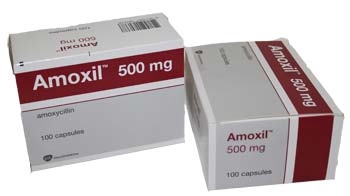 Tell your doctor that you are taking amoxicillin if you are having blood tests.
If any of the side effects get serious, or if you notice any side effects not listed in this leaflet, please tell your doctor or nurse.
5. How to store Amoxicillin Injection
Keep out of the reach and sight of children. Store vials below 25°C. Your doctor, pharmacist or nurse will know how to store Amoxicillin Injection properly.
Do not use after the expiry date which is printed on the label and carton, or if the powder shows signs of discoloration Medicines should not be disposed of via wastewater or household waste, Ask your pharmacist how to dispose of medicines no longer required. These measures will help to protect the environment
6. Further information
What Amoxicillin injection contains
Each vial contains 250 mg, 500 mg or 1 g of amoxicillin (as amoxicillin sodium]. There are no other ingredients.
What Amoxicillin injection looks like and contents of the pack:
Amoxicillin injection is a white or almost white powder in a glass vial. Each carton contains 1, 5, 10, 20 or 50 glass vials Not all pack sizes maybe marketed
Amoxicillin injection: Information for the Healthcare Professional
The following information is intended for medical or healthcare professionals only. Special precautions for storage Store below 25° C From a microbiological point of view, the product should be used immediately. If not used immediately, in-use storage times and conditions prior to use are the responsibility of the user. Instructions for use and handling Intravenous Injection: Dissolve 250 mg in 5 ml Water for Injections BP (final volume 5.2 ml). Dissolve 500 mg in 10 ml Water for Injections BP (final volume 10.4 ml). Dissolve 1 g in 20 ml Water for Injections BP (final volume 20.8 ml). Amoxicillin injection, suitably diluted, may be injected directly into a vein or the infusion line over a period of three to four minutes.
Intravenous Infusion:
Solutions maybe prepared as described for intravenous injections and then added to an intravenous solution in a minibag or in-line burette and administered over a period of half to one hour. Alternatively, using a suitable reconstitute-n device, the appropriate volume of intravenous fluid may be transferred from the infusion bag into the vial and then drawn back into the bag after dissolution.
Intramuscular injection:
Add 1.5 ml (250 mg vial)or 2.5 ml (500 mg & 1 g vials) Water for Injections BP and shake vigorously. Final volumes: 1.7 ml (250 mg), 2.9 ml (500 mg) and 35 ml (1 g) respectively.
Amoxicillin injection may be added to the following intravenous fluids and used immediately.
Water for Injections BP
Sodium Chloride Intravenous Infusion (0.9%)
Potassium Chloride (0.3%) and Sodium Chloride (0.9%) Intravenous Infusion
Glucose Intravenous Infusion
Sodium Chloride (0.18%) and Glucose (4%) Intravenous Infusion
Dextran 40 Intravenous Infusion (10%) in Sodium Chloride Intravenous Infusion (0.9%)
Dextran 40 Intravenous Infusion (10%) in Glucose Intravenous Infusion (5%)
Sodium Lactate Intravenous Infusion (M/6)
Compound Sodium Lactate Intravenous Infusions (Ringer-Lactate: Hartmann's Solution)